Movie review: 'The SpongeBob Movie: Sponge Out of Water'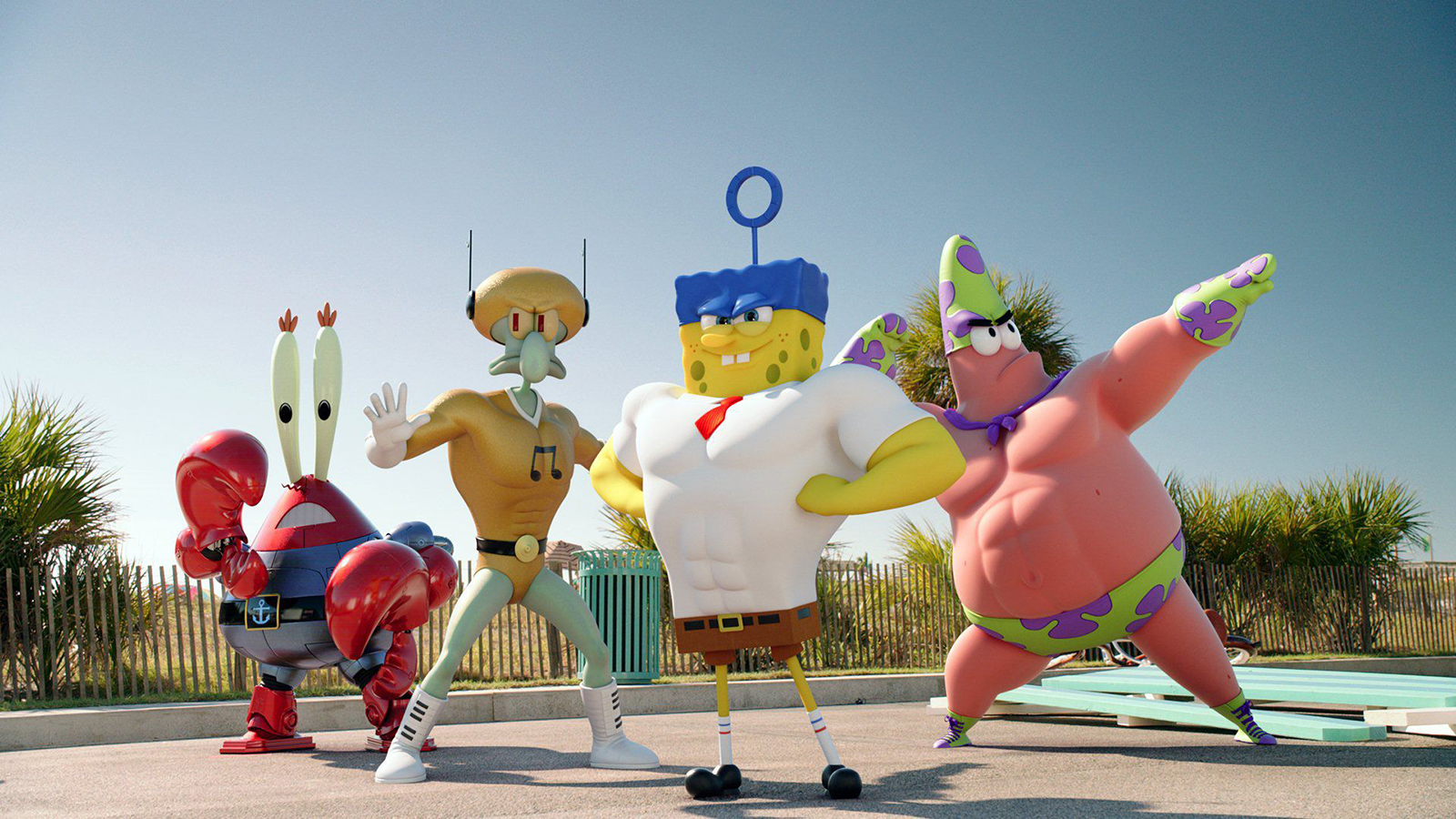 "The SpongeBob Movie: Sponge Out of Water" follows the famous Nickelodeon characters as they try to track down the Krabby Patty secret recipe, which has disappeared. The film combines both cartoon and live-action sequences. (Paramount Pictures)
"The SpongeBob Movie: Sponge Out of Water"
Directed by Paul Tibbitt
Paramount Pictures
One has to wonder where exactly the cult-like admiration for "SpongeBob SquarePants," arguably the most popular production Nickelodeon has ever had, comes from. Is it the endless barrage of pop culture references? Writers who can create witty, indelible lines that remain in millennials' minds? The unwillingness to stick to any single theme for longer than 15 minutes?
Many have argued the continued quality of the long-running television show has gone down ever since it reached a cultural high after 2004's bizarrely entertaining "The SpongeBob SquarePants Movie." But even for the most skeptical mind, "The SpongeBob Movie: Sponge Out of Water" is a mostly funny, occasionally fast-paced addition to the underwater universe that will satisfy kids, as well as surprise adults who have a nostalgic familiarity with the porous protagonist and his friends.
The part-animated, part-live-action tale initially centers on Burger-Beard (Antonio Banderas), a Jack Sparrow-like pirate who finds his hidden treasure, a magical storybook that allows him to alter reality. He reads aloud about the world of Bikini Bottom, where SpongeBob (voiced by Tom Kenny) works as a fry cook, making the hypnotically delicious Krabby Patties for his boss Mr. Krabs (voiced by Clancy Brown) and all their sea creature peers.
Plankton (voiced by Mr. Lawrence), a competing restaurateur, is their arch-enemy who goes to extreme measures, like gigantic missile-armed robots, to steal the Krabby Patty secret formula. When he comes heart-stoppingly close, the bottled instructions suddenly vanish, causing the citizens of Bikini Bottom to panic at the loss of their favorite treat. As the town descends into apocalyptic terror, SpongeBob and his friends must go to extreme measures to find their lost treasure, even if that means ascending to the deadly surface.
For being subtitled "Sponge Out of Water," a curiously long amount of the film is spent in the ocean, with SpongeBob and company not becoming their land-bound CGI-animated selves until around the final third. This is only the most obvious mark of how unbalanced the movie's pace is – many scenes go on too long without anything happening, many gags are so chaotically speedy that it's hard to keep track of all the colors blasting onscreen.
This is something that should be entirely familiar to fans of the series by this point, but it doesn't give the movie an excuse for having plenty of too-dull-to-be-funny moments. Really, that's because the storyline behind "Sponge Out of Water" feels more like a glorified television episode than the cinematic endgame it should aim to be. All the elements that make a great piece of animation are there, but without the risks to help push the characters to the next level.
Still, there are some things that make this particular theatrical experience worth it. The transition to 3D, whether during the film's usual underwater sequences or while the computer-generated heroes are interacting with humans on the beach, is incredibly crisp. The "SpongeBob" animators have clearly mastered their craft by this point, and are able to make the often ridiculous visuals as psychedelically trippy or as artistically inspired as necessary.
The other big plus is Antonio Banderas. With lines as goofy as anyone else in the film, Banderas gives the sea-savvy role his all, bouncing around and emoting like he's been on the show since the beginning. Every voice actor brings his or her well-established gusto to each line read as well, making even the smallest roles and cameos come to life. Sixteen years on the air have given each character distinct personalities, quirks and traits that parallel one another so well, it's hard not to predict what will happen next.
And yet, "Sponge Out of Water" still manages to surprise. One particular sequence, involving a Douglas Adams-esque universe-controlling dolphin, is among the weirdest moments of animated cinema in years. That's what viewers should come to expect by this point: bold and brash insanity, references that would make Stanley Kubrick proud and a hint of nostalgic callbacks. If, as the classic theme goes, nautical nonsense be something you wish, "Sponge Out of Water" might be a priority.