Harry Potter Week brings magic to Hill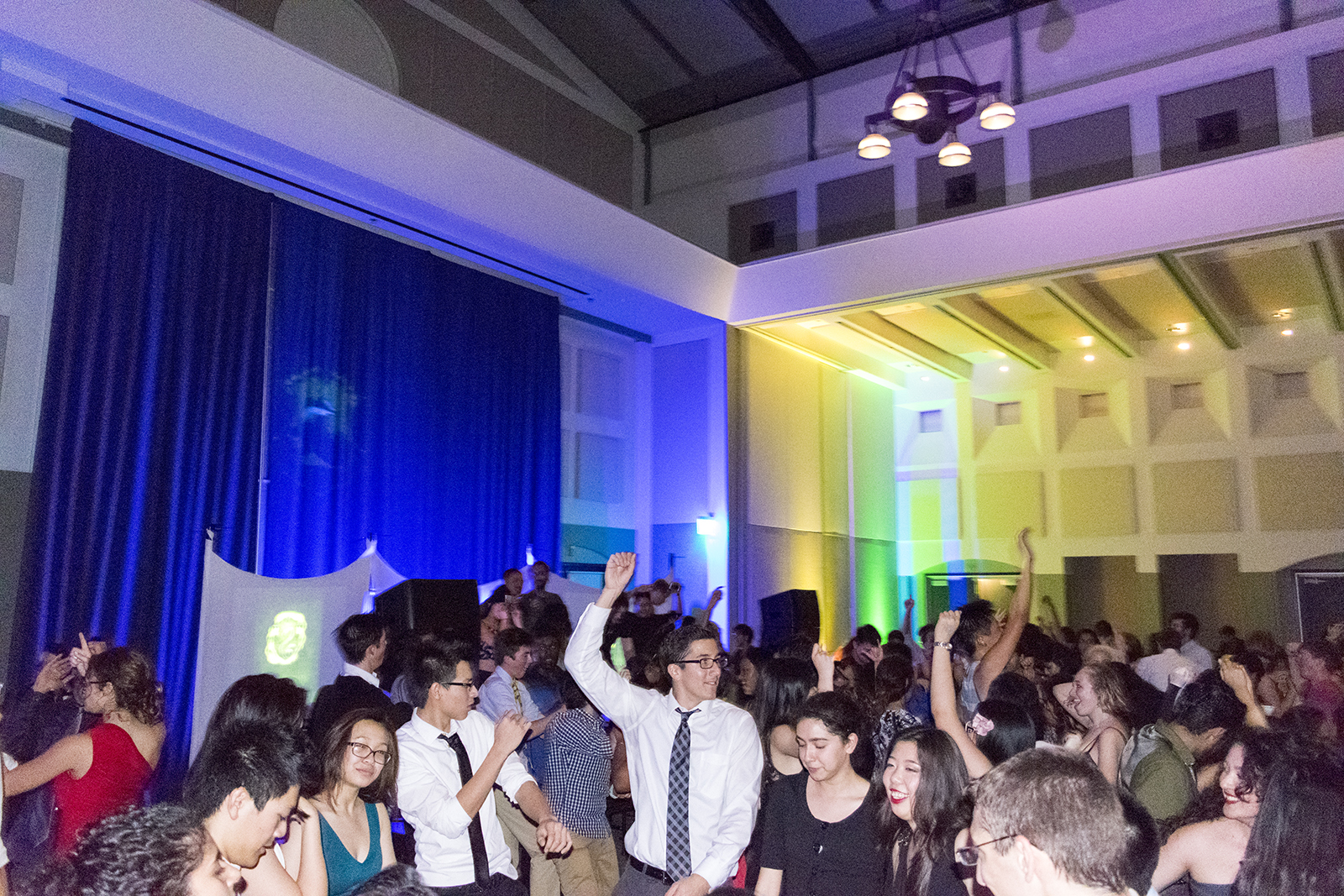 Harry Potter Week came to a close at the Yule Ball on Saturday where students showed off their Muggle dance moves, sipped hot cocoa and celebrated Hufflepuff's (Hedrick's) victory in the House Cup. (Maryrose Kulick/Daily Bruin)
Although UCLA is supposedly a Muggle-filled school, a Harry Potter look-alike was seen strolling in front of Café 1919 and taking selfies with students on Thursday.
The Office of Residential Life presented the third annual Harry Potter Week from Monday to Saturday. Fourth-year anthropology student and head programmer of Harry Potter Week Zoe Robbins gathered 15 students to start planning the events during sixth week of fall quarter. This group was made up of housing government representatives and one residential assistant.
The competition was set for Hill residents, as participating students found themselves sorted into houses with De Neve as Gryffindor, Sunset Village and Sproul as Slytherin, Rieber as Ravenclaw and Hedrick as Hufflepuff.
The week kicked off with "A Trip to Hogsmeade" on Monday at the Sunset Village patio.
First-year international development studies student and festival planner Hannah Yi said that booths and activities at the event ranged from button-making with cutouts of students' houses to hennas of the Dark Mark.
"We had a trivia booth, and it was interesting to see how much people knew about Harry Potter. … Some people even asked if it was possible to have harder questions," Yi said.
Another booth showcased a spinoff of the classic carnival game "pin the tail on the donkey," called "pin the sock on Dobby." A photo booth also offered props such as Harry Potter glasses, robes, brooms and a Sorting Hat.
Along with these activities, the UCLA Volunteer Center presented tables where attendees created Harry Potter-themed bookmarks for elementary school students and wrote letters for Operation Gratitude, a group that sends letters and packages to military service members and veterans.
Robbins worked with the Career Center and fellow students to co-program Wednesday's "Magical Dream Careers" in Carnesale Commons. Due to programming difficulties however, "Muggle Money Management," a presentation on finances, was canceled.
Individual buildings and floors also participated in themed programs. Yi and Robbins, resident and RA of Delta Terrace, respectively, said that their building hosted a"Self-Defense Against the Dark Arts" class led by instructors from the John Wooden Center. According to Yi, Courtside also organized a program where residents painted succulent planters, resembling a Herbology class at Hogwarts.
Social media was used to not only get the word out, but also to allow students to earn house points.
"No other programs let the courts have some sort of rivalry, and I think it (was) friendlier and more fun since it (was) Harry Potter themed," Yi said.
Addressing Harry Potter pick-up line challenges, trivia questions and utilizing Twitter hashtags like #gryffindorable, #slytherwin, #ravenclawesome and #hufflepride were ways to boost house rankings, with the "Horcrux Hunt" as the most consistent way to earn points.
The UCLA Quidditch team organized a tournament on Saturday, in which four teams participated. Michael Binger, a third-year environmental science student and captain and coach of the UCLA Quidditch team, said the teams did not get to practice the day before as planned, because the Intramural Field was unavailable.
"It's a nice experience to see everybody try it out. It's kind of amusing – I won't lie – because with everything, beginners do some funny things sometimes. It's easy to laugh at, playing for three years, but I'm sure I did it when I originally started," Binger said.
Harry Potter Week came to a close Saturday night with the Yule Ball, a dance that served hot chocolate and a selection of sweets from Hogsmeade's very own Honeydukes. Students danced to the modern mixes of DJs Shan Tambat and Bentley Montes and took pictures in a booth set up outside of the ballroom.
"I've always been a huge Harry Potter fan," said third-year physiological science student Lauren Hickey. "And the dance is a great way to represent a local Hogwarts."
With fog emanating from glasses of hot water and dry ice, the house point tallies were finally announced during the Yule Ball.
Gryffindor (De Neve) came in last place with 108 points, 60 of which were given as Dumbledore bonus points, and Ravenclaw (Rieber) came in third with 256 points. Hufflepuff (Hedrick) came in first with 322 points, winning the House Cup and leaving Slytherin (Sunset Village and Sproul) in second place with 309 points.
Robbins said this year's Harry Potter Week has been a learning experience for the program coordinators.
"Everything that's happened this year, we're just going to learn from and carry that forward," Robbins said.