UCLA New Play Festival features coming-of-age story 'The Other Town'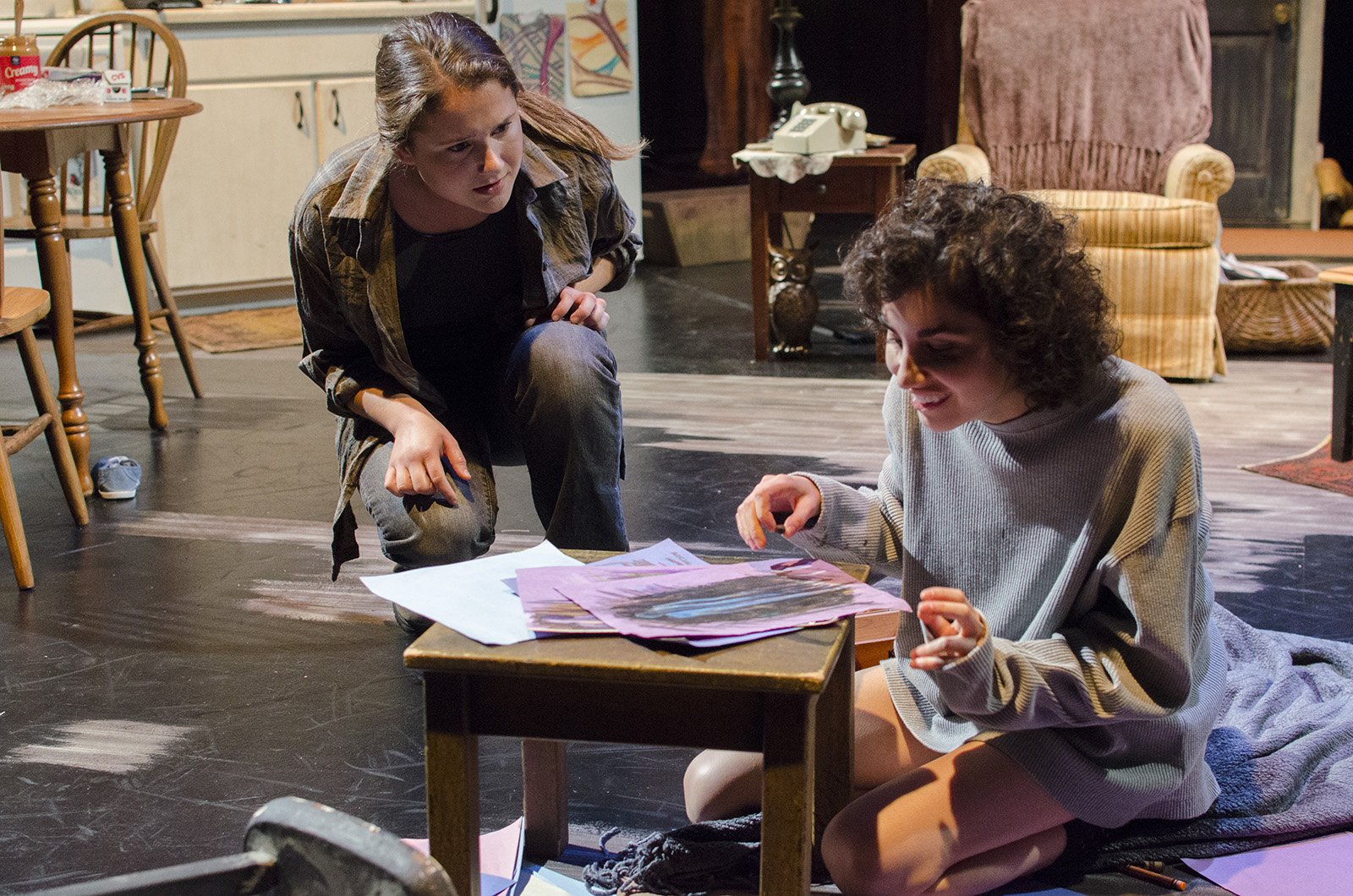 The New Play Festival will feature "The Other Town," a play written by UCLA TFT graduate student Nick Johnson. The play's cast includes TFT students Lila Gavares (left) and Sarah Yarkin (right).
(Daniel Alcazar/Daily Bruin)
With a little more than 100 pages, playwright Nick Johnson, a graduate student in the School of Theater, Film and Television, sheds light on the adversities of growing up.
Johnson's play, "The Other Town," will be featured in the New Play Festival at UCLA, which showcases full-length productions of students' thesis plays, written for their master's degree. The event has taken place for over a decade, typically debuting three plays written by students each year.
However, no other play will accompany "The Other Town" at this year's event, as Johnson happens to be the only playwright in his class. With its first performance Wednesday night, "The Other Town" will show three more times, Thursday, Friday and Saturday at 7:30p.m. in 1340 Macgowan Hall.
The play is a coming-of-age story that deals with grief, class and family obligations. The story follows Stevie, an 18-year-old girl growing up in an economically oppressed Humboldt County with her mother and sister.
The cast of "The Other Town," which meets six days a week for four hours a day, is made up of four undergraduate TFT students: Lila Gavares (Stevie), Olivia O'Connor (Stevie's mother), Sarah Yarkin (Stevie's sister) and Anthony Sorrells (Pete).
In addition to rehearsals, Gavares, a third-year theater student, said she keeps a journal for the show and listens to a Spotify playlist, which has songs everyone picked that tell the story for them.
"I get to experience (Stevie's) journey from beginning to end," Gavares said. "It's interesting as an actor, understanding what happens each step of the way, but (having) to allow for it to happen in each act of the show. Even though I know what happens in the end, I have to be completely in the moment of each (scene)."
The theater department helped connect Johnson with Richard Martinez, a UCLA alumnus and the play's director.
"There's something about ('The Other Town') that feels like home to me and so as far as the collaboration process, I think it was really easy because I already felt like I was a part of the world," Martinez said.
Martinez said his favorite thing to do is work on new plays, which is exactly what Johnson said helps in the process of creating a completely new experience through rewriting lines and even whole scenes together.
"When you're working on old texts, you don't always have the writer with you to bounce off and to create the story with," Martinez said. "With the new play, (Johnson's) in the room with me so it feels like we're coming to a consensus about what feels the most … truthful, instead of (having) that little piece of you that guesses when you don't have the writer with you."
Johnson said the play is about what it means to grow up with no clear-cut answers.
"We're all looking for the same things and there really isn't anyone telling us how to find those things anymore. And there's a very strong theme of people helping each other find those answers even when we're all lost together," Johnson said.
Although inspired by the redwoods location, Johnson said the story pulls from the core experience of leaving home.
"I think it's a story that will appeal to all of us in a college environment who have made the decision or are in the process of making the decision of where home is," Johnson said.
After coming to Los Angeles from the Bay Area, Johnson decided to return to Northern California this past summer to enrich his playwriting process by immersing himself in where the play's setting is based on.
"I traveled up to (Eureka) and I just spent a few weeks there soaking it in and taking lots of pictures … to absorb the reality of what it would be like to grow up in a place like this," Johnson said.

At first, Johnson said he did not know how to write the play he had outlined last fall, even though he knew the story's characters and setting. He went through multiple drafts where nothing felt right.
"I didn't know how to write this character-driven piece without forcing a plot on it and really, what it took – and this is a lesson in playwriting – (was) I just had to live a little bit longer as a human being," Johnson said.
Although it took two to three days to write the play, Johnson said it took him eight months to get there.
"I had to go through some stuff and that taught me enough to tell these characters' story with honesty because until that point, it hadn't felt honest," Johnson said. "I was dictating what happened to these characters rather than listening to their story, which sounds kind of crazy … but that's kind of what playwriting is."