UCLA names athletics facilities in honor of Jackie Robinson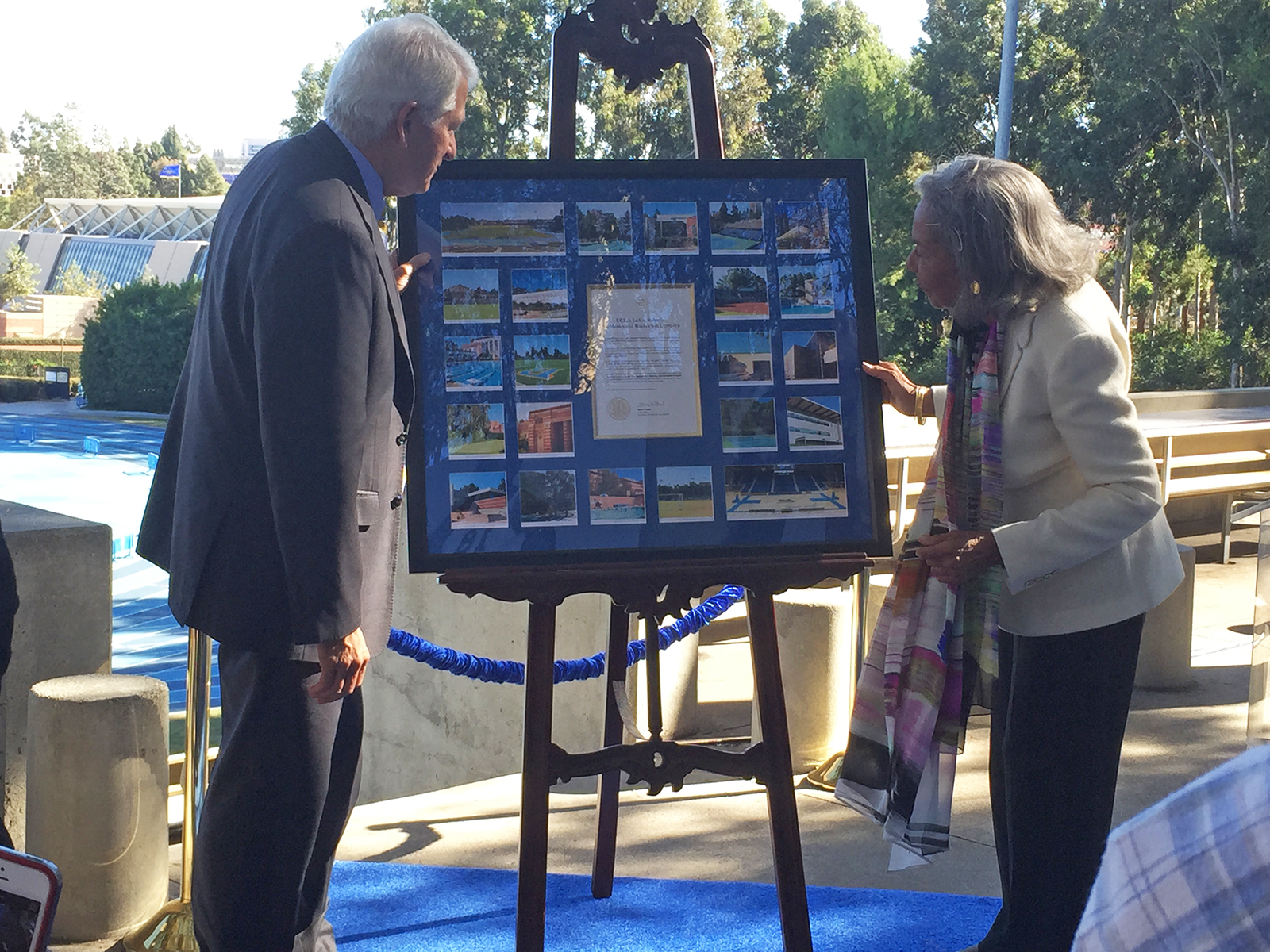 UCLA Chancellor Gene Block (left) and Rachel Robinson, Jackie Robinson's wife, (right) unveil plans for the The Jackie Robinson Athletics and Recreation Complex. (Jason Drantch/Daily Bruin)
This post was updated on Nov. 23 at 2:30 p.m.
Seventy-five years ago, Jackie Robinson stepped on the UCLA campus for the first time as a student athlete. On Friday, UCLA honored Robinson by naming the athletics facilities after him.
The Jackie Robinson Athletics and Recreation Complex comprises 22 existing UCLA facilities, including Pauley Pavilion, the John Wooden Center, and the J.D. Morgan Center, among others.
Robinson's number, 42, will be placed in-ground at the entrance of each facility to remind students of his courage.
Director of Athletics Dan Guerrero kicked off the ceremony, held at the Drake Stadium concourse, by speaking about the impact that Robinson had on his own life.
"Jackie Robinson was an inspiration for my dad's love for UCLA, a love that I inherited and really embraced," Guerrero said. "UCLA became a place that transformed my life just as (Robinson's) courage, character, his work ethic, and his talent helped to transform the lives of many individuals."
Rachel Robinson, Jackie's wife, and UCLA Chancellor Gene Block pulled down the curtain on a picture frame to reveal the official naming of the complex.
"UCLA was the place where our lives together began and where many of our values and goals were established," Rachel Robinson said. "Jack was very proud to be Bruin. We thrived in this university that supported our goals and achievements."
During his speech, Block focused on the influence that Robinson still has on the UCLA community today.
"This is a place about people and people's impact on the world," Block said. "Over the course of the last century, UCLA students and facility have distinguished themselves as barrier breakers, transforming our world through discoveries and actions that pushed past previously established limits of knowledge and societal conventions."
Vice Chancellor for Student Affairs Janina Montero also spoke at the ceremony about UCLA's Jackie Robinson scholarship and honored the recipients in attendance.
Also in attendance were UCLA and Los Angeles Lakers Hall of Famer Jamaal Wilkes, current UCLA coaches and players from multiple sports, and other athletic and campus administration.
During UCLA football's 38-20 rout of USC on Saturday night, UCLA announced that Robinson's number 42 would be retired across all sports. All three UCLA student-athletes that currently wear the number – women's soccer senior defender Ally Courtnall, women's softball sophomore utility player Jelly Felix and football freshman linebacker Kenny Young – will be the last Bruins to ever don the number.
"When I think of his number, I think of greatness, strength, courage, and all of those kind of qualities that Jackie Robinson encompassed and exemplified in his life," Courtnall said in a statement. "If I could only be somewhat close to that, it would be amazing."
During the first quarter break of Saturday's game, there was an in-stadium video honoring Robinson's legacy. In addition, his number 42 was painted between the 30 and 35-yard lines on both sides of the fields, hung above the stands, and worn on the helmets of each football player.
"I expect Bruin coaches and student athletes to represent this university with character and class at their time at UCLA and long after their gone, just like (Robinson) did," Guerrero said. "I also expect them to compete to the very best of their abilities and to handle success and adversity with the dignity that (Robinson) did."
While at UCLA, Robinson was a four-sport letter winner in football, basketball, track and field and baseball.
Robinson went on to play Major League Baseball for the Brooklyn Dodgers, breaking the color barrier as the league's first African-American player on April 15, 1947. That season, he won the Rookie of the Year award, which is now named after him. He also won the National League Most Valuable Player Award in 1949 and helped the Dodgers win the World Series in 1955.
"He used that historic moment in our nation's history to argue for a vision of community that is more inclusive, kind, compassionate and just," Block said. "When we drew up a list of UCLA's greatest barrier breakers, (Robinson) was on the top, of course."
The UCLA and MLB Hall-of-Famer's number 42 is retired throughout the MLB, the only player in baseball with such an honor.