Movie Review: 'Beyond the Lights'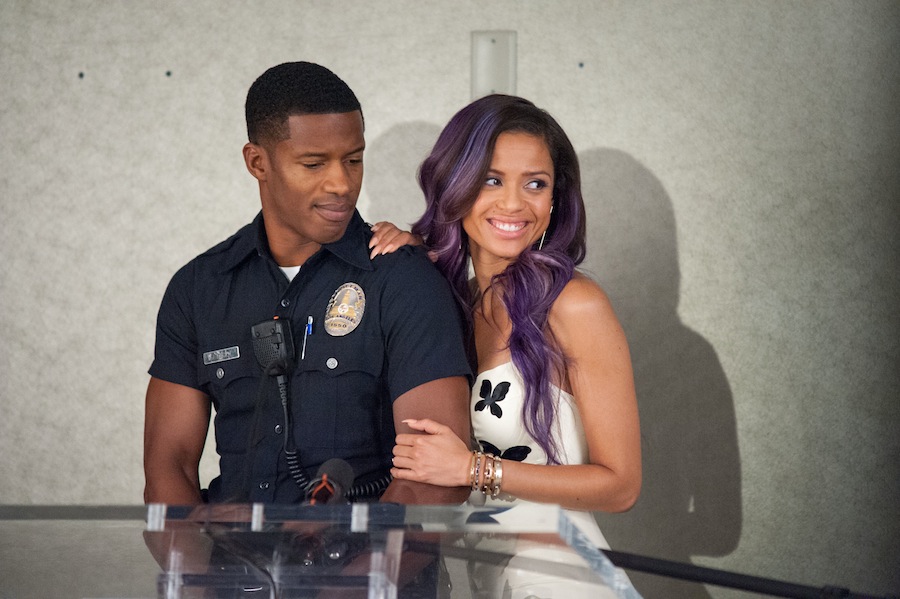 "Beyond the Lights"
Directed by Gina Prince-Bythewood
Relativity Media
The public scrutiny of stars is so ingrained in modern culture that even a suicide attempt becomes the stuff of gossip magazines.

But after one has sufficient contact with a celebrity, it becomes clear that they are just people, complete with strengths and insecurities. "Beyond the Lights" offers two hours of close contact with such a character.
In Gina Prince-Bythewood's "Beyond the Lights," popular singer Noni Jean (Gugu Mbatha-Raw) must sort out her identity and career after a suicide attempt, with help from the handsome policeman who saved her life.
Prince-Bythewood, an alumna of the UCLA School of Theater, Film and Television, has writer-director credits for critically acclaimed feature films "Love & Basketball" and "The Secret Life of Bees." She has not made a film for six years, during which she developed and worked on the idea for "Beyond the Lights."
The story of Jean, a British singer, begins at a children's talent show. She sings a hair-raising a cappella rendition of Nina Simone's "Blackbird" and wins second place, but her ambitious mother (Minnie Driver) tells her to throw her trophy away. She will stop at nothing short of first place.
Fast-forward to Jean's 20s: She wins a Billboard Music Award for a single right before releasing her first album. Her music is of a shallow, sexualized style that doesn't do her talent justice. Her photographs and costume choices are of the same variety, one that her mother, who is also her manager, wholeheartedly pushes on her. Not surprisingly, Jean is unhappy.
Overwhelmed by the pressures of stardom and the demands of her overbearing mother, Jean sits on a balcony and prepares to fall to her death. She is talked out of the attempt by Kaz Nicols (Nate Parker), a policeman and aspiring politician. The media and her mother continue to plague her, but Nicols becomes her source of escape. As their romance develops, the couple gives each other shelter from the pressures of the world around them.
"Beyond the Lights" marks Prince-Bythewood's first foray into the music film genre and a revisit to the romantic genre. It is primarily a cute, sexy love story with a predictable trajectory. But despite the film's predictability, Prince-Bythewood once again proves her ability to construct meant-to-be relationships with intense chemistry in the style of Monica and Quincy from "Love & Basketball." Jean and Nicols have differing views concerning stardom, but are instantly attracted to each other. The relationship makes sense, because Jean needs someone to see her for who she really is and Nicols has a high capacity for giving.
For a film that reflects on the baggage that comes with musical stardom, Mbatha-Raw's performance is less absorbing than it should be. The actress, star of the 2013 historical drama "Belle," deftly builds an artificial identity for Jean, who must maintain a plastic persona for the media and fans in the film. However, this is the only dimension she creates for the character, who ends up lacking complexity.
In scenes calling for more vulnerable delivery, such as a sequence in which Jean and Nicols have dinner in Nicols' car, Mbatha-Raw stays guarded, keeping the stiff facial expressions and shallow tone of voice that characterizes her performance. Jean rarely seems real.
In "Beyond the Lights," Jean wants to invest more of her true identity in her career. Mbatha-Raw's one-dimensional performance does not give any clues as to what that identity may be, if it exists.
The leading actress also gets very little opportunity to show off her musical chops, which, if the brief pieces she sings are any indication, are strong. Instead, the film features atmospheric songs from modern artists, including Beyoncé's "Drunk in Love" and Birdy's "Shelter," which infuse key emotional scenes with a dismissive, music video-like quality.
The film is riddled with simplifications that further undermine its message, including an unbelievably apathetic mother who shows no signs of caring for her daughter's well-being. Jean's former celebrity boyfriend, played by rapper Richard Colson "MGK" Baker, is a flat character with seemingly no redeeming qualities. Overall, "Beyond the Lights" is too shallow in substance for its reflective music film identity to take hold.
Jean's stardom comes with a price so significant that it motivates her to attempt suicide right as her career is taking off. The magnitude of her struggle, however, is lost behind an uninspiring performance and simplified plot elements. "Beyond the Lights" offers little more than a standard romance story with a popular singer as its female protagonist.
– Eileen Li