TFT alumna's film seeks to shed light on child sex trafficking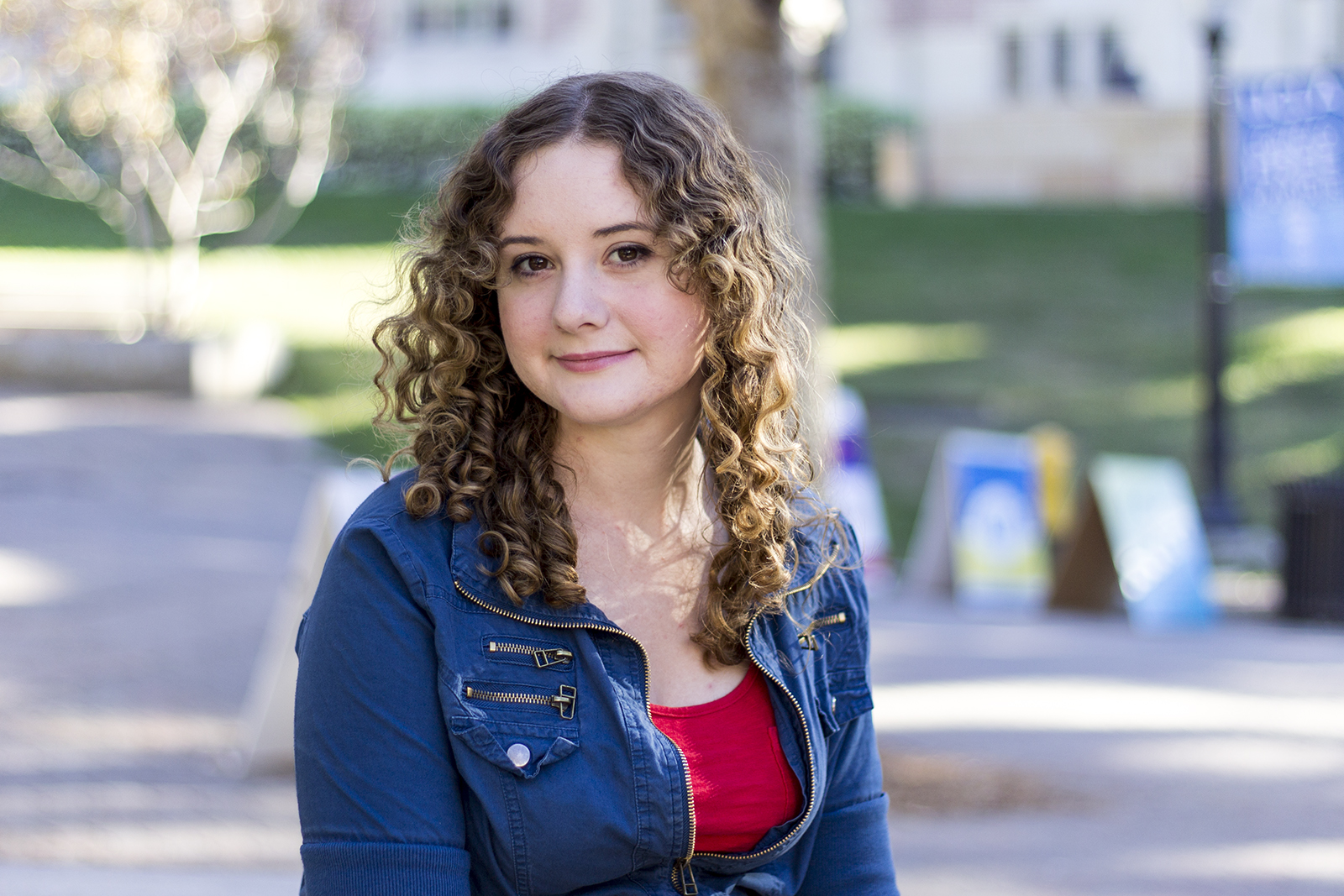 UCLA School of Theater, Film and Television alumna Melody Miller is fundraising for her documentary "California's Forgotten Children" on Kickstarter. In the film, Miller interviews multiple survivors of child sex trafficking, activists and government officials.
(Alyssa Dorn/Daily Bruin)
Melody Miller wants to teach children about a subject matter that she can't show them. It's a subject that Miller said she has to hide behind imagery and vignettes – one that the children she reaches out to don't often understand exists in their world.
Miller's subject is human trafficking, which affects more than 100,000 children in the U.S. each year, and the medium she chooses to teach through is filmmaking.
"My vision for the film is to keep children out of danger, rape, violence and slavery by creating a movement in communities to come together and prevent child sex trafficking from happening," said Miller, a cinematography alumna of UCLA's School of Theater, Film and Television. "My mission is to empower forgotten children and bring this documentary together not just to raise awareness, but also to raise action."
Her documentary, "California's Forgotten Children," is in post-production, seeking to reach a Kickstarter goal of $15,000 by Nov. 17. The film focuses on interviews with multiple survivors of child sex trafficking, each backed by words from activists, government officials and support organizations as well as abstract acting performances to help tell their stories.
"California's Forgotten Children" focuses on the child sex trafficking rings in California in particular, a state that Miller said is both a domestic and international trafficking hotspot. Miller said she wants to use California as an example for other children to know that this issue can happen right next to them.
"This is my home state; this is my neighborhood," Miller said. "California harbors three of the largest sex trafficking rings in the nation that spread out to the suburbs. You don't think it would be happening there, but it happens a lot."
Whether or not she reaches her intended donation mark, Miller said she has high hopes for the final cut of the piece. She said that she sees her film investment as contributing to the common good, and she hopes it will lead to widespread education across the country.
"I want to donate this film to nonprofits and high schools in California," Miller said. "I want to work on a curriculum that goes with the film so that teachers can teach it in their classrooms and take immediate action. I think the quality, message and strength of the film can really make a difference."
Miller said her interviews with survivors revealed how dense and complicated their pasts had been. These men and women, who were on average around 12 to 14 years old when introduced to sex trafficking according to anti-trafficking organization California Against Slavery, would leave Miller in complete shock from the severity of their stories.
"The amount of horrible people out there that would do that to these kids is overbearing," Miller said. "The key thing is that if a child is being sold for sex under 18 years of age, they should not be called a prostitute. They are commercially, sexually exploited children."
Two survivors Miller interviewed, Rachel Thomas and Carissa Phelps, are UCLA alumni who have since become noted trafficking activists. Thomas, who co-founded survivor awareness organization Sowers Education Group, said that Miller's interviews with advocates in the L.A. area show that people believe in her movement.
"You can tell she really wants to spread awareness and inspire and engage the audience," Thomas said. "She made the film in a way that respects the survivors and portrays their real lives accurately."

Her experience with the controversial issue predates "California's Forgotten Children" as a UCLA undergraduate project. Miller said she was shocked to learn while volunteering in high school, as part of nonprofit trafficking awareness support organization MISSSEY, that peers and individuals around her were affected by child sex trafficking. A documentary she made at the time, "Safe Place Alternative," won several awards and was broadcast on CNN.
While production started on "California's Forgotten Children" in 2012, Miller continued to volunteer for MISSSEY, based in Oakland, as well as around UCLA. L.A. STOP THE TRAFFIK, a UCLA anti-trafficking group, worked with Miller during her filming process. She regularly brought new material to the group's meetings to receive feedback.
"Her work is informative and sheds so much light into the issue," said Christal Chung, fourth-year economics and history student, and founder of L.A. STOP THE TRAFFIK. "It really highlights the way this industry is elusive and underground."
In her documentary, Miller portrays these ideas through acted out scenes of dramatic imagery. She did this with the help of many friends she met at UCLA, including School of Theater, Film and Television alumnus Jason Knutzen. Together, they said they tried to capture moments that put the audience in each child's mindset.
Knutzen said one example that stuck out to him was a scene filmed as a bookend to the feature, shown while the interviewees are talking about feelings of freedom. He and Miller filmed actors in the UCLA Botanical Garden, relaxing in nature.
"These scenes really showed the softer side of what was happening," Knutzen said. "This was a kind of visual relief that really stuck with me afterward to show that everything's not terrible all the time. The goal is that victims can achieve that same freedom."
Miller said one of her most touching moments was during Phelps' interview, when Miller asked what she would say to the people watching her film. Phelps said that everyone watching has their own unique skills and abilities, and can use them to change to world. Looking at Miller, Phelps said, "Like you!"
"It meant a lot to me that she believed in what I was doing, that we are able to change the world with our abilities," Miller said. "That message is important for the whole United States and how sex trafficking is not just donating money. You can all do something small that can make a big difference and a big change in the world."