'Secret Life of Birds' exhibit shows new view of human interaction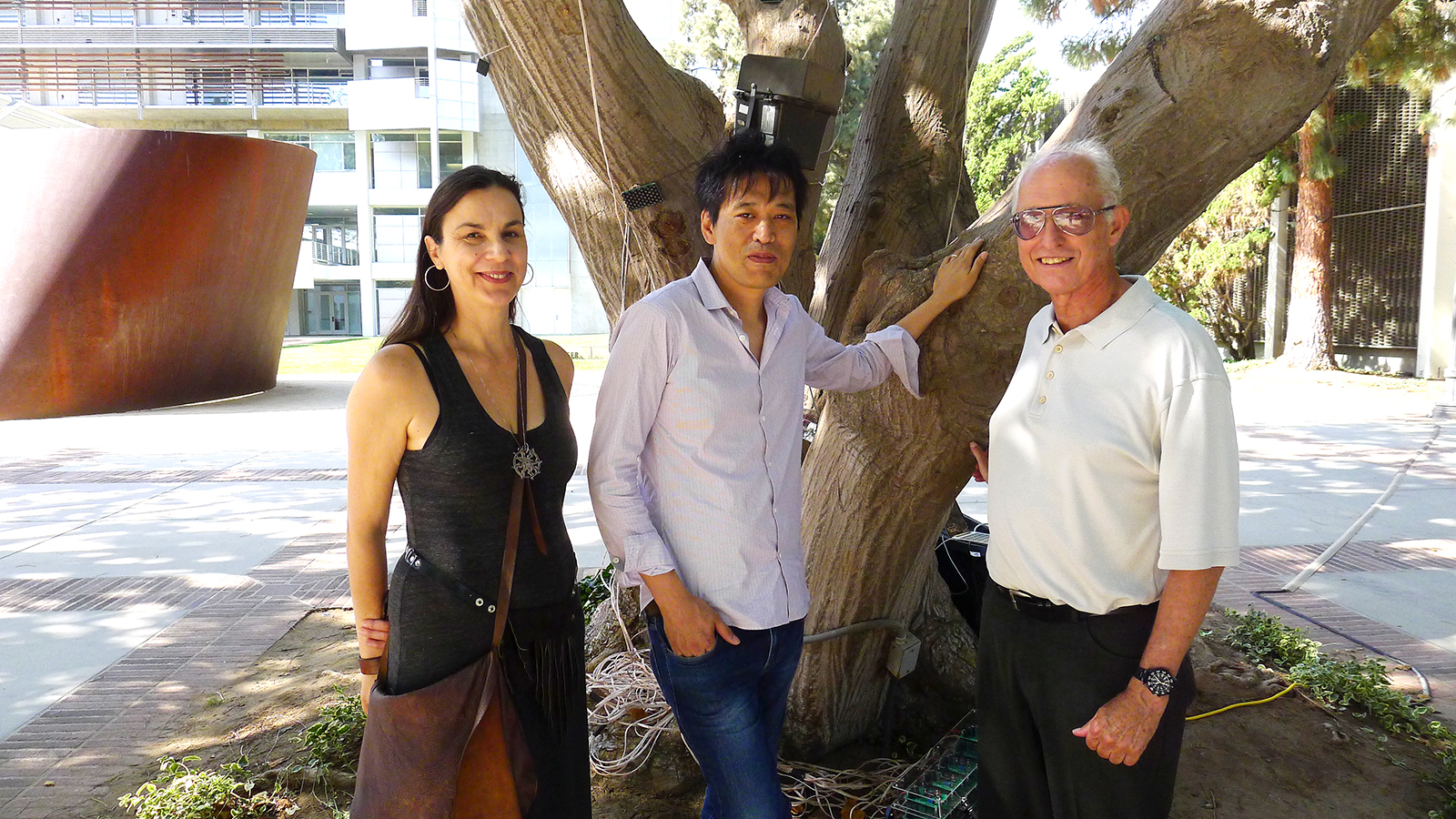 The UCLA Art | Sci Center will open its exhibit, "Secret Life of Birds," Thursday at the California NanoSystems Institute. The exhibit was organized by Design | Media Arts professor Victoria Vesna (left), physics professor Takashi Ikegami (center) at the University of Tokyo and ecology and evolutionary biology professor Charles Taylor (right).
(Courtesy of Blanka Buic)
Human ancestors looked to birds in times of migration, followed their calls when hunting and even used them to send messages. Yet, as humans have evolved and modernized, we have become increasingly disconnected from birds and removed them from our urban environments.
"Secret Life of Birds," an exhibit from the UCLA Art | Sci Center funded by the National Science Foundation, builds off this idea and aims to reexamine the bonds between humans and birds through the perspective of the birds. The exhibition will open Thursday at the California NanoSystems Institute at UCLA.
"Secret Life of Birds" was put together by ecology and evolutionary biology professor Charles Taylor and Design | Media Arts professor Victoria Vesna. The project sees various disciplines of art and science converging to present Taylor's research as a work of art.
The interdisciplinary team assisting Vesna and Taylor throughout the project consists of fourth-year geography/environmental studies student Carmen Antaky, Design | Media Arts graduate student John Brumley and Joel Ong, a sound-artist graduate student from the University of Washington.
Through layering the bird songs Taylor recorded out in the field with visual images shot using drone photography, the project hopes to display human interaction as experienced by birds as an audiovisual art exhibition.
Taylor's interest with birds and bird song, stems from his interest in understanding robots.
"Analyzing bird song seemed like a good way to approach understanding robot communication," Taylor said. "If we are able to understand bird syntax, or the rules that govern bird song, perhaps we can understand the meaning behind them, and the same may be true for robots."
The capture of bird song took Taylor into the field, collecting data from various species of birds from around California. His ultimate desire was to see if birds transfer any referential information – knowledge – to one another through bird song.
"Most thinking up to now has said that bird song conveys a bird's internal state, regarding mating or territory, but there is more and more evidence suggesting that birds pass on more than this," Taylor said.
Vesna became involved in the project when Taylor was composing his interdisciplinary proposal to the National Science Foundation.
"I was intrigued in how, through the research, I realized how birds interacted with us. Images from the bird's eye view are increasingly part of our reality," Vesna said. "We shot and collected some drone footage – including one from above the protests in Hong Kong, from bird's eye view, showing the organization of humans – and this forced me to think of our behavior as a collective. The idea is to try and bring to the forefront the ideas of diversity, interconnectivity, linguistics and human-animal networks."
These powerful images of human action will be juxtaposed with the bird song taken from Taylor's research, presenting the bird's perspective of both sight and sound to the exhibit's viewers.
"The exhibit itself will grow like a research project and will try and work it better, based on how people respond, for our next shows," Vesna said. "We have invitations to show our exhibit in Japan, Shangai, New York and Indiana."
Mary Tsang, a videographer working for the UCLA Art|Sci Center, said she believes that this contrast will work well.
"The bird song tells a story of the footage you're watching," Tsang said. "(It makes) you aware that birds are always around and always watching, whether it's the protests in Hong Kong or the bombings in Syria."