Q&A: Alum Jesse Draper discusses TV show, 'Women Breaking Barriers' seminar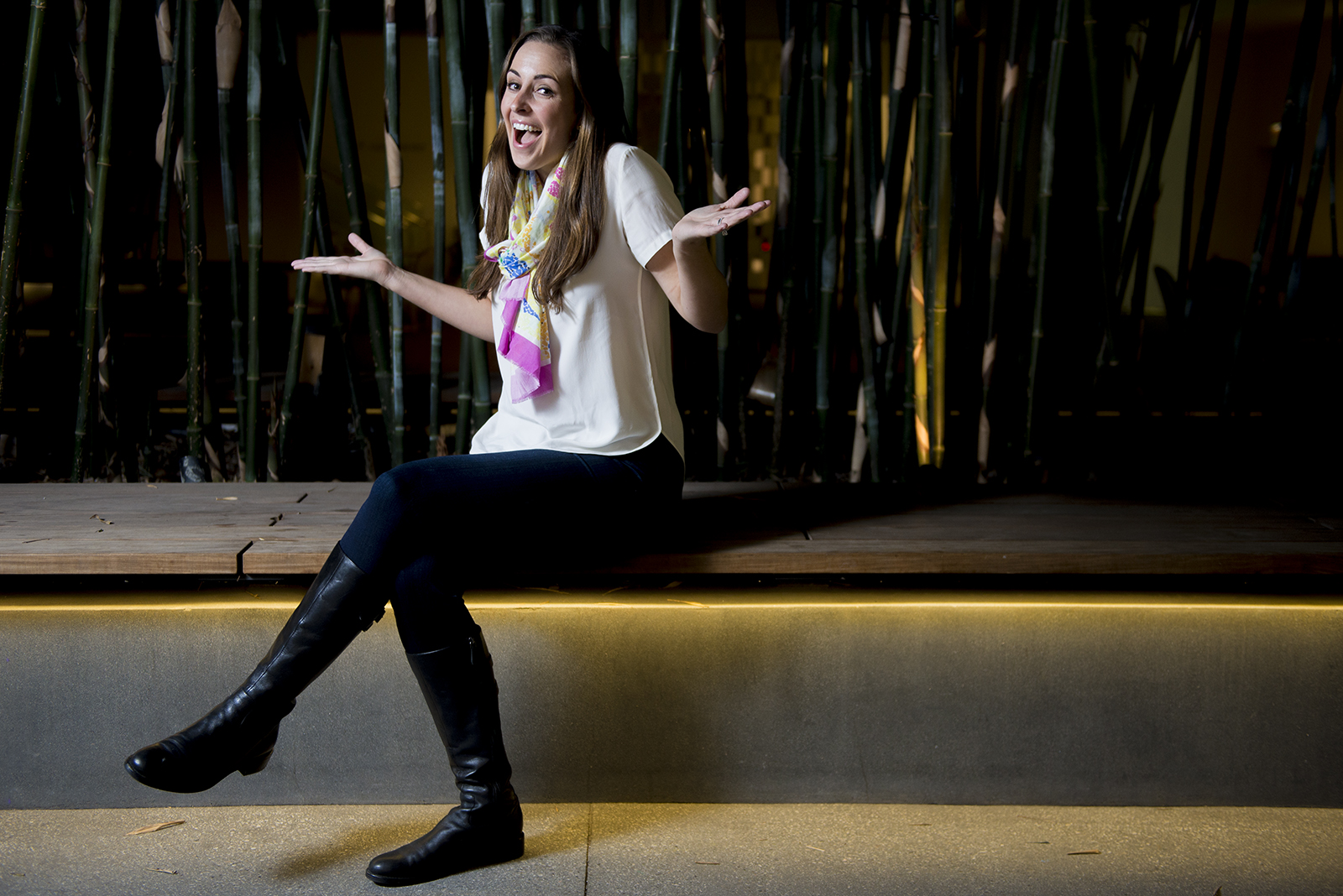 After graduating from the UCLA School of Theater, Film and Television, alumna Jessie Draper created "The Valley Girl Show," recently syndicated for a television deal with Fox.
(Daniel Alcazar/Daily Bruin)
UCLA alumna Jesse Draper has played Barbies with Mattel CEO Robert Eckert, high-fived retired Supreme Court Justice Sandra Day O'Connor and rode Segways with Apple co-founder Steve Wozniak. It's a typical year's work for this web television talk show host.
Draper began her talk show career after graduating from UCLA in 2006 with a bachelor's degree in acting from the School of Theater, Film and Television. Since then, she has created the web television program "The Valley Girl Show," in which she interviews leading business and technology entrepreneurs in 10- to 20-minute segments, and started an investment fund for female entrepreneurs called Valley Girl Ventures.
On Thursday, Draper will host "Women Breaking Barriers: Bruin Entrepreneurs and Tech Leaders" at the Cowell Theater in San Francisco. She will interview successful UCLA alumnae who work in these traditionally male-dominated fields. Guest speakers include RetailNext's Chitra Balasubramanian, Tieks by Gavrieli's Dikla Gavrieli, Facebook's Kelly Winters and Alt12 Apps' Jennifer Wong.
Although Draper is usually the one to conduct interviews, The Daily Bruin's Savannah Tate put Draper in the spotlight and spoke with her about the production of "The Valley Girl Show," her UCLA experience and her agenda for the "Women Breaking Barriers" seminar.
Daily Bruin: The format of "The Valley Girl Show" brings respected leaders in business and technology out of their comfort zones for fun and authentic discussions. Why is increasing the accessibility of these fields important to you?
Jesse Draper: Because these are the people doing the most innovative, incredible things, and I think that they're the role models that people should be looking to.
DB: You recently announced that "The Valley Girl Show" got a syndicated television deal with Fox. Do you think this switch to network TV will change any aspects of the show?
JD: Yeah, now it's a 30-minute show. A lot of people say (the show is like) "The Ellen Degeneres (Show)" of Silicon Valley, so that's kind of what we're going for. A 30-minute show (with) more interviews, more segments. Just bigger and better.
DB: What has been your biggest challenge in producing "The Valley Girl Show" so far?
JD: I think figuring out digital distribution has been a constant battle … We were getting 2 million regular views per video according to Nielsen (ratings), but it was so difficult to quantify and monetize … And now I'm going back to the old media model which also has a lot of problems. So I think everyone in digital video has quite a bit of trouble figuring out the perfect business model.
DB: What was your motivation for starting Valley Girl Ventures?
JD: I made myself a promise that I would interview 50 percent women (entrepreneurs on "The Valley Girl Show"), and I've pretty much done that. But it is difficult everyday to find these women … I just want to help women in business and help create more female entrepreneurs in any way I possibly can. So about a year and a half ago, I started Valley Girl Ventures where I invest in female-founded companies.
DB: Has your experience at UCLA shaped your career in any way?
JD: I studied a lot of comedy in the acting program at UCLA, and that's really helped me because I'm interviewing very dense, technology-oriented companies (and) not everyone is going to understand exactly what they do. It's fun to be able to add some humor and make fun analogies and break it down. I definitely learned that from the TFT program.
DB: What do you plan on discussing in the "Women Breaking Barriers" seminar?
JD: I really want to talk about a lot of the topical issues going on with women with tech, (from) Apple and Facebook paying for egg freezing to how you manage it all … We're also going to learn all about what kinds of backgrounds these women (have). I want to hear about all of their majors and what they studied at UCLA.
DB: You often ask your guests for advice about being an entrepreneur and getting involved in tech, but what advice would you give to students interested in those fields?
JD: Meet as many people as you possibly can in that field … It's so important to just constantly be meeting people in what you want to do and asking a million questions. Don't be shy. Ask tons and tons of questions, and do as much research from real people who have had similar careers as you possibly can, because you can only Google so much. It's so much better to hear the real-life perspective.
Compiled by Savannah Tate, A&E; contributor