GuitAria to pluck heartstrings at Fowler Out Loud concert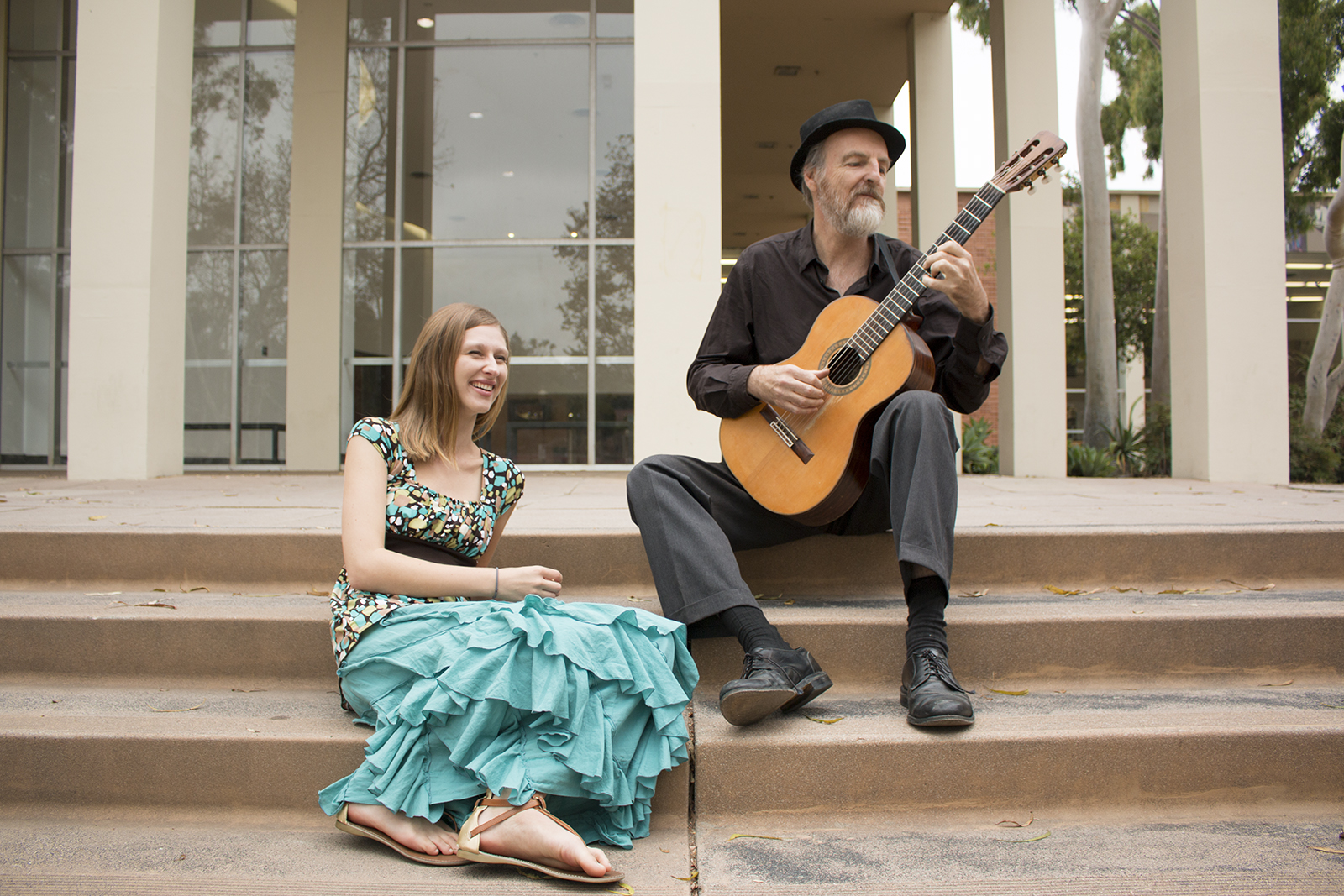 Peter Yates and Alexandra Grabarchuck will perform as GuitAria for the Fowler Museum's Fowler Out Loud concert series Thursday. Yates, an adjunct assistant professor of guitar, and Grabarchuk, a graduate student in musicology, will perform their guitar and vocal duet, titled "Aspects of Love."
(Jessica Zhou/Daily Bruin)
Huddled in a corner of Schoenberg Hall's main lobby, UCLA professor Peter Yates and student Alexandra Grabarchuk sit together, discussing a piece of music in low tones.
With a fluid movement, Yates lifts a guitar to his knee and plucks a few strings, sending a vibrant chord through the hall. Yates then begins to play a rollicking tune accompanied by Grabarchuk, who sings while shaping the lyrics with gentle movements of her hands and a small smile on her face.
Yates, an adjunct assistant professor of guitar, and Grabarchuk, a graduate student in musicology, will perform a guitar and vocal concert titled "Aspects of Love" at the Fowler Museum at UCLA on Thursday. The show will explore the themes of love, nostalgia and heartbreak in music from baroque, classical and contemporary composers such as Heitor Villa-Lobos, George Frideric Handel, Johann Sebastian Bach and Yates himself.
Yates said the idea for GuitAria, their guitar and vocal duo in the concert, came about four years ago when Yates and his guitar ensemble needed a singer for a performance of 16th-century Spanish songs. Grabarchuk, Yates said, came instantly to mind.
"Somehow, I figured out that (Grabarchuk) wasn't just a singer – not to disparage the breed – but that she also had this certain mentality suited to the music," Yates said. "When we rehearsed together the first time as musicians, that's when we felt that we had a special rapport."
In addition to guitar performance, Yates is also a composer of operas, suites and thematic pieces. When Grabarchuk and Yates began to collaborate, however, Yates said his performing and compositions took a different direction based more on their partnership.
"When you're writing music, there are those composers who realize that they want the performer to bring to their piece some attitude and not just follow the dots," Yates said. "I think the spirit of the history of music is one of collaborative input – in other words, I've got the dots, and (Grabarchuk's) got the attitude."
This collaboration will continue into the Fowler Out Loud program, in which Yates said the duo plans to demonstrate the universality of love and heartbreak with Grabarchuk on voice and toy piano and Yates on guitar, voice and percussion.
Grabarchuk said much of the music to be presented at the Fowler is similar thematically to a concert they held in May at Powell Library, which examined the phenomenon of love and heartbreak as depicted in music from different time periods, from Baroque to contemporary.
"We were hoping that heartbreak would be a contemporary phenomenon," Yates said. "(It) turns out (heartbreak) has cursed every era."
The show, split into three sections titled "Profane," "Sacred" and "Whatever," will include pieces that range from 18th-century Spanish cantatas to three Brazilian modinhas, which describe pure forms of unrequited love.
In the third section of the program, called "Whatever," Yates said he added on a set of folk song arrangements he composed in 2012 that did not fit thematically anywhere else in the concert, mainly because the suite of pieces had nothing to do with love and heartbreak.
Grabarchuk said the set of songs, titled "Stuck in Your Head," takes popular folk songs such as "Itsy Bitsy Spider" and pulls them apart, revealing a repetition that Yates said makes the folk songs so catchy.
Over the past four years that Yates and Grabarchuk have known each other, Grabarchuk said the unpredictability of their music has kept her intrigued and eager to learn more. Working with Yates, Grabarchuk said, allows her to make each piece her own.
"I've played and sung music in which the composers were almost crawling in their skin at my interpretation of their pieces," Grabarchuk said. "I'm learning a (song) of (Yates) but he doesn't even bat an eyelash, which lets the end result be so much freer and better."
Alan Berman, a professional guitarist who completed his MFA with Yates under the late UCLA guitar professor Theodore Norman, said Grabarchuk and Yates' mutual chemistry produces music that audiences can never predict.
"Once (Yates and Grabarchuk) perform a given piece, whether it's rock or classical, they'll never play that piece the same way twice," Berman said. "It makes for a fun concert because otherwise you're just witnessing a robotic reconstruction of something."
Yates said he hopes audiences appreciate the novelty of each show, a side effect of what Yates said is a process of musical discovery that he and Grabarchuk undergo every time they rehearse and perform.
"There's something about certain types of music that keeps interesting the players – they keep going back to it because it can't ever be quite solved," Yates said. "That is an element that we share: We just want to get to that elusive weirdness, that mystery, of the art."