UCLA women's soccer gears up for upcoming conference road games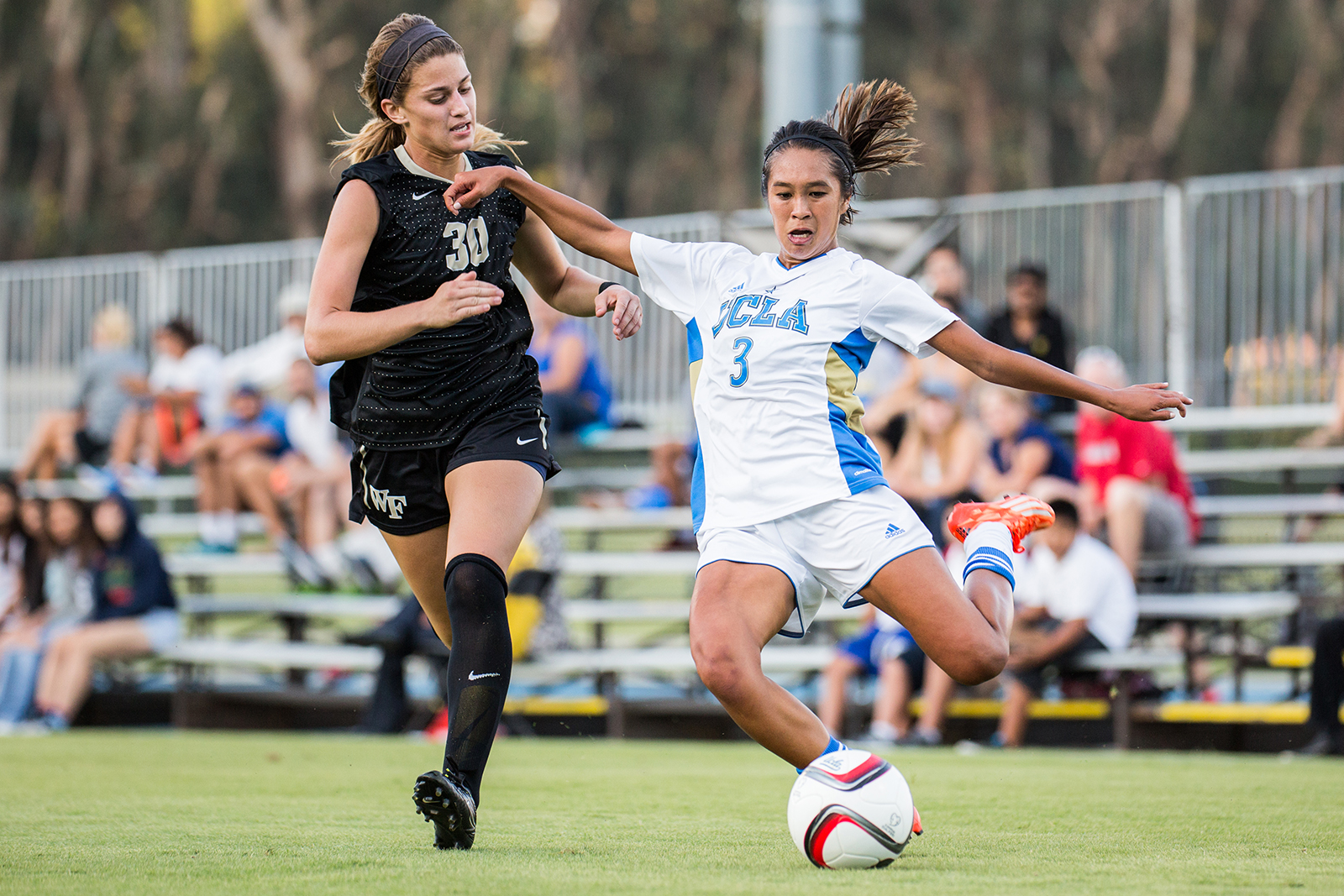 Entering the Bruins' final five games of the regular season – which are all on the road – senior defender Caprice Dydasco said that the team is on a "good road to hopefully come back and be home for our tournament."
(Austin Yu/Daily Bruin senior staff)
UCLA women's soccer's regular season doesn't officially end till Nov. 7, and the team still has a lot to look forward to.
The only catch to these five remaining games is that the Bruins will have to play all of them on various fields around the West Coast, with their next potential competitive game at Drake Stadium slated for Nov. 14, when NCAA playoffs begin.
"We still have so many conference games and we could potentially be home for the tournament," said senior defender Caprice Dydasco after UCLA's 6-0 win against Arizona last Friday. "It hasn't really hit us yet and we're just peaking right now at our season or gradually getting there to peak. So I think we're on a good road to hopefully come back and be home for our tournament."
But of course, with every road game comes mandatory travelling, practicing in unfamiliar places and potentially dealing with a heckling partisan crowd.
And for the No. 1 Bruins, that last game on Nov. 7 could potentially be the crowd that will show them the most animosity.
"It's a little worrying, I mean going on the road is tough, our last road game, even though it's here in LA. I mean it's in the coliseum against SC, and it's a big rivalry game," said assistant coach Joshua Walters. "We look at it and think we got to take it in little bits, but it does wear you down some."
Though traveling for games might seem less than ideal in terms of preparing for soccer games, it does have its upsides.
For a game like soccer in which teamwork is essential to success, the traveling might hinder the skill and tactical side of the game, but it enhances the camaraderie that underlies all of that.
"You always get to know each other a little bit more when you're away and spending more time together," said senior forward Rosie White.
The extended road trip is an inevitable consequence that comes with a large conference like the Pac-12, with Cal having a three-week series on the road toward the end of last season.
The upside to that for Pac-12 schools is that the conference champion is decided purely on a point-based system that tends to favor teams that stay competitive throughout the season.
The Pac-12 teams are awarded three points for a win against a conference opponent and one for a draw. The team with the most points at the end of the season is then crowned the Pac-12 champions.
At this point, UCLA (13-0-2, 5-0-1 Pac-12), the only undefeated team in the conference, leads with 16 total points.
For other conferences, a playoff system that forces teams to play multiple games in a short time span is the standard used to determine their champion – something that could cause some unwanted fatigue to build up at an inopportune time.
"The good thing for us compared to other conferences is we don't have a conference tournament, so we play that last single game and we actually get a little break," Walters said. "Whereas the other guys play three games in five days playing a conference tournament."