Student Courtney Welbon brings powerful lyrics to Kerckhoff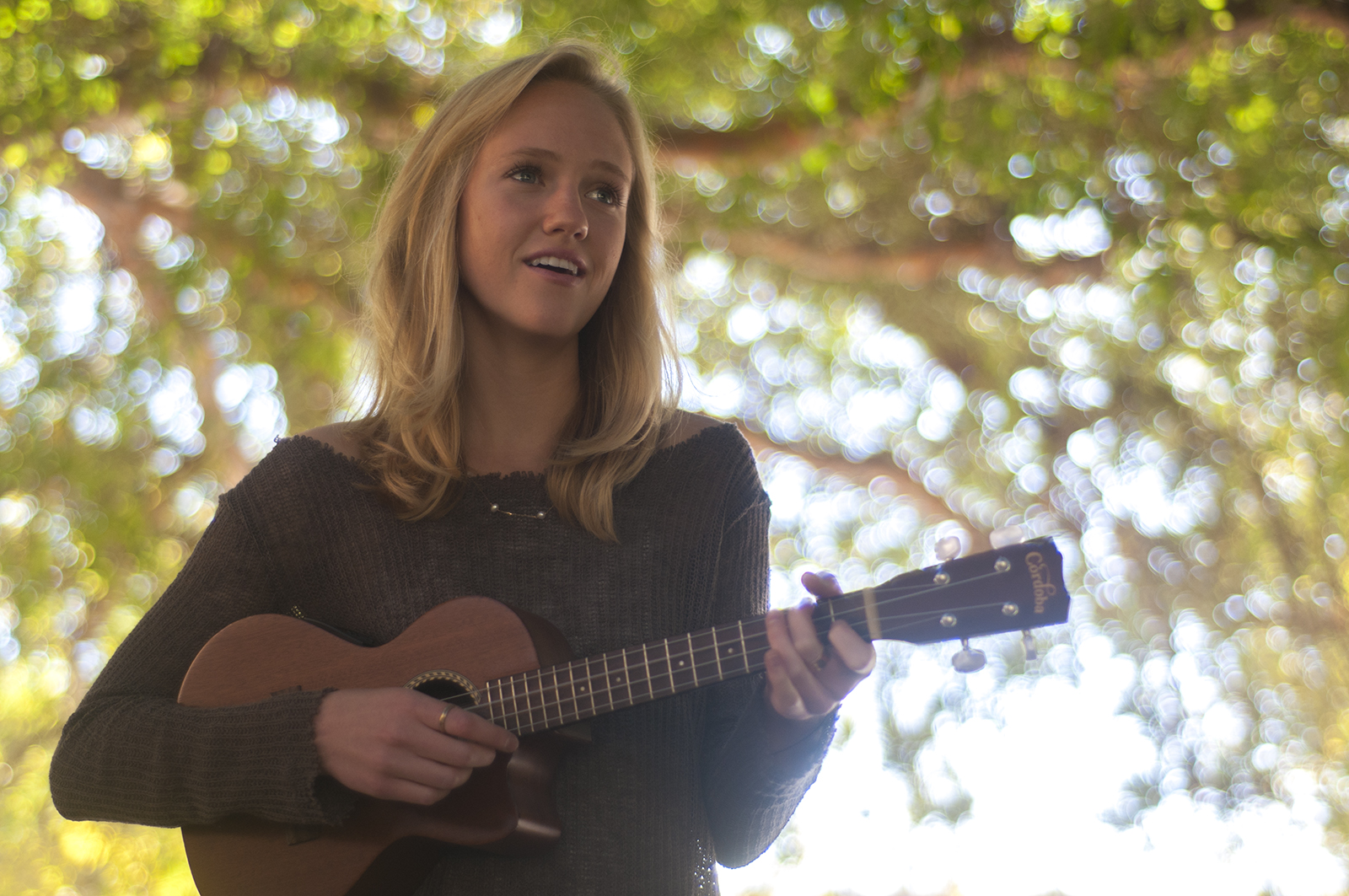 Third-year communication studies student Courtney Welbon will perform at the Kerckhoff Coffee House Concert Series, put on by the Cultural Affairs Commission. Influenced by her previous band, Town, Welbon said her music combines jazz elements and acoustic singer-songwriter stylings. (Felicia Ramirez/Daily Bruin senior staff)
With guitar in hand and lyrical expressiveness in mind, Courtney Welbon said she bares her emotional thoughts to audiences through acoustics and a lilting vocal timbre.
Welbon, a third-year communication studies student, will perform a 50-minute set at the Kerckhoff Coffee House put on by the Cultural Affairs Commission, and this will be her first major show since her senior year of high school in Miami more than two years ago. Weldon will perform alongside fourth-year English and history student Andrew Giurgiun.
Welbon said she is largely influenced by her former band, Town, for which she was lead vocalist during high school. Since leaving Town in Florida in order to attend UCLA, Welbon now performs solo, blending jazzy elements into her acoustic, singer-songwriting style to help emphasize her lyrics.
"I would get really interested in how words would sound. Different words would kind of spark something in me," Welbon said. "I would just love how a sentence would sound together, and I'd say that sentence over and over again and slowly put a melody on it."
As part of Town, Welbon would often bring in her own lyrics and musical lines to the group with her ukulele, and then the rest of the band would collaborate to create the songs' full-sound production with the rest of the instruments.
"(Welbon) has an incredible knack for writing extremely poetic lyrics," said Harlan Pocquette, the ex-lead guitarist of Town. "And then writing a melody to convey those lyrics."
One of the group's songs, "Sleep Soundly, Love," was featured in the 2013 movie "Puzzle for a Blind Man," directed by Andrei Zinca.
"(Welbon's) lyrics – if you take them away from a musical context and if you just read the lyrics by themselves – they are great poems," Zinca said. "They are full of vibration, full of thinking, very expressive of feelings and thoughts, and when you combine them with the music, they are very powerful."
As a full-time student, Welbon has a range of different interests, working as a campus ambassador and regional coordinator for Pearson Education as well as interning at Warner Bros. While her many commitments make it difficult sometimes to balance time for music, Welbon said she realized last year some insight into how music fit in with the rest of her schedule.
"When I'm studying, it's best that I play the guitar for however long I can, try to write a few songs and maybe do a few covers, and then I start my homework," Welbon said.
Welbon also acts, most recently appearing in the 2014 film "Pink Zone," directed by Benjamin J. Walter. While acting and music provide her an emotional outlet, Welbon said the two differ in that songwriting allows her to pour her entire self into a song while acting pushes her to explore the roles and worlds of another person.
In the future, Welbon hopes to keep music in her career. It will always involve songwriting, she said, whether professionally or personally. An emotional release, songwriting is how she has come to understand her own feelings.
"I would say a majority of (Welbon's) songs have a kind of nostalgic tune," Zinca said. "'Sleep Soundly, Love' is a nostalgic feeling toward a relationship that ended. I think it's a basically part of a traditional period in life where (the band is) saying goodbye to high school and looking forward to a new kind of life."
As much as she finds relief pouring her emotions into songs, Welbon said she ultimately wants to share them and receive the audience's feedback through live performances.
"My favorite part about music is the fact that you can put something that you're really feeling into something tangible," Welbon said. "And then to be able to see that and feel that in live performances."