TFT grad student turns everyday moment into film 'California Dreaming'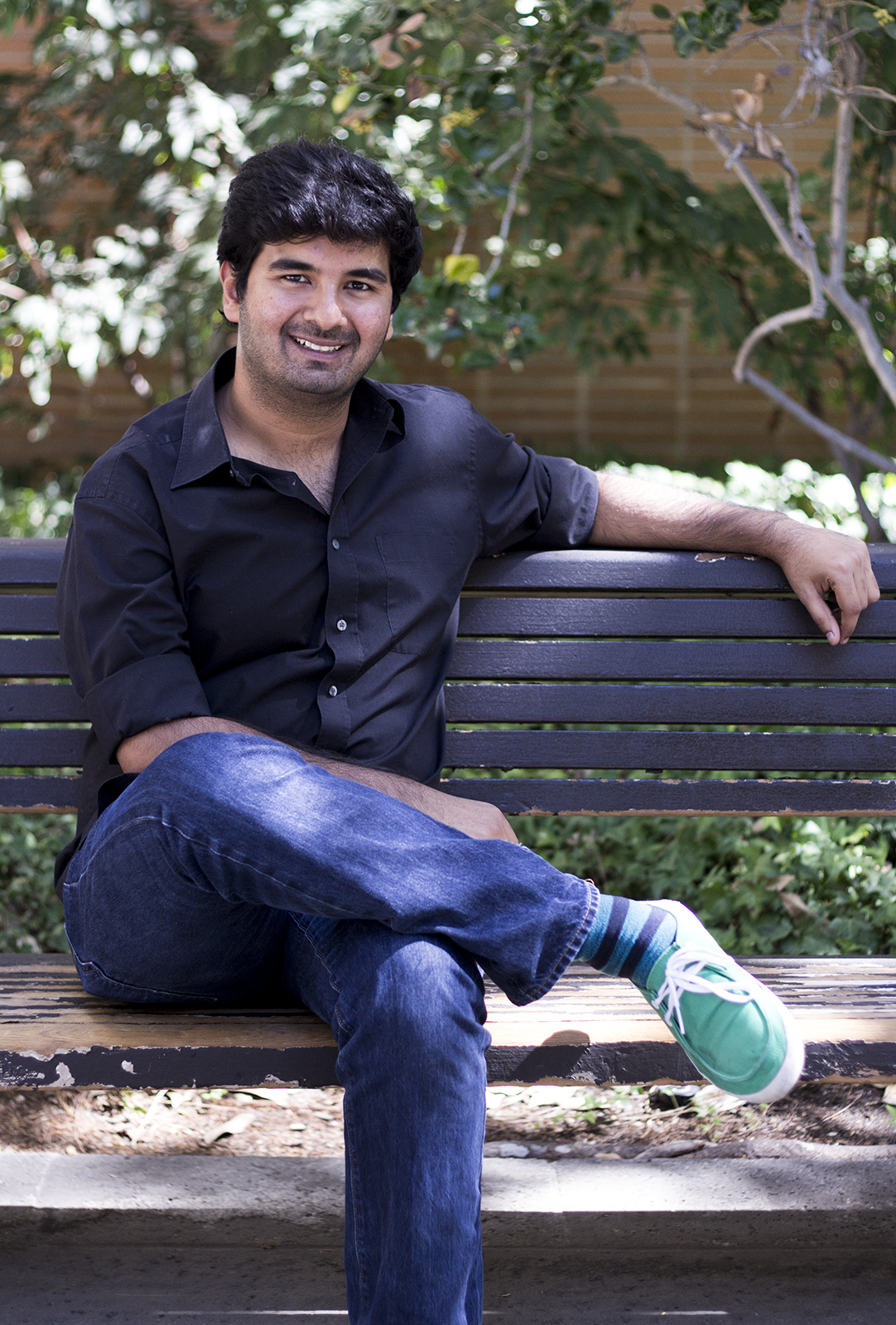 Sahirr Sethhi (pictured above) is fundraising the short film "California Dreaming" on Indiegogo about an elderly man who wins the lottery, only to lose it soon after. The film combines fantasy features with Indian storytelling and dramatic theory. (Miriam Bribiesca/Daily Bruin)
The original version of the photo caption accompanying this article contained an error and has been changed. See the bottom of the article for more information.
To Sahirr Sethhi, an occurrence as mundane as an elderly couple purchasing a lottery ticket can be rife with wonder. A few years ago, the UCLA graduate student spotted just that and became fascinated with the couple's hope to become rich at an older age.
"I was wondering what could it be that they're trying to fulfill by getting rich … and how (I could) make it interesting by making a love story about an older couple," said Sethhi, a graduate student in directing at UCLA's School of Theater, Film and Television.
"California Dreaming," Sethhi's master's thesis film, follows an elderly couple John and Molly, who are fictional versions of the strangers he saw. Despite his wife's concerns about wasting money on what she thinks is a fruitless quest, John faithfully purchases a lottery ticket each weekend. His lucky day arrives when he sees his lottery number announced on the television at a local diner. However, before he can claim his prize, two armed robbers enter the diner for a stickup and a thrilling night ensues.
Although Sethhi finished filming "California Dreaming" at the end of September, he recently launched a crowdfunding campaign through Indiegogo, an online crowdfunding platform, to raise funds for postproduction and other filming expenses. The campaign began on Aug. 26 and will run through Oct. 7.
With an ambitious style that merges lighthearted dramatic comedies with elements of fantasy, Sethhi said that he wanted to create a modern-day fairytale based on a bizarre "what if" question. He found inspiration in the work of filmmakers and UCLA alumni Jonathan Dayton and Valerie Faris ("Little Miss Sunshine" and "Ruby Sparks"). As an intern for Dayton and Faris, Sethhi asked the two for advice on approaching both directing and storytelling.
Sethhi said Dayton and Faris encouraged him to focus on a clear message that the audience could take away. For "California Dreaming," Sethhi decided to explore the idea of value. He said the film proposes that the richest people are those who have their loved ones beside them.
As an experiment in storytelling, Sethhi said he integrated Indian dramatic theory, or "Natyashastra," into his storytelling. The theory refers to nine basic human emotions that form a complete story if each is evoked. He said he used "California Dreaming" to see if could portray all nine emotions – love, laughter, fury, compassion, disgust, horror, heroism, wonder and tranquility – in the span of 10 minutes.
To challenge himself further, Sethhi organized a two-day fantasy sequence shoot on a UCLA soundstage and a five-night shoot at Dinah's Family Restaurant in Los Angeles. During the night shoot, Sethhi said the crew often had to cram 12 hours worth of work into the six hours between the diner's closing and operating hours.
Producer and UCLA alumna Lizet Lopez said the intense shooting schedule taught the crew how to compromise on the shots they took and plan strategically for the limited amount of time they had at the diner.
Sethhi said he chose Indiegogo over other crowdfunding platforms because he is an international student from Mumbai, India, and Indiegogo allows for international contributions. Additionally, Sethhi said the Indiegogo staff offered consulting for creating the campaign and flexibility in updating the film's progress on its page.
Jason Almendinger, director of photography for the film and master's student in cinematography at the UCLA School of Theater, Film and Television, said he thinks Sethhi's style contrasts with other student directors he has worked with, who are primarily interested in foreign or art houses.
"(Sethhi) loves big Hollywood movies," Almendinger said. "I love that he has that sensibility of that old school Hollywood style because we want to make movies, and how more 'movie' can it get than those gigantic kinds of films?"
Sethhi said he plans to finish "California Dreaming" by December, and submit it to UCLA Film Festival in June in addition to other international festivals.
Although Sethhi has completed three other short films, he said "California Dreaming" was the most challenging project he has attempted, helping him to grow as a director.
"For me the biggest takeaway was how to get the performance I want in a short amount of time," Sethhi said. "There were small discoveries like how a small facial expression in a silent moment can convey an emotional beat. They were great clues for me as a director."
Correction: The man loses the lottery ticket.