Bruin Bash 2014 maintains high energy with Chance The Rapper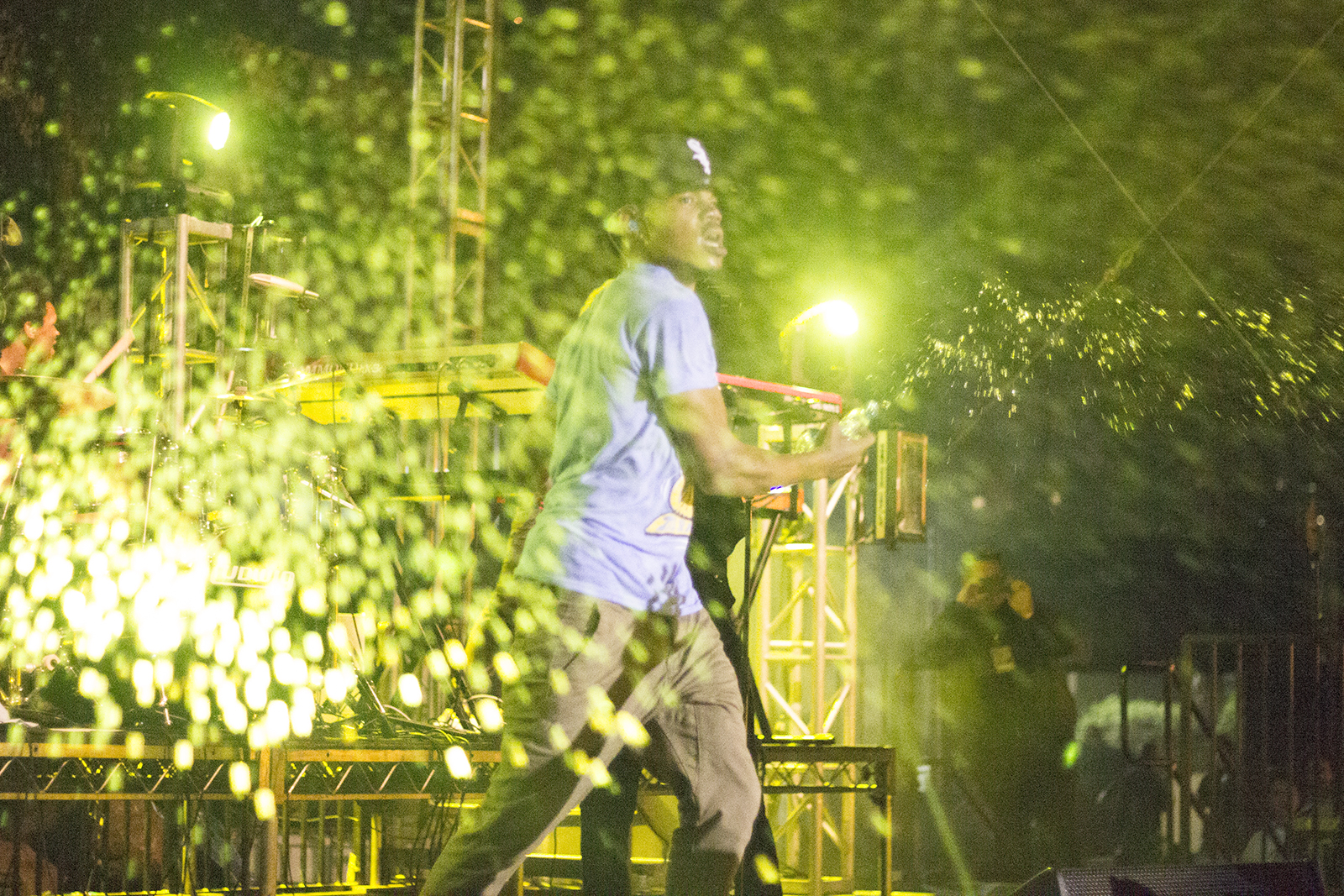 Chicago-based hip-hop artist Chance The Rapper headlined Bruin Bash 2014 Monday night at the Los Angeles Tennis Center.
(Felicia Ramirez/Daily Bruin senior staff)
Sept. 30, 2014 12:28 a.m.
After last year's high-energy Bruin Bash performances by rappers Tyga and E-40 in Pauley Pavilion, this year's concert managed to find the same energetic feel through a pair of more mellow R&B and hip-hop musicians.
Bruin Bash 2014, presented by the Campus Events Commission and the Cultural Affairs Commission, took place Monday night at the Los Angeles Tennis Center. The concert featured neo-soul singer Kandace Springs and hip-hop artist Chance The Rapper.
Singer-songwriter Springs opened the night around 8:20 p.m. with her song "Love Got In The Way." Donning a cutoff UCLA football jersey and a gold chain, Springs echoed soulful vocals and piano notes throughout the venue as she moved between the four songs on her debut eponymous EP, which is set to release Tuesday. Accompanying Springs for her Bruin Bash set was DJ Aktive.
With the dance floor half full, the songstress worked hard to excite the crowd. During a cover of Sam Smith's megahit "Stay With Me," Springs asked the crowd to sing along as a sky full of bright cell phones illuminated the concert venue. With her original song "Teach Me," Springs had the audience swaying back and forth.
Though the opening set started off slowly, it picked up thanks to Springs' charisma and engaging stage presence. When Springs' final song was cut short because of a technical malfunction on her keyboard, a loud and impromptu performance of 2Pac and Dr. Dre's "California Love" from Springs and DJ Aktive pumped the crowd back up, as the audience waited for the headliner, Chance The Rapper.
Hopping onto the stage at 9:15 p.m., Chance began his set with the bang of trumpets and drums to his song "Everybody's Something" from his critically acclaimed "Acid Rap" mixtape. The song's dynamic chorus and softened verses shook the crowd into a frenzy of jumping and swaying.
As Chance's set took form, the audience kept the energy up for tracks "Pusha Man," "NaNa" and "Favorite Song." Because each of these tracks has an album version featuring other rappers, including Action Bronson and Childish Gambino, Chance's performances were condensed and seemed a bit static.
Chance's most talented display of the night came with "Brain Cells," off his debut mixtape, "10 Day." Unlike performances of his more popular songs – during which he depended on the crowd to sing along and fill in his silence – Chance sang and rapped emotionally into the microphone about his high school suspension that ultimately brought about his first mixtape.
In the middle of his set, Chance broke into what has become a signature aspect of his live performances with the "Arthur" TV show theme song. Combining a heartfelt vocal quality and childlike lyricism, the song returned the crowd's enthusiasm as Chance powered through the rest of his set.
While Chance's high-energy performance sometimes seemed at odds with his lyrics and themes, his backing band, The Social Experiment, brought the two together with forceful melodies that blasted from the speakers. The high point of Chance's performance came with "Interlude (That's Love)." Chance's vocal and rap talents shined through as the crowd swayed back and forth and Chance proclaimed his love for the UCLA audience.
Winding down the show with dynamic performances of "Cocoa Butter Kisses," "Smoke Again," and "Paranoia," Chance ended his Bruin Bash set with the upbeat "Chain Smoker," displaying the rapper's quick and poignant lyrics.
Though Bruin Bash 2014 had a considerably smaller audience than past years, energetic performances from Kandace Springs and Chance The Rapper worked well with the Los Angeles Tennis Center's acoustics, delivering an enjoyable jolt of music into the UCLA campus.
– Brendan Hornbostel
Email Hornbostel at [email protected].