Fans pay homage to Marilyn Monroe at Westwood Village Memorial Park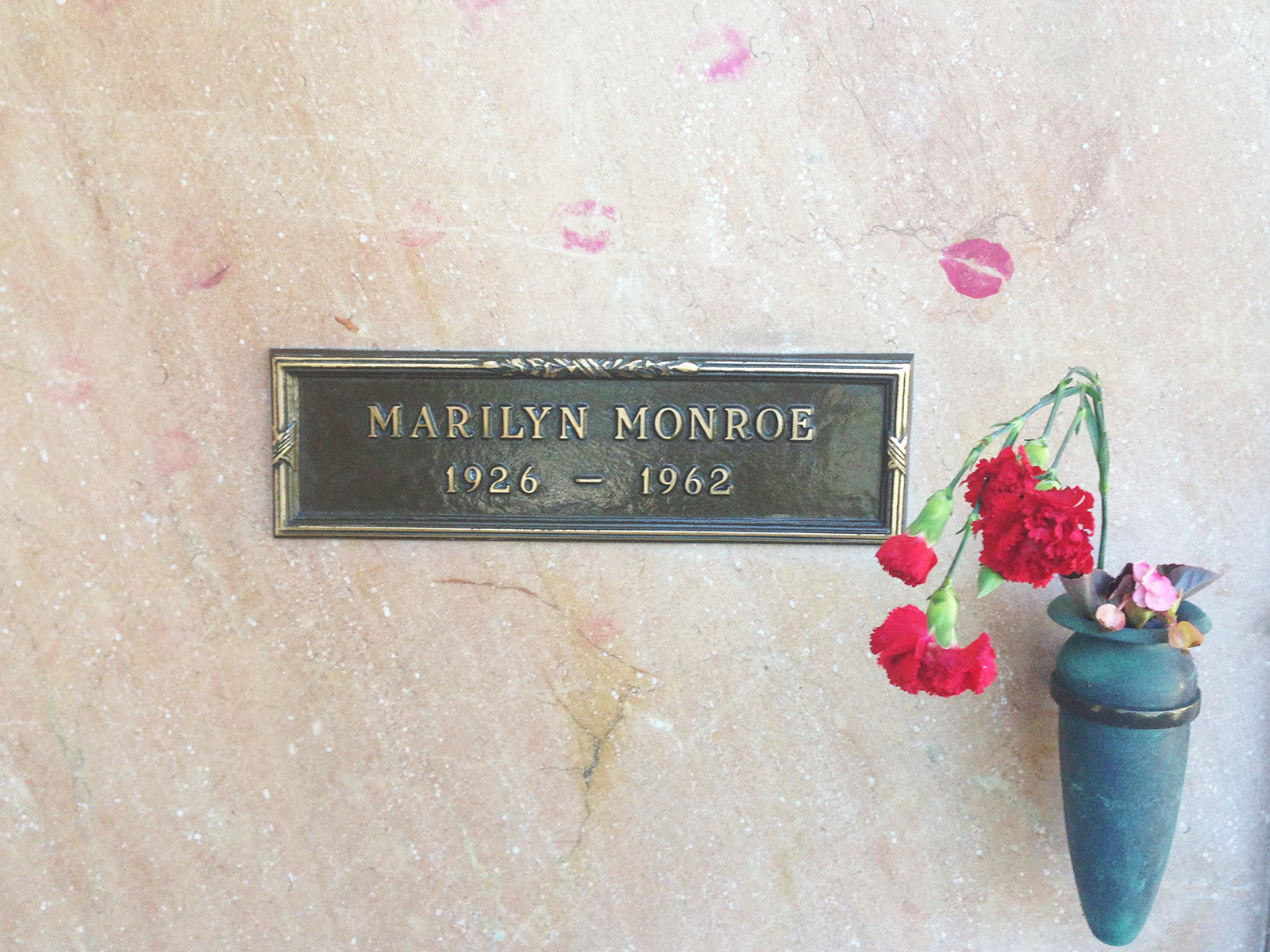 Marilyn Monroe's grave (above) at the Westwood Memorial Park is visited daily by tourists who leave lipstick-smeared kisses. Other celebrities, such as Billy Wilder and Dean Martin, are also buried at the small cemetery. (Jamie Huang/Daily Bruin senior staff)
Sept. 28, 2014 12:00 a.m.
Tucked in the middle of an unassuming Westwood block, Marilyn Monroe still holds court.
Some visit her to leave a sentimental note, a stuffed animal or flowers. Others leave just a ruby-red, lipstick-smeared kiss. Still others leave no physical trace of their visit, content to immortalize Monroe in a selfie taken on their phones.
"It's just a curiosity for people who admire her," said Jolene Mason, general manager of the Pierce Brothers Westwood Village Memorial Park where Monroe's grave rests. "She's such a big star and people haven't forgotten her."
Monroe is buried at the Westwood Village Memorial Park, a historic site that dates back more than a century and still regularly welcomes hundreds of visitors and Hollywood fans. The two-and-a-half acre plot of land is the final resting place for many other notable Hollywood legends, including Farrah Fawcett, Burt Lancaster, Jack Lemmon, Natalie Wood, Eva Gabor and Don Knotts, among others.
Mason said the reason the cemetery seems inundated with celebrities is because of its small size, with sprawling cemeteries like Forest Lawn and Holy Cross having more celebrity graves, but a smaller proportion of them.
Open seven days a week, the cemetery hosts film buffs and fans who can be seen almost every day making pilgrimages to their favorite stars' gravesites. One fan, Karolina Pieczynska, knew about Monroe's grave all the way in Poland and made sure to see her grave with her friends while visiting Los Angeles.
"We want to be a little closer to the stars," Pieczynska said.
The biggest annual pilgrimages take place on the anniversaries of Monroe's birth and death, June 1 and Aug. 5, respectively.
Founded in 1982 to celebrate her life, the Marilyn Remembered Fan Club has been renting the chapel at Westwood Village Memorial Park ever since to hold a service for her, during which its members talk about her life and sing to her memory.
Even though the name of Westwood Village Memorial Park is now primarily associated with Monroe, it has not always been a concentrated hotspot for visiting celebrity graves. In the 1880s, it served as a burial ground for veterans of the Civil War, evidenced by a memorial located at the park entrance.
Then in 1905, Westwood Village Memorial Park and Mortuary was established by the state of California, taking on the name Sunset Cemetery and shifting its focus to infant and public burials. Finally, in 1926, the name changed to Westwood Memorial Park and, with the interment of Monroe in 1962, it gained national attention.
Monroe's ex-husband Joe DiMaggio blamed the pressure of Monroe's volatile career in the film industry for her death, said Steve Sann, chair of the Westwood Community Council and member of the Friends of the Westwood Village Memorial Park, which worked to make the site a historical site in Los Angeles.
"(DiMaggio) chose the cemetery, ironically, because it was very nondescript and out of the way," Sann said. "But of course as soon as she was buried there, it became iconic."
The small local cemetery's renown skyrocketed after Monroe's funeral and it became a more sought-out final resting place, Mason said.
Monroe's grave has become so famous that "Playboy" magazine founder Hugh Hefner bought a crypt in the cemetery to be near Monroe. More recently, the crypt directly above Monroe was posted on eBay with a starting bid of $500,000. An offer of more than $4 million won the bid but the buyer backed out, leaving the spot unclaimed, according to local news reports.
Despite the cemetery's notoriety and small size, there are still burial plots open to the public for purchase. Ground burial costs $91,000 and mausoleums start at $35,000, with no waitlist. Mason said space is not an issue either because they are continually adding new mausoleums.
Regardless of the number of tourists the cemetery attracts, Mason said she does not hand out maps of headstone locations out of respect for the families of the deceased.
"We are not meant to be a tourist attraction," Mason said. "There is always somebody out there looking at their loved ones and we expect people to be respectful."
Mason said that Hollywood stars' families are treated like anybody else. If tourists invade their personal space and start snapping pictures, she said she does not hesitate to ask them to leave or come back later.
With the cemetery's dense concentration of celebrities and numerous tourists, Mason said she is surprised the Westwood Village Memorial Park is unknown to many nearby residents.
"A lot of people still don't know we are here. Even people in these (nearby) high-rise buildings don't realize it's a cemetery," Mason said. "People who come to services say, 'I have lived here all my life and I didn't know this was here.'"