UCLA alum Andrew Orloff, visual effects team earn Emmy nomination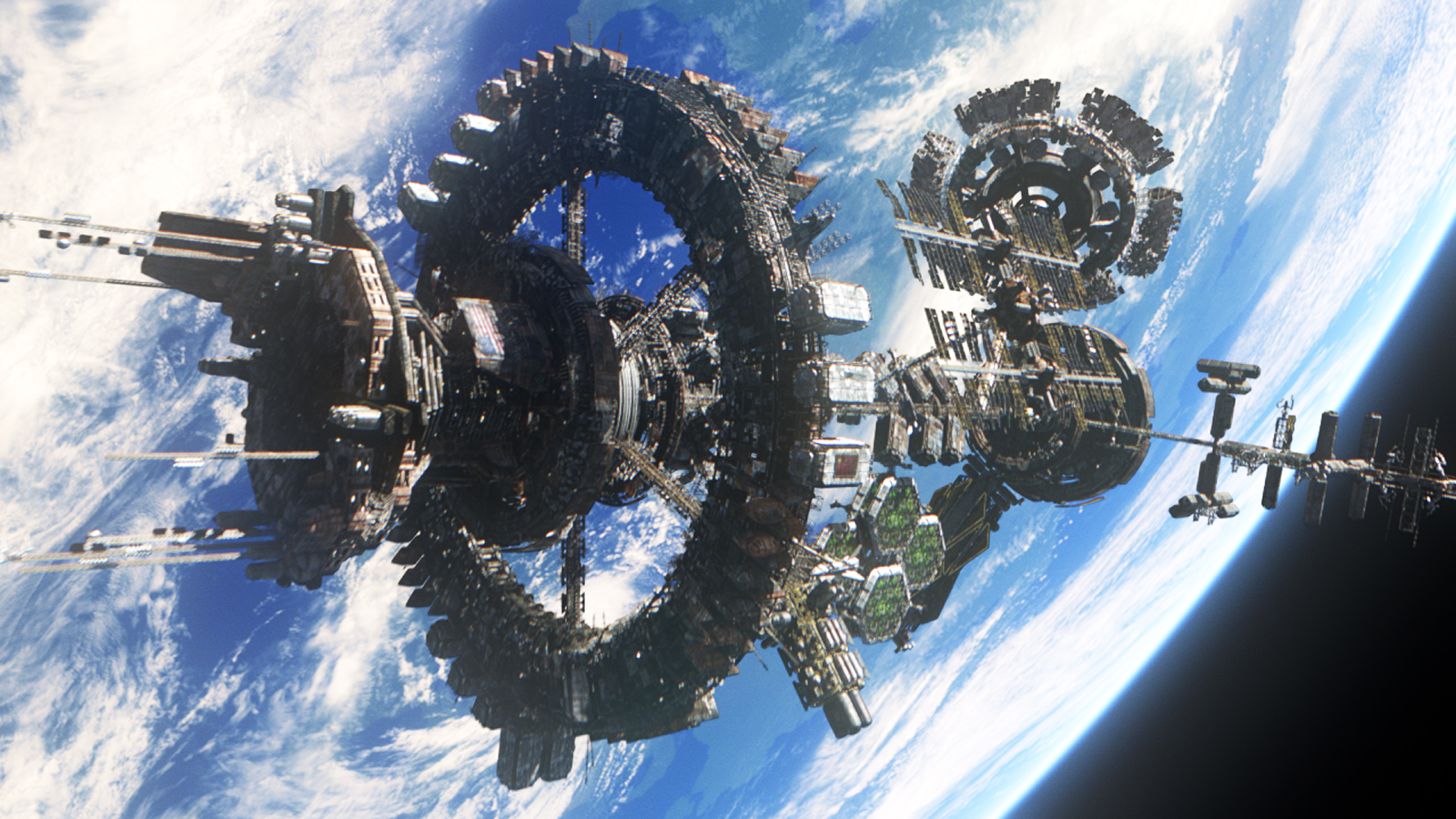 The Ark, a space station from the TV show "The 100," houses the last-known survivors of a nuclear war on Earth. UCLA alumnus Andrew Orloff and his team at Zoic Studios were nominated for the Primetime Creative Arts Emmy Award in outstanding special and visual effects for their work on "The 100." (Courtesy of CW)
Seeing the first "Star Wars" film in 1977 was a life-changing experience for UCLA alumnus Andrew Orloff, one that set him on his path toward his career in visual effects. Now, Orloff uses computers to build his own spaceships as an Emmy Award-nominated digital effects supervisor and a co-founder of Zoic Studios.
Although the special effects industry, which includes stunts and optical illusions created on set, has been around for decades, the visual and digital effects industry was barely emerging when Orloff graduated from UCLA in 1993. Since then, he's watched it evolve into a multibillion-dollar business while he worked on shows like "CSI," "True Blood," "Falling Skies" and "Once Upon a Time."
This year, Orloff and his Zoic Studios team were nominated for the Primetime Creative Arts Emmy Award in outstanding special and visual effects for their work on the TV show "The 100," although "Game of Thrones" ultimately won the award on Aug. 16. It is the first CW show to ever be nominated for an outstanding special and visual effects Emmy Award.
"The 100" is set on a massive space station called the Ark, which harbors the last-known survivors from Earth after a devastating nuclear war. Orloff partly supervises the team that designs the visual effects, which encompass everything added after filming, including digital characters, magical effects, green-screen environments and even the weather.
On "The 100," for example, Zoic Studios designed the show's settings, like space and the post-apocalyptic Earth, as well as the space stations. Orloff said designing the Ark has been a highlight of his career with Zoic Studios.
"For people who do what I do, that's what we all hope to do one day: design a spaceship," Orloff said.
During his time at UCLA, Orloff experimented as much as he could with special effects and animation, but he said the visual effects that existed at the time were very limited. He said what his education actually gave him was a sense of the collaboration involved in filmmaking. Each student in his class made a film but was also required to take on different roles in each other's films.
"If you were the director on your film, you would be the cameraman or the lighting designer for another," Orloff said. "(We) got a chance to do everything and fully realize what the process of filmmaking was like."
Now as head of a visual effects department, he said this aspect of the UCLA production program has helped him work effectively with other departments. A visual effects producer at Zoic Studios, Steve Melchiorre, who also worked on "The 100," said this collaborative spirit comes across in Orloff's interactions within the company.
"He really listens and it's not like dealing with a board of directors," Melchiorre said. "In a lot of other places, it's really hard to get that type of attention and concern."
When "Jurassic Park" premiered shortly after his college graduation, Orloff was fascinated by its modern visual effects and said he jumped at the chance to learn the new technology. After hours at his 9 a.m. to 5 p.m. desktop publishing job, he would sit in front of his office computer with a software manual, gradually teaching himself how to do computer animation.
After about 10 years of doing freelance animation projects, Orloff and four of his friends formed Zoic Studios in 2002. With Zoic Studios, Orloff has worked on a large variety of projects, from designing digital fairytale creatures for "Once Upon a Time" to extraterrestrials for "Falling Skies" and vampire effects for "True Blood." Despite the wide range, they all share one common thread, he said.
"They all have a unique visual style," Orloff said. "That's what we really do. We work on visual effects projects that aren't just there for flash; they're there to enhance the storytelling."
Michael Cliett, a visual effects supervisor at Zoic Studios and the on-site visual effects supervisor for "The 100," said Orloff consistently puts the quality of their work above cost.
"At the end of the day, even though something might cost Zoic more money, it's always about quality," Cliett said.
From the day he first saw Luke Skywalker take on Darth Vader to today, when he's designing his own computer-generated spaceships, Orloff said he has witnessed and participated in the birth and growth of visual effects.
"(Visual effects) literally did not exist when I graduated from college, and now I'm looking out of my office window and there are thousands of people working in this industry," Orloff said. "It's been a wild ride."