Robin Williams remembered for influential movie, TV roles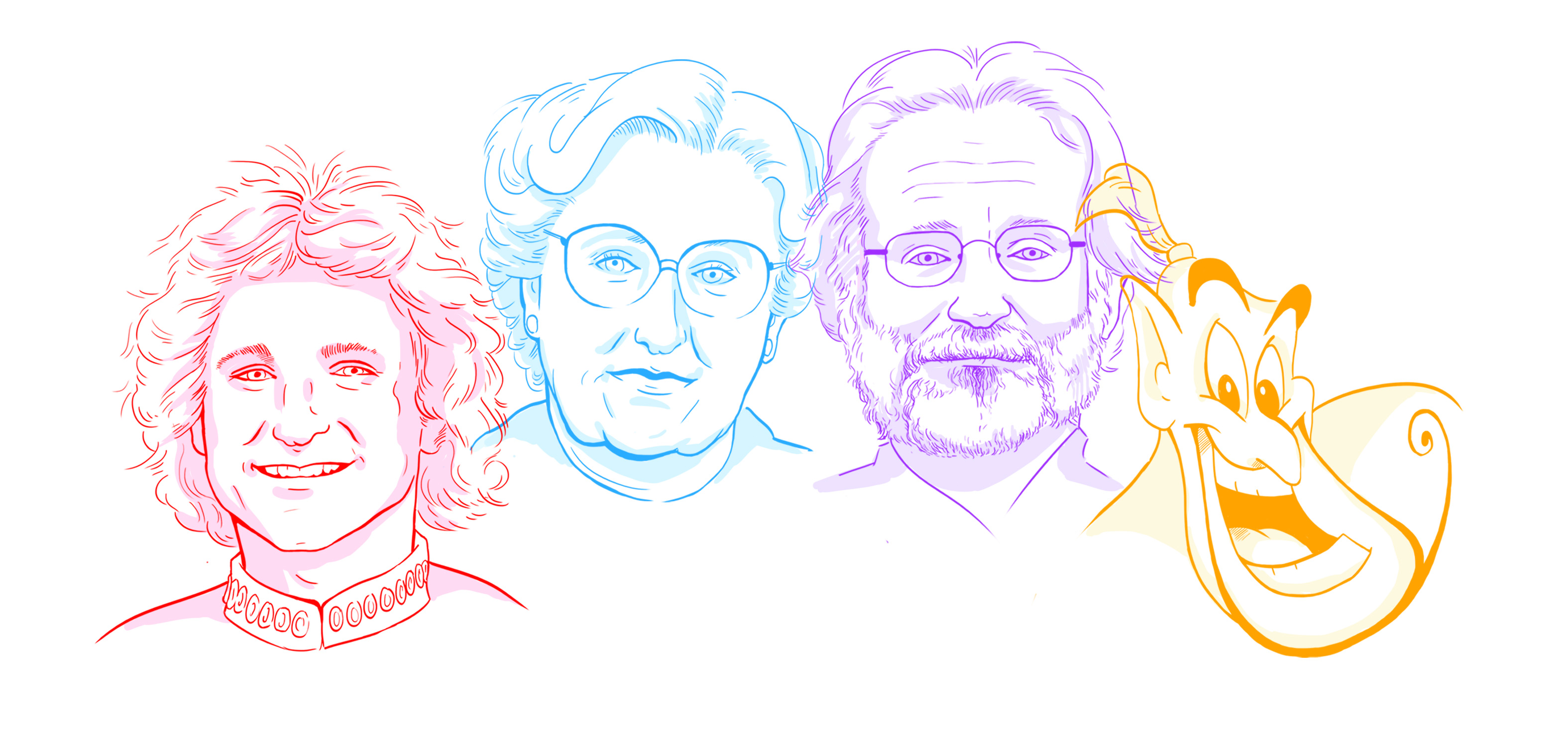 (Madeline Isaacs / Daily Bruin senior staff)
With the passing of film and television legend Robin Williams, four of the Daily Bruin's arts and entertainment writers offer perspectives on Williams' movies and TV roles that influenced them the most. It is through these roles that they will remember Williams and his tremendous comedic and dramatic ability.
"Aladdin" (1992)
There's something about "Aladdin" I never really outgrew.
One of my earliest movie memories is rushing home after school and popping in my treasured VHS copy of the '90s classic. Week after week I would pore over my stack of Disney VHS tapes, each of which was a little world for me to hop into. And for whatever reason, the sandy dunes and busy streets in "Aladdin" were always my favorite.
Most people assumed I just really loved the beggar prince, since Aladdin was my nickname growing up. Others suggested I had a little boy crush on Princess Jasmine, and maybe I did. But the character I really clung onto, the one that was so different from anyone else in my little VHS world, was the Genie of the Lamp.
I loved Genie before I ever knew of Robin Williams; I didn't connect the dots until much later. But now that I think about it, who else could it have been?
You couldn't see him, but underneath the slew of accents and fast-paced one-liners was a voice that was unmistakably his, working its way from your funny bone to your heart. A voice that packed so much of his characteristic intensity and personality, that the Genie character seems to be handcrafted by Williams himself. Genie is refined with the larger-than-life, whimsical comedy only he could offer.
And it showed. Whether through song, dance or simple presence, it was hard to take your eyes off Genie, because that's what Williams did. The man exuded a certain comedic energy, almost frenzy, that carried through his every action and word, seizing any scene he was part of.
Mr. Williams, Hollywood never really did have a friend like you.
– Aalhad Patankar
"Mrs. Doubtfire" (1993)
"Mrs. Doubtfire" is not the world's most sophisticated movie. Robin Williams disguises himself as a housekeeper named Mrs. Doubtfire to spend more time with his three kids and win back his estranged wife after she asks for a divorce.
In someone else's hands, the movie could easily be considered absolutely ridiculous, especially because Mrs. Doubtfire is an imposing, sassy senior fond of long, floral dresses. Thanks to Williams, however, the film manages to make its title character both hilarious and heartwarming, capitalizing on Williams' particularly zany comedic style.
It's a classic '90s family film that showcases the great character actor Williams was. And I'll always fondly remember the sequence where Williams rocks out while vacuuming in drag to Aerosmith's "Dude (Looks Like a Lady)."
– Regina Napolitano
"Good Will Hunting" (1997)
Dr. Sean Maguire (Robin Williams) cut out his heart and gave it to misunderstood orphan Will Hunting (Matt Damon). Gradually, Hunting shed his tough exterior and bared his own heart with the help of Dr. Maguire's words. Dr. Maguire was not only Hunting's therapist, he was his friend.
I will never forget Dr. Maguire softly insisting "it's not your fault" as the troubled Hunting broke down into tears. Those universal words have greatly resonated within me because of their truthfulness. Dr. Maguire taught Hunting that people are not perfect and we must forgive ourselves for it. I carry that same message with me every day.
With the humor that we all knew and loved, Williams' heartfelt performance as Dr. Maguire won him an Academy Award for Best Actor in a Supporting Role in 1998. But beyond "Good Will Hunting," Williams eased the same scared kid in all of us. He was our therapist and friend, with his films and TV shows there when we needed endless comfort and laughter.
– Gail Acosta
Television
Playing the alien Mork, Williams' role as the lead actor in "Happy Days" spin-off "Mork & Mindy" almost seems desperate. Here was an overly eccentric man-child doing, at least in a television context, everything he possibly could to appeal to kids. The funny voices, the sporadic movements and the encroaching happiness – all of it looked like comedy at in its most unsophisticated form. And that's exactly what Williams knew how to do, even at the onset of his career: thrust enough energy into his performance to make one's inner child come alive again.

The world of television is also where Williams last truly landed on his feet. His only other regular role on a TV sitcom, for the underrated CBS comedy "The Crazy Ones," shined a light on the personal troubles of a man not unlike Williams himself – nuanced and tired. A guest appearance on a 2012 episode of "Louie" gave Williams the chance to be seen through an artistic lens, hilariously playing a parody of himself in a gracefully brilliant script.
The comedy giant learned skills and gained experiences over his career, but never really needed to improve. What was so special about Williams was that his full potential and heart was apparent from the very beginning, and that every moment we were able to share with him, in stand-up, in theater or on camera, featured his abilities at their remarkable finest.
– Sebastian Torrelio