'Made in L.A.' 2014 at Hammer Museum displays work by artists like Max Maslansky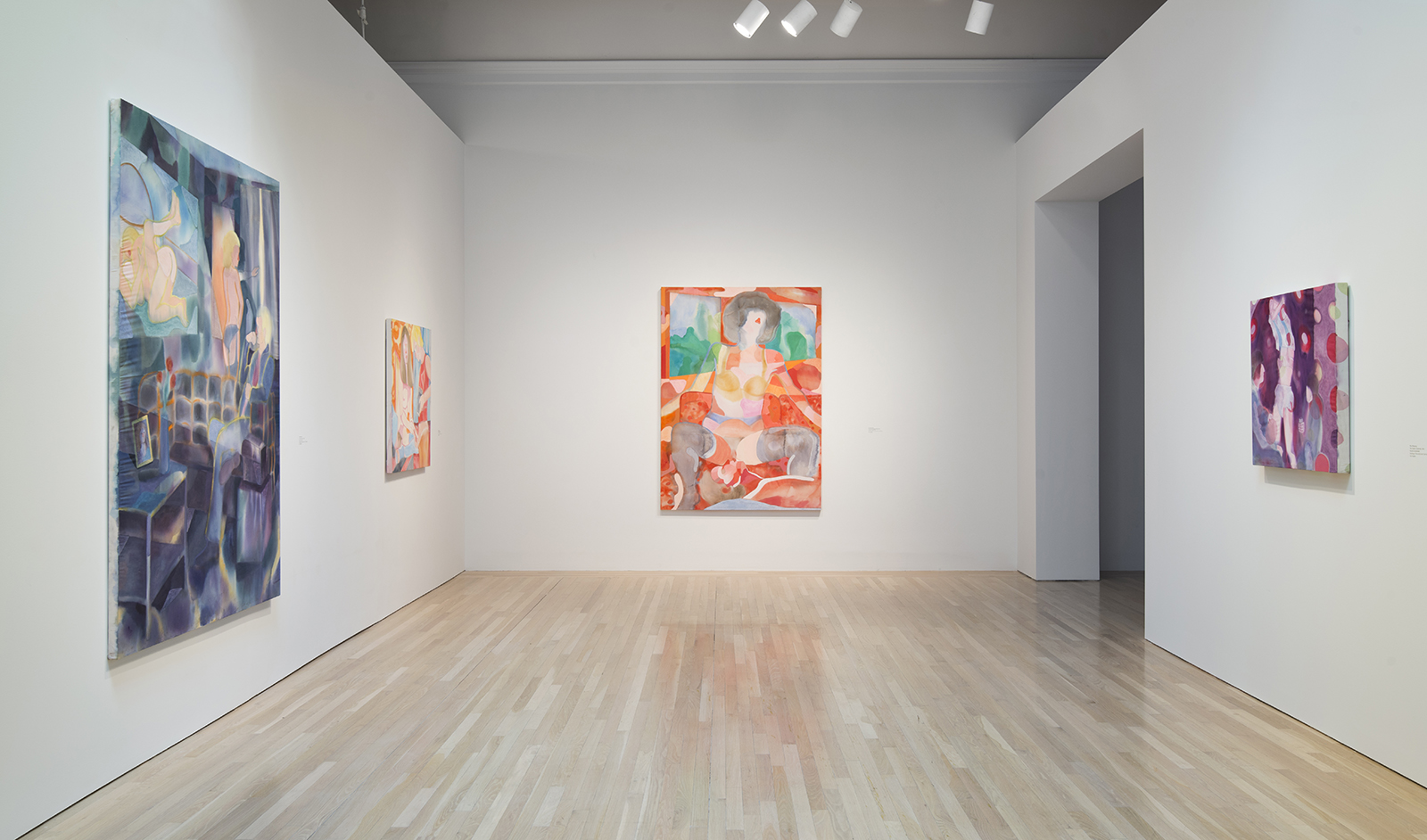 Currently on display until Sept. 7 as part of the Hammer Museum's biennial "Made in L.A. 2014," Max Maslansky's abstract-like paintings were inspired by vintage pornography stills from the late '70s and early '80s. Maslansky's works are interested in exposing the subject matter's depiction of intimacy, or lack thereof, in a comical way. (Courtesy of Brian Forrest)
The original version of this article contained an error and has been changed. See the bottom of the article for more information.
At first glance it seems to be just another painting on canvas.
At second glance, dreamlike shapes and distorted human forms can be detected. With a closer third glance, what was once ambiguous now registers as something entirely more graphic.
Max Maslansky is the Los Angeles-based artist who paints these acrylic works in an almost abstract-like quality, inspired by vintage pornography stills from the late '70s and early '80s. His paintings span the past two years of his work and are currently being shown in the "Made in L.A. 2014″ biennial exhibition at the UCLA Hammer Museum.
"While there is no division between abstraction and representation, I (had) never been able to make (abstract) paintings … but through pornography I've understood how to achieve that (style) a little more," Maslansky said. "Even though the content isn't hard to decipher, (the paintings) do somehow suspend your ability from seeing everything just a little bit longer."
While Maslansky said he is now finding endless inspiration from pornography to explore in his artwork, there was a time in his artistic career where he doubted he would continue with art as a career.
Longtime friend of Maslansky's and fellow artist Jennifer Sullivan said she notices a difference between Maslansky as an artist back then and now when she recalls some of his early work.
When she first met him, Maslansky's art depicted a lot of solitary male figures in caves, instead of his more current work that portrays more couples and pleasure. She said his past works seem to be based more around the theme of isolation.
After this early period of uncertainty, however, Maslansky said he came to realize that painting and being in the studio were what he enjoyed the most. He later got accepted into the California Institute of the Arts for graduate school, where he said he found his voice as an artist.
Sometime after graduate school, Maslansky began to find inspiration from unusual images found on the Internet. A lot of these vintage images depict men in sexual scenes that border on humorous, while staring back at the camera.
Maslansky said he is drawn to earlier pornographic stills as inspiration because there is a certain amount of goofiness and playfulness in it that he was interested in highlighting.
He eventually realized he had a pornographic archive built up, which he used as a starting point for paintings that would eventually evolve into the soft watercolor appearance of his work that can be seen at the Hammer.
His work, painted on bed sheets rather than canvas, attempts to go beyond the shock value that often comes with sexual imagery, Maslansky said.
"Once I start painting I'm only thinking about formal concerns, I'm thinking about color … depth, flatness, surface tactility," said Maslansky. "I'm perfectly happy with (the viewer) approaching it as a form of visual pleasure, and if maybe the sexual element comes at them a little bit later, then I'm actually very happy about that."
By making color, form and texture a primary concern, Maslansky said his work allows for a less offensive point of view that isn't always as common when it comes to imagery using pornography.
"It's a very unusual perspective," said Gladys-Katherina Hernando, an independent curator who has featured Maslansky in her internet-based gallery. "It doesn't feel like you are looking at something that's bad or pornographic. It feels like you're looking into a forbidden moment, it's different."
Maslansky said he is not interested in making any overarching statement about pornography, what it should be portraying or what people should be getting out of it.
However he is interested in the subjects matter's depiction of intimacy, or lack thereof, and exposing that in an almost comical way.
"I do think that there is a certain amount of humor (in the paintings) … that I'm trying to bring to an otherwise cold and calculated form of sexual imagery," Maslansky said. "I'm trying to think of ways on how we perceive intimacy with our partners … or make apparent the lack of intimacy and reveal how funny that can be."
Correction: Maslansky has not shown at the Museum of Contemporary Art.