With special election approaching, USAC appoints Election Board chair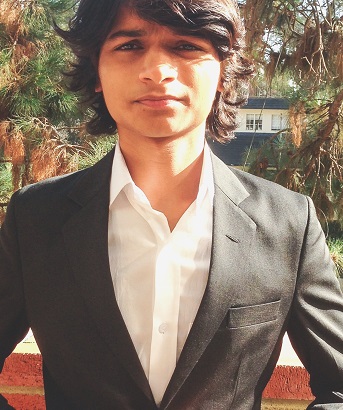 Shagun Kabra, a third-year mathematics/economics student, was selected as the Election Board chair by the Undergraduate Students Association Council. (Courtesy of Shagun Kabra)
The undergraduate student government appointed next year's Election Board chair on time at its meeting on Tuesday.
The newly appointed chair, Shagun Kabra, a third-year mathematics/economics student, will oversee both the regular spring USAC election and a special election in the fall for the transfer student representative and general representative positions.
"It's a smaller and newer election so I want to test some new ideas," Kabra said.
USAC President Devin Murphy needed to appoint a student to the position sooner than former presidents because of the special election in the fall. On June 24, the council unanimously approved the new bylaws outlining the responsibilities of the transfer student representative position. It also voted to hold a joint special election in response to the resignation of General Representative 2 Nihal Satyadev on June 12.
USAC has not appointed an Election Board chair on time for several years.
Murphy said he knew of Kabra from his work in the Office of Residential Life and encouraged him to apply for the position. He said Kabra understands his strengths and is aware of his weaknesses, like his need to be more assertive, but his strong work ethic and his ability to be critical is why he liked him for the position, Murphy said.
Previously, Kabra was the director of finance for Indus, a student group that aims to educate students about the culture and politics of South Asian countries, and served as the president of De Neve Cedar and Dogwood Residents' Association. He will be a resident assistant at De Neve Evergreen this year.
The chair is responsible for overseeing the spring USAC election, screening candidates and sanctioning students if they break the USAC Election Code while campaigning. He or she is also responsible for maintaining and enforcing impartiality when administrating the elections.
Kabra said he hasn't started organizing the election calendar for the following year because his first priority is to assemble the rest of the Election Board. A few people have approached him about certain positions, but Kabra said he wants to appoint someone impartial toward slate politics and is still accepting applications.
He added that he won't focus his tenure on changing the Election Code unless the student body expresses serious concerns about it or if it appears that candidates are not following the rules.
Special elections cannot be held during the first and 10th weeks of classes or during finals week and should be at least two days in duration, according to the Election Code. Kabra said he also doesn't want the special election to conflict with the California general election on Nov. 4.
"I want to see what works and doesn't work in the fall election so I can improve the voter turnout for the bigger election in spring," Kabra said.
Kabra said he'll aim to educate more students about the election process and he does not want to see voter turnout fall below 30 percent. He also said he will be considerate of each candidate's platforms during the fall and spring elections.
"I know I can do a good job (as chair) because I've done my research and I know my weaknesses," Kabra said.
Compiled by Samantha Tomilowitz, Bruin senior staff.