'Made in LA' Mondays: Jennifer Moon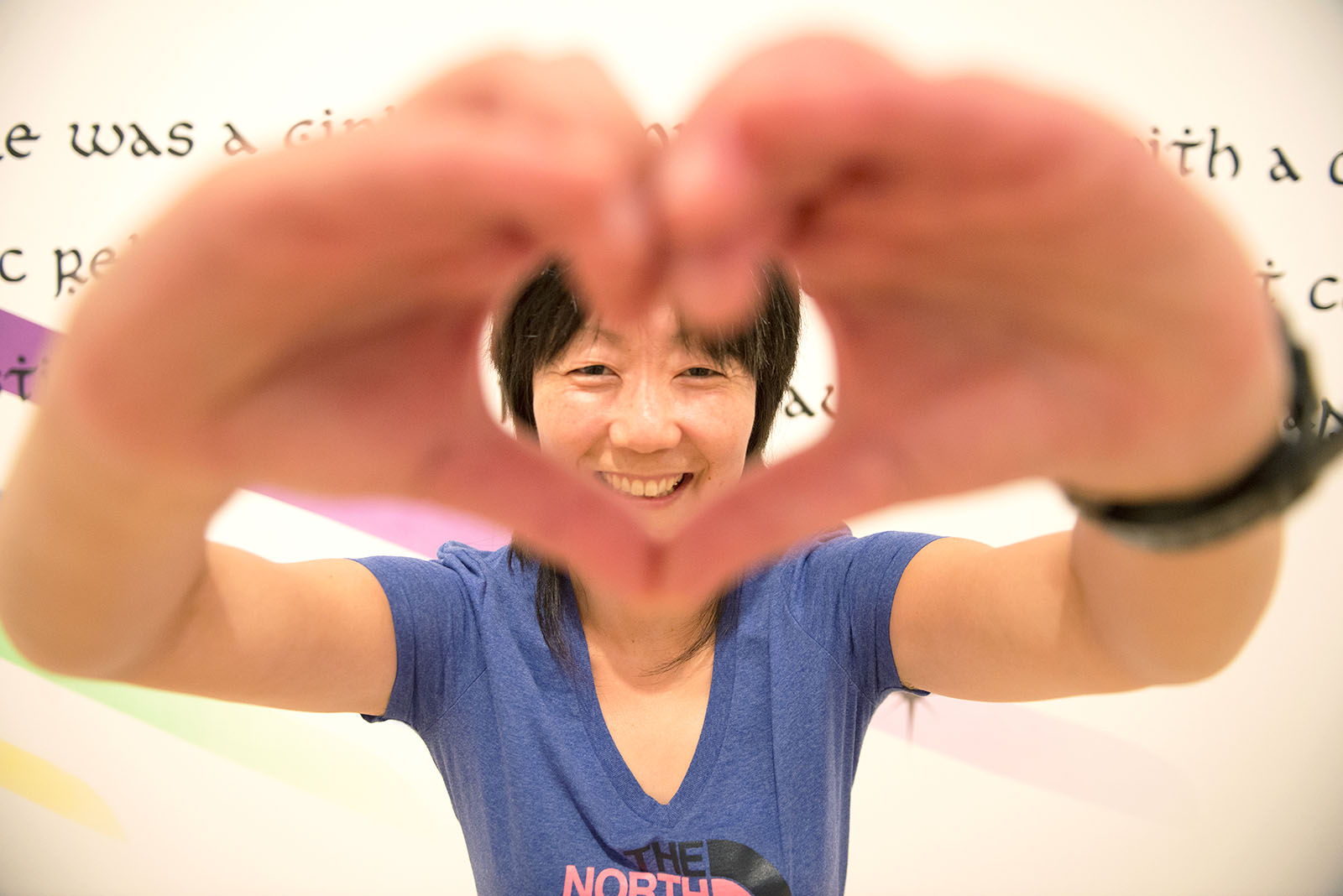 Artist Jennifer Moon mixes fantasy elements with multimedia to lay bare the story of her own life for "Made in L.A. 2014." (Brandon Choe/Daily Bruin senior staff)
In one corner of the UCLA Hammer Museum is a short passage written in fantasy-like Tolkien font sprawled across the wall, reminiscent of the opening of a children's fairy tale.
"Once upon a time, there was a girl who made a deal with a cosmic entity to forfeit all romantic relations in exchange for her art career to flourish," it reads. "Twenty years later, still cursed to never have both eros and agape, she searches for love."
This was the deal that artist, author and UCLA alumna Jennifer Moon struck with her college self in 1993, to sacrifice romance for her then-blossoming art career. More than 20 years later, Moon is still reconciling this relationship. This passage, a piece titled "Once upon a time…," provides a ready introduction into the gallery corner of "Made in L.A. 2014," where Moon's artwork lies on display, and with it, her life.
Moon's work mixes fantasy elements and aesthetic with multimedia to lay bare the facts – proud and shameful – of her own life. The exhibition aims to tell her story, without a selective screen.
Moon's interest in art was sparked in high school, when she attended classes at the Art Center College of Design in Pasadena. She said she remembers not quite fitting in, intimidated by traditional art forms such as painting and drawing.
After being admitted to the UCLA undergraduate art program, Moon discovered a new meaning for art, one that was freer of the traditional boundaries she had come to associate with it. One show in particular, a contemporary art exhibition named "Helter Skelter: L.A. Art in the 1990s," helped propel this discovery, Moon said.
"Seeing things like installations, and sound pieces, and works of art that were messy … blew my mind," Moon said. "After that show, I realized I could do that, and was able to claim art as my own. It was very empowering."
Moon found influence in contemporary art and incorporated multimedia and performance elements into her work at UCLA. She soon got her first solo show at the Richard Heller Gallery as an undergraduate at a time, Moon said, when the L.A. art scene was really interested in young artists.
"I started developing an ego around my art," Moon said. "And (I also started) wanting to be like an art star, because a lot of my professors were these art stars."
After UCLA, however, Moon's art career came to a halt, replaced by an increasing draw toward drugs, sex and alcohol. In 2008, she was incarcerated for attempted robbery.
Based on her nine-month period in prison, Moon went on to release "Phoenix Rising, Part 1: This Is Where I Learned of Love," the first in her "Phoenix Rising Saga" series, which chronicled her time in prison, her relationship with her lover at the time and Moon's "revolution": a concept centered around social and political reshaping that would envelop her work thereafter.
Her work for "Made in L.A. 2014" collectively forms "Phoenix Rising, Part 2: Eros vs. Agape," the second installment of her series.
Five years after her time in prison, Moon has stayed clean and found a reinvigorated interest in art, informed by her revolution. But the period of her life prior to her rediscovery remains far from hidden or forgotten.
Also on display is "Book of Eros," a sourcebook for all of Moon's romantic interests from 1993 to 2013 modeled after the "Monster Manual" in the popular role-playing game Dungeons & Dragons. There are 33 entries, one for each "person of interest," documenting the intimate details of Moon's relationship with the person. The traditional hit points and statistics from the "Monster Manual" are translated into Moon's personal behavior patterns; her obsession, her humiliation, physical interactions and advances, such as "needy tentacles" and "spores of delusion."
Moon said this self-disclosure through her art helps her reflect upon her past, which she thinks is important.
"Disclosing the things I'm most ashamed of, that's the point," Moon said. "To expose that, so other people can (look to it) and say 'I can relate to that.' That's where the connection happens."
Positioned to the right of "Once upon a time …" is a photograph of Moon titled "You can kill my body, but you can't kill my soul," in which Moon sits militantly on a chair with guns in both hands, a nod to the renowned Huey P. Newton photo. Booklets of her revolution manifesto are available under the photo and the piece helps illustrate her ideal for the exhibition: introducing the world to her revolution through art.
"It's really exciting to see more people want to get involved with the revolution, not just me," Moon said. "(From this exhibition), I hope to create a revolution that's more real."