Screenwriting student commissioned to write comedy pilot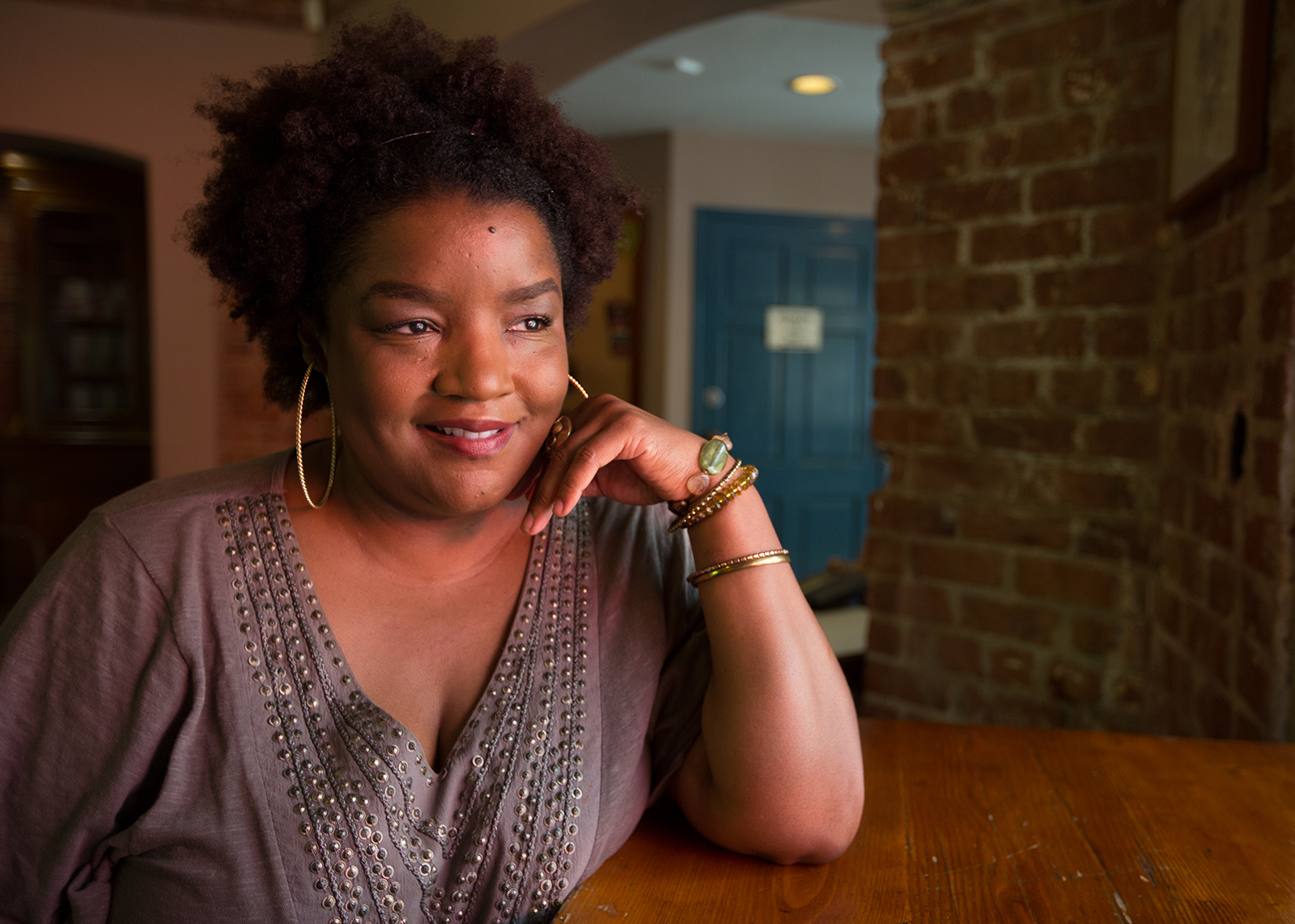 After meeting with development executives, screenwriting graduate student Felischa Marye has been commissioned to write a comedy pilot script. If well received, the script will be greenlit and produced into a television show.
(Austin Yu/Daily Bruin Senior Staff)
As a kid, Felischa Marye felt her first feeling of true sorrow when she visited a production set. "The Cosby Show" actor Malcolm-Jamal Warner was filming a movie down the street from her house, but when she went to get a glimpse of the action, she couldn't do anything about the barriers that kept her from joining in the fun.
Now a screenwriting graduate student, Marye is in the midst of the field and was recently commissioned to write a comedy pilot for a major television network. If successful, her series could be greenlit and ordered to production.
"This is my first pitch in this industry," Marye said. "To pitch a story that I created and to have them sort of 'buy it in the room' was amazing. It's a combination of luck, preparation and execution. But it was really lucky."
Marye grew up in inner-city Chicago under the guardianship of her great-grandparents. She said that as the only child in the house, she had to entertain herself by making television her best friend.
"I think just finding entertainment in television probably had a lot to do with (my career)," Marye said. "Early on, I was asking how I could be on 'Sesame Street.' Even as a young child I was never really satisfied just being the spectator. I wanted to be a part of it."
Marye initially attended the University of Illinois at Urbana-Champaign as an acting student, later transitioning into broadcast journalism. Airies Davis, one of Marye's undergraduate roommates currently attending USC, said Marye was an extremely diligent student and more of an extrovert.
"She did a great job acting at the University of Illinois on campus, but she knew her passion was in writing, and that's where she excelled," Davis said. "She is able to take a very boring situation and mushroom it into something engaging for everyone – every type of audience."
Three years ago, after a career in public relations marketing, Marye came to Los Angeles to study film. Michelle Amor, an alumna of the UCLA School of Theater, Film and Television who met Marye at a film panel in Chicago, said she was impressed early on by how genuine, sincere and hardworking Marye is with her intentions to write and tell stories.
"At UCLA we took a class together. … In the class she would pitch a show, and she was the best in the room," Amor said. "I didn't realize she could pitch a show, she had never pitched a show before. It made us very proud. I believe that's what she does really well."
Marye said her influences range from legacy comedians Richard
Pryor and Dave Chappelle to more modern female personalities Amy Schumer and Lena Dunham.
"The fact that (Marye) is an African American woman speaking with the voice of an African American woman is very special," Amor said. "She has an honesty about herself which is resonated in the work. … The great thing about the direction she's going is, hopefully, she'll be able to do things in an unexpected way."
While participating in a fellowship with Film Independent, a nonprofit arts organization, Marye met a development executive of comedy series who allowed her to pitch her television pilot idea in July 2013. The potential series is currently in the scripting stage, and she is unable to disclose the name, plot and network.
Marye said she expects the series to provide television viewers with a comedic female voice. Influenced by her own personal questions, as well as her friends', she wants to give a bigger, inherently comedic voice to the internal monologues in women's heads.
"I think (women) are so complex and complicated. At least for me, I can be neurotic and anxious. All those things I try to bring to my writing," Marye said. "I think all my work has to do with women who are at a crossroads of some kind – in maturity, in career, in relationships, in self-awareness. And usually I take a comedic look at what those crossroads look like."
Though more interested in feature-length works at the start of her screenwriting program, she quickly saw an opportunity in television because of the recent boom in high-quality and diverse comedy shows.
Marye said that although she loved her previous career, she always had a nagging feeling that it didn't excite her the way that film and television did. She felt exhausted and jealous that she was not making something in the field she was drawn to, and wanted to live more authentically. Her biggest advice – in regard to fellowships, programs and events – is to go to everything.
"Once you get to L.A., nothing seems special anymore … you get really relaxed and jaded quickly. Don't let that happen," Marye said. "Don't let being out here and the fact that there's a volume of things get you less excited. I still try to maintain the excitement of the little girl from Chicago."