Artist's exhibit seeks to bring attention to plight of bees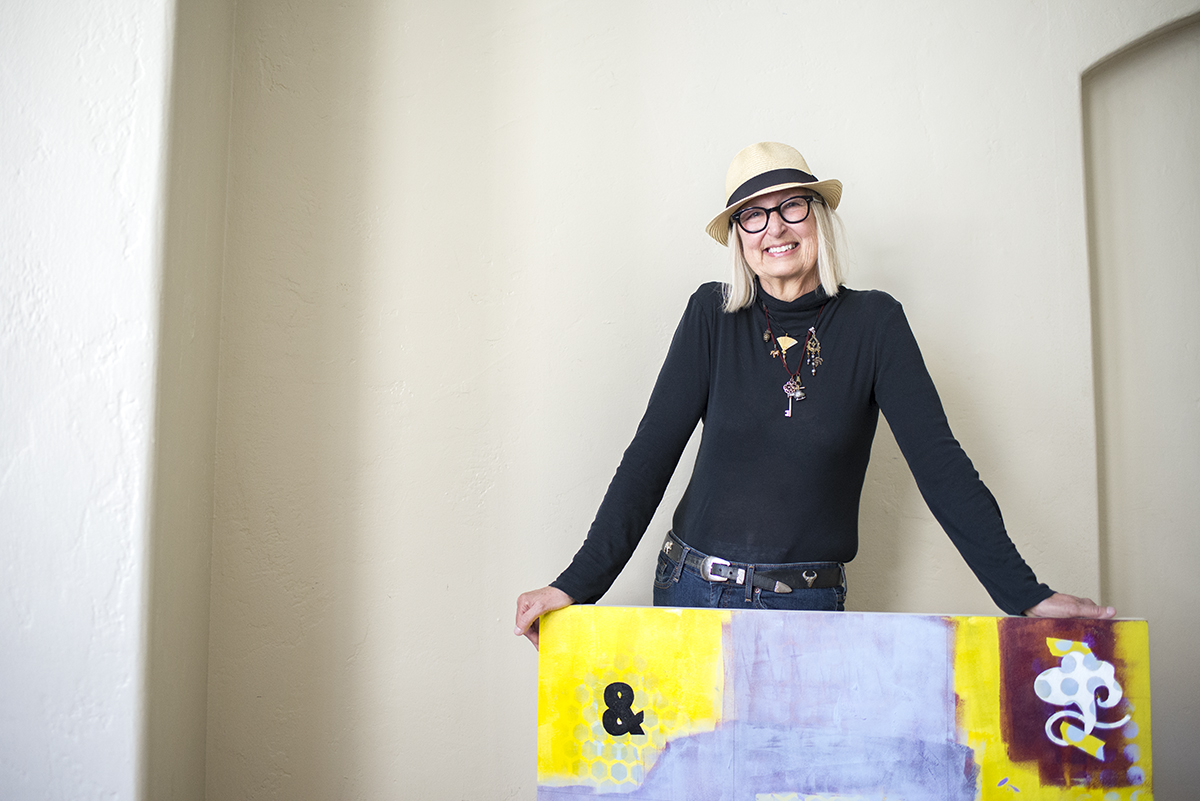 A collection of artist Wini Johnson Brewer's bee-themed paintings is being shown in the Kerckhoff Art Gallery until May 30 as part of her exhibit "The Telling of the Bees." Brewer said her art reflects her ideas on the confusion directed toward bees and their plight, similar to the confused state that humanity is in.
(Miriam Bribiesca/Daily Bruin)
Bees flew into Wini Johnson Brewer's studio one night, circled a light bulb, died and fell to the ground. Brewer said this dramatic experience sparked her interest in the threatened bee population.
"I ended up with a pool of dead bees on the studio floor," Brewer said. "That was my first personal awareness of the plight of the bees."
Brewer, a multimedia artist originally from Connecticut and who now lives in Los Angeles, said this incident in her studio, as well as later research, inspired her creation of over 40 bee-themed paintings in the past year and a half. Many of these works, including pieces that have not previously been shown in public, will be exhibited in Kerckhoff Art Gallery until May 30 in a showcase called "The Telling of the Bees."
Although almost all of Brewer's bee works are acrylic paintings interspersed with graphic images, she said her paintings' tones and styles reflect the evolution of her feelings about bees. Her first paintings were initially very dark because she thought of the bees' situation as cancerous.
However, Brewer eventually revisited these works, added lots of white to these paintings and began to feel like she was representing hope in her work. In the last six months, Brewer said she began using bright, vibrant colors to celebrate the bees.
"I looked at my paintings, and I thought, wow, this is like a party!" Brewer said.
Jazmin Jimenez, curator of "The Telling of the Bees," also said she appreciated the vibrancy of Brewer's work. Jimenez, a fourth-year global studies student and a Cultural Affairs Commission Art Series member, said the bee works were like a creative yet appealing chaos.

One of the most recent bee paintings features circles, strips of colorful paper, floral shapes and abstract bees that look like striped triangles on a tan background. Another is filled with bright yellows, light blue, purple and a myriad of other colors along with abstract shapes and a huge bee in the center.
Brewer said her artwork is inspired by the dramatic decline of beehives due to the mysterious colony collapse disorder. According to the Natural Resources Defense Council, as many as one-third of bee populations have disappeared since 2006, but beekeepers and scientists are still not sure of the disorder's direct cause. However, pesticide exposure and declining food sources are two main theories.
Brewer said she sees the bee plight as a metaphor for the troubles of human civilization.
"The bees' confusion and what's happened to them seems to mirror the confused state that humanity (is) in," Brewer said.
Although the bee plight is a major reason for Brewer's bee focus, she said that she also feels a connection to the insects through memories of her New England childhood and Emily Dickinson's poetry. Brewer said she thinks about bees in terms of science, poetry and art.
The exhibition's title, "The Telling of the Bees," is part of Brewer's poetic connection to the insects. The title refers to the English tradition where bees were told important events in their keeper's life. Many believed that if the custom was forgotten, the bees would leave or die.
Kylie Carrigan, director of the series, decided to feature Brewer's work in the Kerckhoff Art Gallery after viewing it at the Brewery, a former Pabst Blue Ribbon factory where Brewer and other artists live and work.
"She had a really elegant idea about bees and the (connection) that human populations have to bee populations," said Carrigan, a fifth-year art and psychology student. "It was something she was really passionate about that she kind of sold me on right away."
Jiminez and Carrigan said that besides the work's visual appeal, they were also interested in it because of its advocacy for bees.

"I think Brewer's work encourages people to respect the environment," Jiminez said. "I think it will also encourage people to reflect on their own lives."
Brewer said she also recognizes that advocacy is a huge part of these works and encourages all who see her paintings to plant pesticide-free bee flower gardens to help support the remaining bee populations.
"The bottom line is just to make people aware of what's going on," Brewer said. "I'm amazed about how many people do not know about the bee plight, and I'm glad that my paintings create this awareness."