Spring Sing Profile: Random Voices A Cappella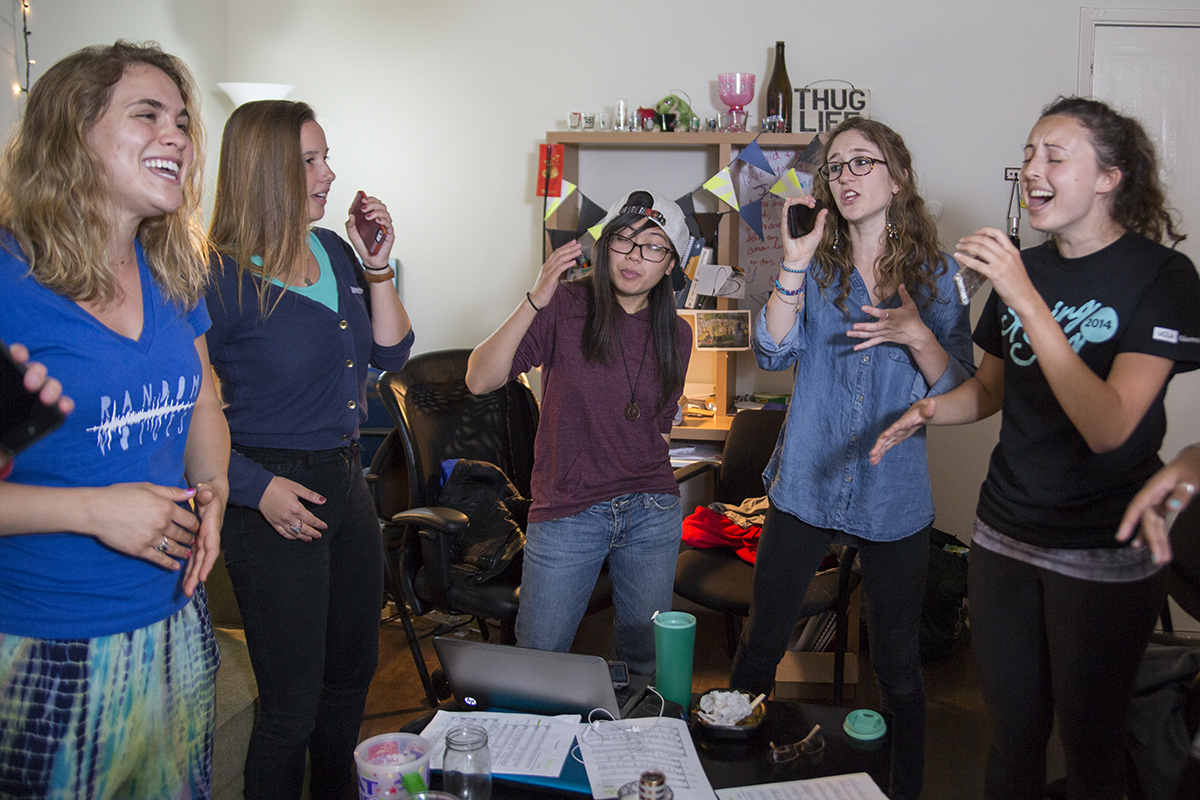 Random Voices A Cappella, an all-female a cappella group, has been working on its Spring Sing 2014 performance since December, full of Madonna-inspired, edgy '80s costumes.
(Jose Ubeda/Daily Bruin staff)
For every major performance, UCLA's all-female Random Voices A Capella chooses one encompassing word to focus its energy on. As the group prepares to cover an unrevealed song by the iconic Madonna for this year's Spring Sing, its current word seems fitting: "passion."
"Random Voices has one of the lowest ranges I've heard in terms of all-girls groups, and this song in particular calls for a lot of power behind it," said Sarah Summers, a second-year dance student.
The group has been working on its Spring Sing number since December. However, Random Voices had been toying with the song for multiple years until it finally came to fruition recently.
Summers said, after their rendition of Kanye West's "Power" last year, the Madonna rendition is intended to showcase Random Voices' growth in versatility throughout their years competing at Spring Sing. The group will wear Madonna-inspired, edgy '80s costumes and plans to add some theatricality to its sound.
"We were really drawn to the fact that the song is vocally one of the most challenging we've ever taken on as a group in my four years of experience," said Catherine Jacobs, a fourth-year music history student. "I think that element of challenge is what made the group connect with this year's performance choice in particular."
Summers said that the continuous challenges Random Voices takes on showcases everyone's vocal and emotional range and translates to multiple styles in their song choices, whether that be a Justin Timberlake medley, Coldplay cover or a The Lone Bellow song.
Morgan Rose, a first-year international development studies student, said the group strives to push boundaries and to define itself as an a cappella group on the level of other co-ed groups, rather than just all-female ones.
"It's the music that we sing. It's the people that we are when we're together," Rose said. "We want to transcend the fact that we're all female and really just focus on the art and presentation of it."
Summers said the group emulates a non-competitive sound by individually complementing each other's parts in the song, collectively supporting Jacobs, the soloist.
"I feel everyone's voice in this song really complements each other," Summers said. "Morgan's part is high above the solo but brings out different qualities of it. I think that speaks a lot to the arrangement but also the dynamics of our group."
And though they have put long hours of rehearsing into building the performance, Summers said everyone's spirits are high, and they are eager to take on the stage. She said there is no way to really prepare for what it's like to be staring out at an audience of 8,000, and that it's difficult to imagine what that number of people looks like.
"At this point, we've done it so many times that the nerves are less about asking yourself if you're going to mess up or remember everything," Rose said. "I just want everyone to see how much work we've put into it and how passionate we really are."
Jacobs said the group auditioned with the confidence that Random Voices would bring everything it could and do its best. Because of this, her main concern was that new members would not get to experience the magic of participating in Spring Sing.
"I organize a lot of my memories of Random Voices around memories of Spring Sing. I can't separate the two in my head," Jacobs said. "Getting to be on that stage, but also being a part of such a huge UCLA tradition – there couldn't be a better way to make people who are new to the group fall in love with the a cappella experience."