Spring Sing Profile: Brandon Bakhshi and Yasmeen Al-Mazeedi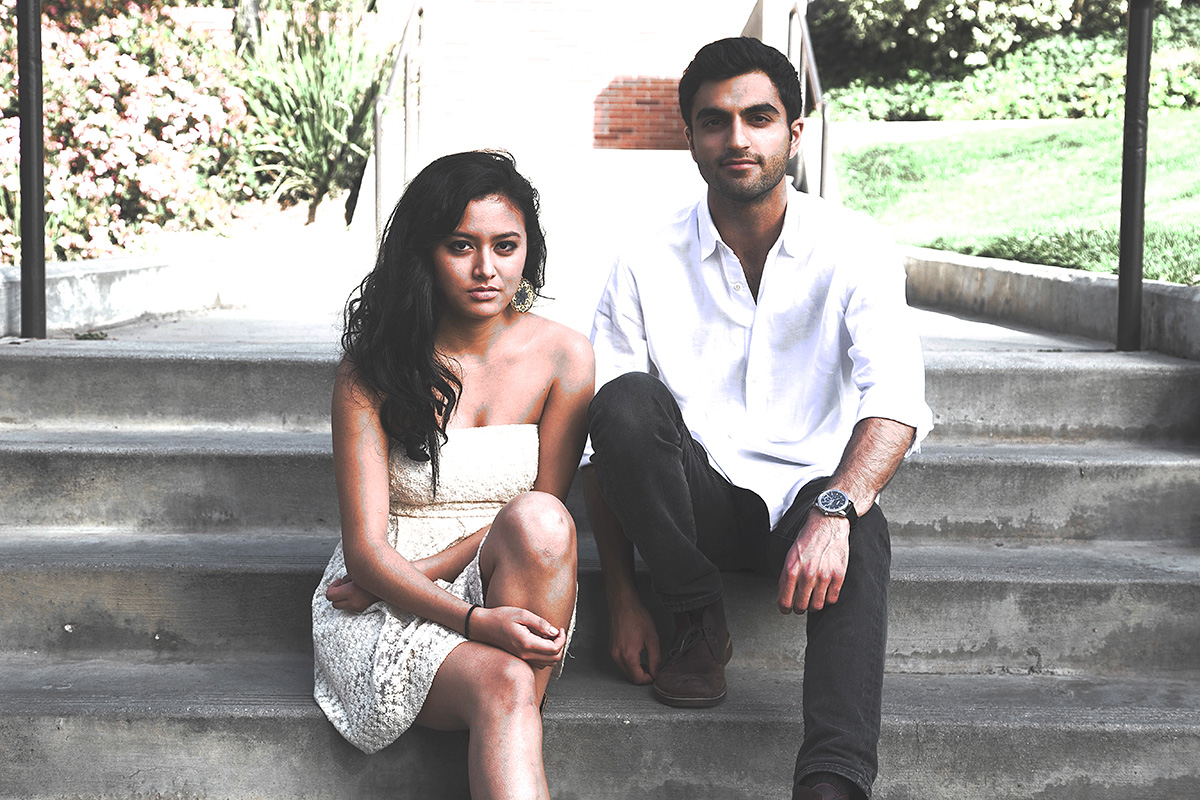 (Courtesy of Nikki Klepper)
Having both performed at Spring Sing last year, third-year violin performance and political science student Yasmeen Al-Mazeedi and fourth-year psychology student Brandon Bakhshi will perform as a duet this Friday.
Spring Sing 2014 duet performers Brandon Bakhshi and Yasmeen Al-Mazeedi said working toward Spring Sing feels not just like bonding on a musical level, but almost like a marriage.
"You have these responsibilities in working together, and Spring Sing is kind of like our baby," said Brandon Bakhshi, a fourth-year psychology student. "This wouldn't have worked if the intent behind our performance wasn't something that resonated with both of us."
With Al-Mazeedi, a third-year violin performance and political science student, on violin and Bakhshi on guitar, the pair describes the melding of their vocals and instrumentals as a hybrid folk-R&B; genre. Their musical influences range from Coldplay and Bon Iver to Frank Ocean and John Legend.
"We're using a guitar, a shaker and a violin, but then I do some riffs with my voice," Al-Mazeedi said. "Melodically, it can sound like R&B; but in terms of the instrumentation, it's folk-y."
The pair will perform "Young Wedding," an original song written by Bakhshi, which tells a story about the initial excitement of love in a relationship that eventually disappears as the couple grows apart.
The song is split up into halves, starting with a happy beginning on the pair's wedding day looking "young and fancy" as they value the superficial aspects of their relationship.
The second portion of the song is about the couple's relationship troubles, with lyrics such as "Things got heated/ I believe we both had the best intentions/ Both had dreams that pulled our hearts in opposite directions."
Bakhshi said the song speaks of the romantic promises people make during relationships and their feasibility.
"It's almost as if no one is malicious in these kinds of situations, and everyone wants to make it work, but it's more of a basic human function that we grow and change," Bakhshi said. "And that's not even just exclusive to romantic relationships."
The two said their differences in refining the performance have allowed them to explore new territory and to learn how to blend their varying levels of creativity. Al-Mazeedi grew up with extensive musical training and experience. She attended a pre-college conservatory and went on to perform at the American Music Awards and work with such artists as Jason Derulo and Sam Tsui. On the other hand, Bakhshi said he picked up guitar in high school as an excuse to sing and has had no formal training. Their backgrounds create a balanced dynamic, as Al-Mazeedi sets decisive boundaries on Bakhshi's creative ideas for the song based off of her technical training.
Despite their differing levels of experience, both are Spring Sing veterans. Al-Mazeedi sang backup for India Carney last year and will also perform with The Street Hearts this year, while Bakhshi performed a duet with violinist Connor Vance last year as the duo The Protagonist.
"There are definitely nerves with a show this big, but the lights are so blinding that you can barely see what's in front of you," Bakhshi said. "The lights only reach the few front people in the first row, so it's kind of more or less an intimate moment between me, Yasmeen and (the judges)."
The sense of legacy and tradition of Spring Sing has brought both of them gratitude for the honor of participating, and Al-Mazeedi said that overshadows any feelings of nerves for her.
"The fact that we get to share our music with our fellow Bruins – there's a ton of pride that goes along with that," Al-Mazeedi said. "It's the biggest privilege being chosen to showcase what we're capable of as UCLA's musicians."