Q&A: Artist's 'Disco Jaws' at Coachella sheds light on shark conservation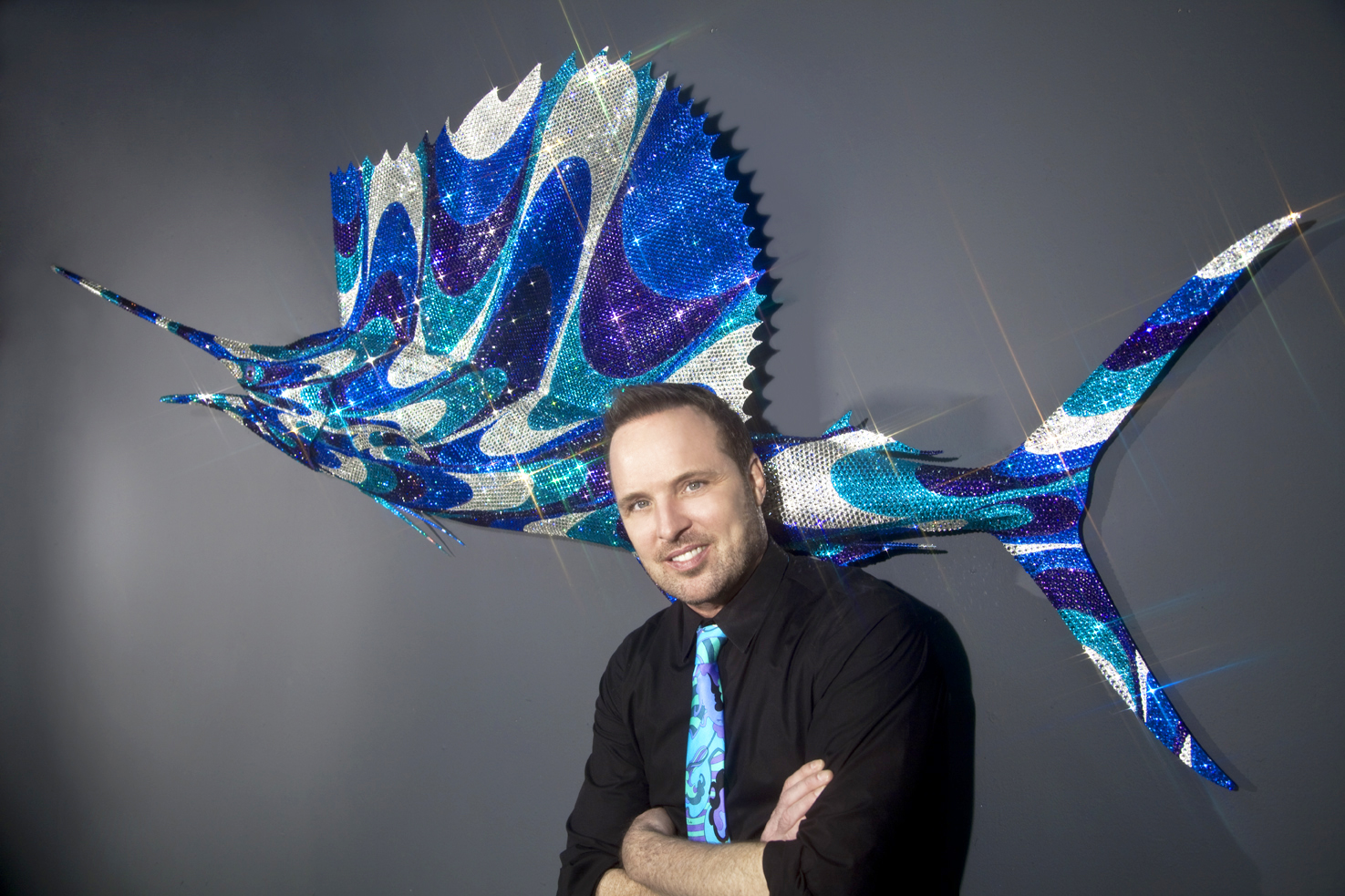 Kevin McHugh, a New York-based artist, is featuring his artwork at Coachella, aiming to raise awareness for shark conservation.
(Courtesy of Aaron Cobbett)
April 18, 2014 12:19 a.m.
DJ manager by night, fish sculptor by day, Kevin McHugh is a New York-based artist whose installation "Disco Jaws" is on display at the Coachella Valley Music and Arts Festival. Inside the
darkness of the Yuma tent, his glittering shark hovers in the air, scattering
light over the audience and raising awareness for shark conservation. The Daily Bruin's Natalie Chudnovsky talked with McHugh about his artistic process and involvement in marine life conservation.
Daily Bruin: What does "Disco Jaws" look like?
Kevin McHugh: It's 8 feet long. It's based on the body of a Mako shark but I put in great white (shark) teeth, because they're more perfectly structured. It's covered in 6,000 small glass mirror tiles. It's lightweight; the tail and fin are reinforced because it's spinning over people's heads. It's a scary shark-looking disco ball right in front of the DJ booth, 10 feet overhead. The shark is spinning above (the audience's) heads. The tent is dark, which gives a club feel. It has beautiful floor and painted wood around the walls, and there's a big light splash against the piece when the DJ drops a song.
DB: Can we talk about the title?
KM: Someone said I should name it "Disco Jaws" because in the Urban Dictionary, "disco jaws" is someone who drinks or takes in too many substances and starts to talk a little crazy. And I thought that was pretty funny. I wanted it to have something serious with shark conservation. But it's also the material you make a disco ball out of, so I wanted the title to be lighthearted.
DB: What was your process in making "Disco Jaws"? How long did it take?
KM: It was a lot easier to make than the pieces I usually do. The mirror tiles are about 1 inch by 1 inch. A normal piece of mine can have 60,000 Swarovski crystals and takes two months to make. It was enjoyable to make a piece that wasn't going to an art gallery, that was going to be seen by lots of people as well as raise awareness. It took three weeks total to make. I started it sometime in March and finished it the Friday before Coachella.

DB: What inspired you to make this particular piece?
KM: Being in nightclubs for so many years, I love the simplicity of the reflection of a mirror ball. I was also really inspired when I spoke to the people at Shark Savers. They were so into getting publicity to bring awareness. They're volunteers all around the world who start chapters for shark conservation. I wasn't paid to make the piece, but to engage such a large audience and start a conversation about shark conservation was a unique opportunity.
DB: Most of your sculptures are of fish – where did this fascination come from?
KM: My father and I went fishing when I was 6 or 7. I thought the sailfish were these magical fish that flew.
DB: How did you make your first sculpture?
KM: I ordered this old plaster piece from eBay and wanted to make it beautiful with crystals. I did research and hooked up with The Billfish Foundation and they auctioned it off for their annual gala. The auctioneer described my piece as one any fisherman would love in his living room and his wife wouldn't mind having there. That's when I saw the connection in combining art and conservation.
DB: How did you get involved with conservation after that?
KM: I did my first shark piece three years ago. I hadn't realized there was so much love out there for shark conservation. I got involved with sharksavers.org. They were my partner with the Coachella piece. They're tweeting and Instagramming. If I sell the piece, I'll donate to them as well.
DB: And what do you hope viewers take away from the piece?
KM: I hope they visit sharksavers.org and learn more. We're killing 100 million sharks a year, according to National Geographic. They're the apex predator – if we lose them, the entire system suffers. It's horrible that a major percentage of those 100 million are killed for shark fin soup – they pull them up, cut the fins off and throw them back in to drown. I think it's inhumane and I hope people think twice and get behind conservation efforts.