Datvebis Gundi brings Georgian choral music to UCLA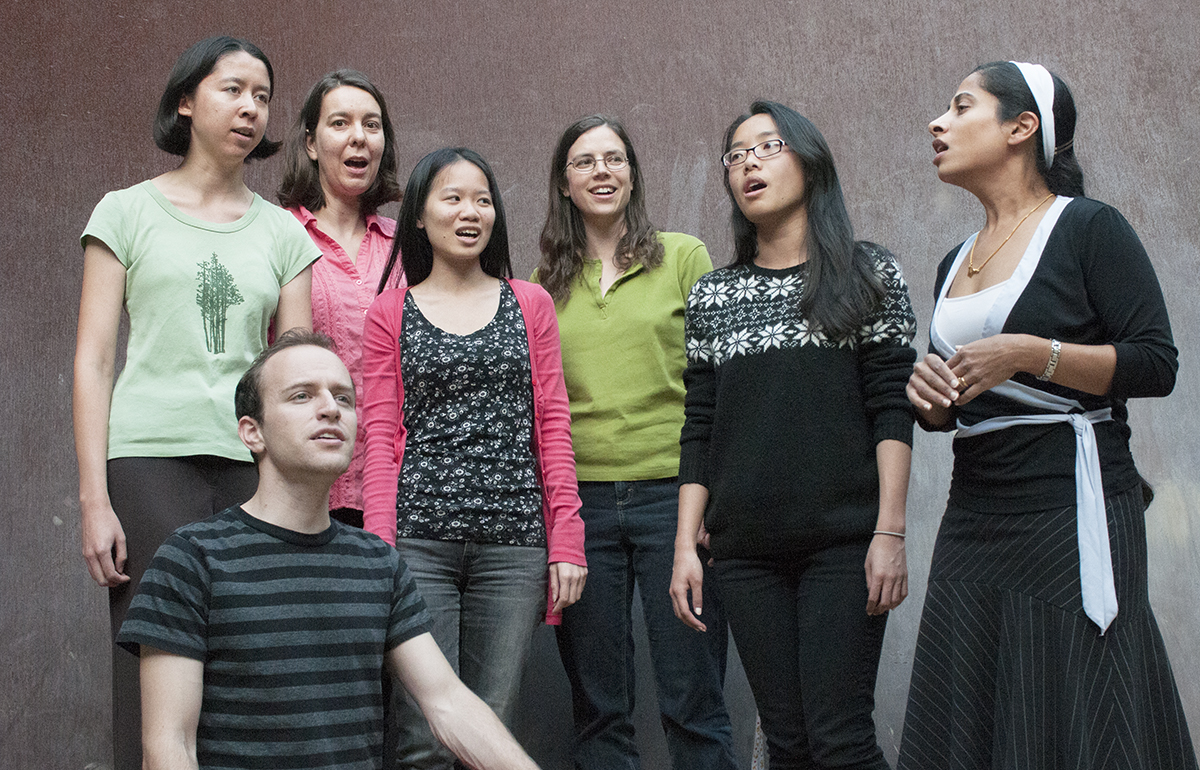 Led by linguistics lecturer Vrinda Chidambaram, Datvebis Gundi is a Kartvelian chorus that perform songs from the country of Georgia. Unlike Western-style choirs, Datvebis Gundi faces the challenging task of memorizing the tonal inflections, unfamiliar vocal sounds and upbeat rhythms of Georgian songs.
(Miriam Bribiesca/Daily Bruin)
April 16, 2014 12:27 a.m.
A Kartvelian chorus is notable for its unusual way of singing songs without words, a factor that hooked Vrinda Chidambaram when she heard a collection of Georgian songs for the first time.
The chorus, Datvebis Gundi, faces the challenging tasks of memorizing the tonal inflections, unfamiliar vocal sounds and upbeat rhythm of songs from the country of Georgia. Chidambaram, a lecturer in the linguistics department and director of the Kartvelian chorus, first heard this Georgian music in 2004, at a summer workshop for Slavic and Slovenian languages.
"My neighbor was studying Georgian and would play Georgian music all the time," Chidambaram said. "One day I decided to finally go over and investigate. … This was the first time I got to hear and sing Georgian music, and after the first time I was hooked, and I couldn't help but learn more and more about it."
This type of music the choir sings is unlike the Western-style choirs that many audiences are familiar with. The Georgian songs the group sings have ejectives, sounds that aren't generally used in English, and are sung in a first, second and third voice, called "p'irveli khma," "meure khma" and "bani khma," respectively, in Georgian. The different voices mark the different harmonies each group sings at varying pitches.
Because of the different voices, the small choir group has to coordinate its vocal ranges and harmonies very precisely to synchronize its hums and chants.
Its vocals-only singing group feature was what attracted linguistics professor Pat Keating to contact them about participating in the World Voice Day. Chidambaram and the Kartvelian chorus jumped at the opportunity to perform the songs, they had been practicing, in front of an audience.
However, preparing for the show required a lot of practice and dedication. Chidambaram, who admittedly never learned to read music, teaches the songs through her memory and a collection of crudely written letters.
In the song "ALILO," the lyrics consists of an obscure grouping of letters: "SHO…BA, SHO-I-O…O-I-OBA CHME-E-E-E-ERTMAN DA/ GA-GVI-TE-E-E-E-E-E(-E)NOS DA."
To teach her choir the songs, Chidambaram sings them herself a few times, and then the chorus catches on. The small number of people in the group makes it easy to hear each one join in on the first, second and third voice, harmonizing in a clean and complementing style.
Even though Chidambaram and the other students in the chorus are always looking for more to join, the small number and tightness of the group is one of the things Ann Zeng, a third-year linguistics student, appreciates.
"It was really cool getting to know my teachers and other grad students that I wouldn't know," Zeng said.
Zeng stumbled upon the Kartvelian chorus when she was walking to office hours last quarter, which was when the chorus was just starting to form. Although she already sings in two other student groups, she saw a flier outside Chidambaram's office and said she was immediately interested in this new form of singing. Zeng said she hopes that people will listen and experience the music with an open mind.
"(Georgian music is) really weird and really hard to get used to, but it's really cool. This is the one thing that's super different," Zeng said.
The Kartvelian languages may sound unfamiliar to students who are not accustomed to them. Chidambaram said it is helpful that most of the chorus consists of linguistics students, whose knowledge of linguistics helps them sing better and better understand the difficult pronunciations of the aboriginal Georgian music.
Chidambaram, who spent a year in Slovenia when she was writing her dissertation, uses her memory to help her learn and teach the indigenous chants and articulations. She said she is excited for the opportunity to show UCLA this mostly unheard of style of singing at the World Voice Day.
"What I really hope people take away is, 'I want to learn more about Georgian music,'" Chidambaram said.