Students' film 'What We Need' in Sprite Films finals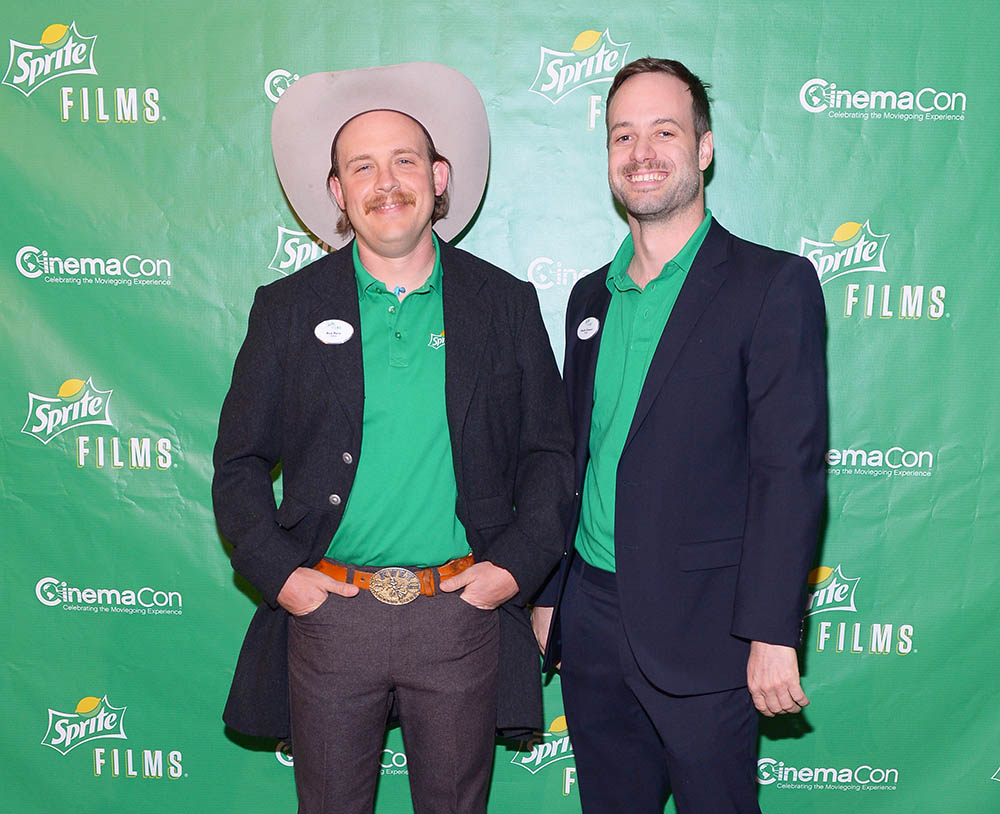 Finalists in this year's Sprite Films competitions, filmmakers Merlin Camozzi and Rick Perry recently attended CinemaCon in Las Vegas and were mentored by actor Michael B. Jordan.
(Bryan Steffy/Getty Images)
For a few UCLA film students, it's time to swap out their signature blue and gold with the iconic lemon-lime of Sprite Films.
UCLA students Merlin Camozzi and Rick Perry from the School of Theater, Film and Television are among this year's six teams of Sprite Films finalists with their film "What We Need."
The competition gives filmmakers a platform to create and distribute a short film advertising Sprite soda. The winners of the Sprite Green Ribbon Panel Award will have their film screening in select theaters nationwide. A Fan Favorite Award will also be given on the basis of popular votes online, and the recipient's film program will receive $5,000.
In their short film "What We Need," graduate students Camozzi and Perry said they tried to tell a truth about the modern-day artist and the opportunities they have. It follows a band making a music video and uploading it to YouTube where they achieve Internet fame.
Perry, the film's producer, said the point of the film was to communicate the possibilities available to artists today.
"It tells the story of a group of friends trying to create something and they're struggling, but then they find this beat and record it. Then you see them get all these hits on YouTube and they celebrate on a rooftop," Perry said. "It really shows the genesis of a project."
Camozzi, who directed the film, said he believes the key to creating a good commercial film is a product of finding a genuine voice in the work.
"There's been so much incredibly good and manipulative advertising in the past that brands are looking for authentic voices at this point." Camozzi said. "They're trying to tap into what people are really about and I think it's important to communicate something that connects from inside of you."
Camozzi had originally started in the field of law, working as a lawyer for an international law firm and running a production company law department. When he took up screenwriting on the side and started working on some film sets, he decided on his passion for film.
"I actually didn't have the discipline to finish my stories before, and it wasn't until I went to law school that I was able to do that." Camozzi said. "Law is great field, but it's really important that you do something you really enjoy in life."
Perry said he always knew he wanted to be in a creative field. He said he had been interested in art ever since he was young. In college, he had started by studying painting.
"After college, I didn't know what I wanted to do. I lived in New York City and started working in production, and I always gravitated towards the artistic work like props and designing," Perry said. "It was an eight-year journey, and I realized I wanted to be writing and directing. I wanted to do the whole thing and not just be a collaborator."
The two filmmakers, who attended UCLA a year apart, initially met when Perry hosted a few parties at his apartment just after Camozzi was accepted to the film school. Following a Halloween party, Camozzi asked to use Perry's apartment as a filming location, and from there the two became collaborators.
The project's cinematographer Julia Swain, a UCLA graduate film student, said their combined determination and working chemistry is what helped them all overcome the challenge of filming the entire project in one day.
"(Perry and Camozzi) are both really focused and good at following the narrative of the story. (Perry) would pull together a lot of the style and furniture and colors and (Camozzi) is just a great overall collaborator," Swain said.
As the competition continues with a online vote, where fans can vote for their favorite film five times a day until May 15, the filmmakers said they are glad to have made it this far. Swain said being an artist today is very similar to the story they tell in "What We Need."
"It's about real artists," Swain said. "'What We Need' is what we already have; our own power and our own ambition. It's about a world where everyone tells us we can't succeed by ourselves, but instead we create our own success."