Hooligan's 'Legally Blonde' opens at Macgowan Hall Friday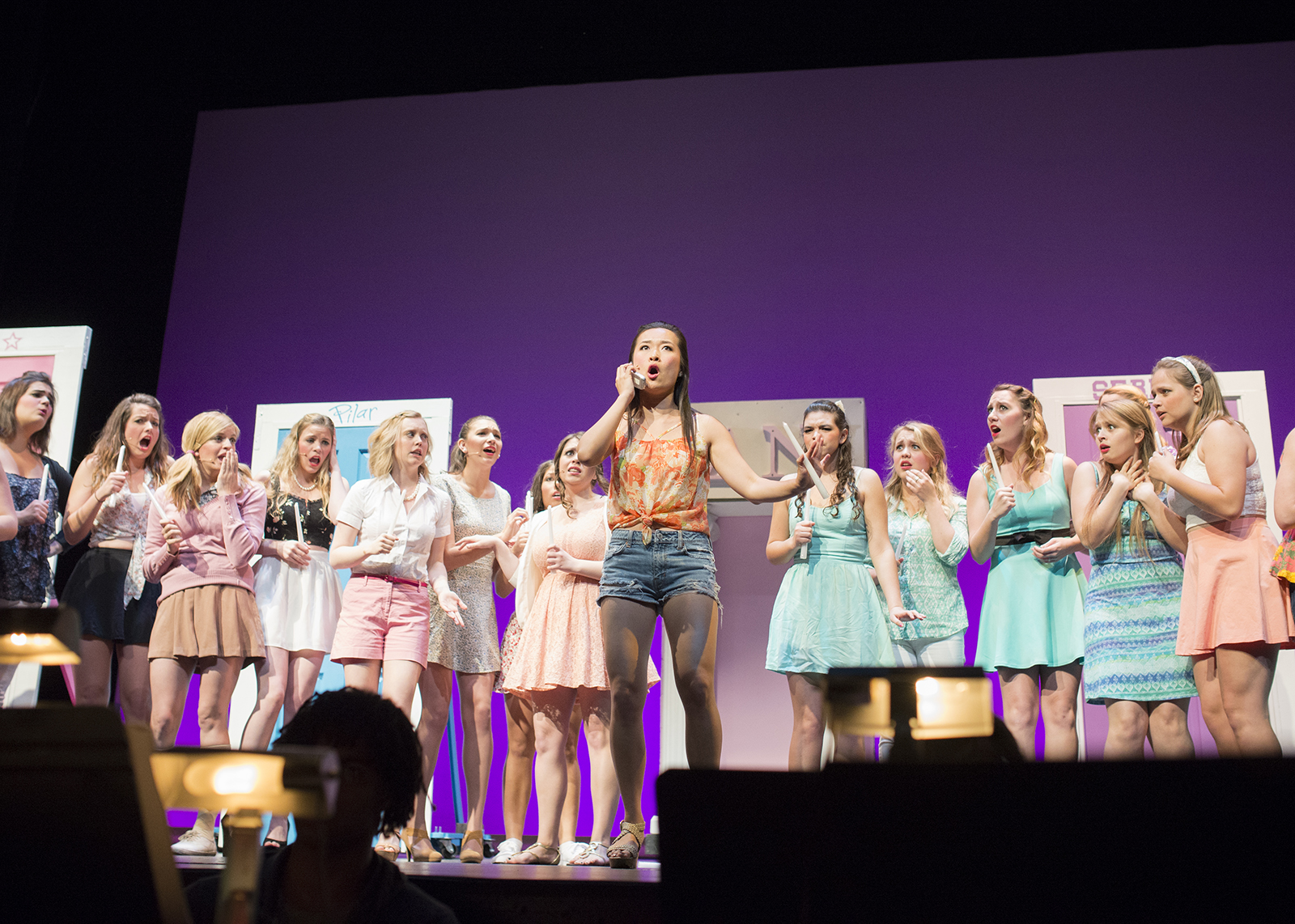 Following a recent run of "Fiddler on the Roof," Hooligan Theatre Company's performance of "Legally Blonde: The Musical" will begin Friday evening. Recreating the story of popular Reese Witherspoon film, which was itself adapted into a Broadway production, "Legally Blonde" follows Elle Woods, misguided woman who follows her ex-boyfriend to Harvard Law School.
(Neil Bedi/Daily Bruin senior staff)
Almost seven years after the fictional UCLA alumna first conquered Harvard Law School on Broadway, Elle Woods comes back to her alma mater in the Hooligan Theatre Company's production of "Legally Blonde: The Musical."
The Hooligan Theatre Company, a student-run group that offers an opportunity for students of all majors to participate in educational theater productions, completed its run of "Fiddler on the Roof" this past weekend. "Legally Blonde: The Musical," the second Hooligan program of this quarter, opens this Friday night at the Little Theater in Macgowan Hall.
Elle's story debuted in 2001 in the movie of the same name starring Reese Witherspoon, with several scenes filmed on UCLA's campus. Its musical rendition premiered on Broadway six years later. This will be the first time the musical comes to UCLA.
The story follows the somewhat clueless Elle as she chases after her ex-boyfriend to Harvard Law School in hopes of winning him back. She struggles to prove that she's more than blonde hair and a pretty face, partly because she doesn't even know it herself. In her misguided attempt to find love, Elle ends up discovering her own strength and potential as well as a passion for law.
"She puts on this front that everything is really easy for her, but she actually works really hard," said fourth-year biology student Clara Regula, who plays Elle.
Regula said she can relate to this aspect of Elle's character, especially as a UCLA student balancing science courses and intense rehearsal schedules. The cast has been rehearsing the show daily since the third week of winter quarter.
The show's producers, third-year theater student Kelly Lennon and fourth-year psychology student Jessica Rosenfeld, said one of the best parts about this production is how well the casting worked out.
"We've been able to give people opportunities to play roles that are so perfect for them," said Rosenfeld, who is also managing director of the company. "I've never walked out of a casting so pumped up. Everyone got a role that played to their strengths so well."
Rosenfeld said it was very rewarding to see actors play characters that can be difficult to portray, especially since Hooligan is an educational resource for many of its members. During rehearsals, the cast members participated in various character building activities to help them adopt their roles.
Second-year sociology major Ava Adlparvar plays Pilar, the sassiest of Elle's three best friends and sorority sisters. She said that, during the first few rehearsals, they did a lot of character work such as having normal, unscripted conversations with each other while staying in character, which helped her understand how her character thinks.
"It's all about trying to figure out who that person would be outside the 'Legally Blonde' world," Adlparvar said.
Adlparvar and Regula said they also had to create backstories for their characters. Regula said she imagined Elle being adopted since Matt Lee, a third-year physics student who plays her father in the show, is Asian. She said she thought this could have contributed to Elle's strength.
Regula said it was difficult at times to internalize her character because she is so different from Elle, at the very least in terms of the amount of pink they have in their wardrobe. Ultimately she decided she wanted to focus on Elle's strength and good heart.

"I wanted to emphasize her kindness," Regula said. "She's unconditionally kind to everyone. She doesn't care who you are; she will try to be your best friend."
The relationship between Elle and her best friends is a significant part of the show. In order to make that relationship seem more natural on stage, Adlparvar said their director, second-year economics student Josh Briggs, asked her and the other girls to spend time bonding outside of rehearsal. They went to brunch together the next weekend and quickly saw a difference in their ability to act together on stage.
"The more I get to know them, the more I love them and the easier it is to act like that on stage," Adlparvar said.
In addition to watching the actors grow, Rosenfeld and Lennon said they enjoyed giving younger students the opportunity to play larger roles behind the scenes. Many of the leadership roles, including the direction of both "Fiddler on the Roof" and "Legally Blonde: The Musical," were filled by second-years who haven't previously had chances to realize their ideas on stage.
For Briggs, this is his first time directing a full-length musical. He said it was a great experience to see his ideas, particularly in terms of choreography, come to life on stage. He had to adapt the choreography of the original production to fit the smaller venue and the large cast of about 40 students.
The weeks of preparation will finally have an audience this Friday. As opening night gets closer, Lennon and Rosenfeld said they can't wait for the audience to catch the high energy and excitement of the cast.
"As a collective, there's never-ending energy," Rosenfeld said. "Every time they rehearse, the girls are so excited and they're dancing around in stilettos. That energy is hard to maintain."
Adlparvar said it's been refreshing to do such a light-hearted, fun musical, and she hopes the audience gets a night of laughter and entertainment.
"Everyone in the show has such a big personality," Adlparvar said. "I hope the audience is able to walk away with a big smile on their face."