Getty Museum immerses students in art with 'College Night'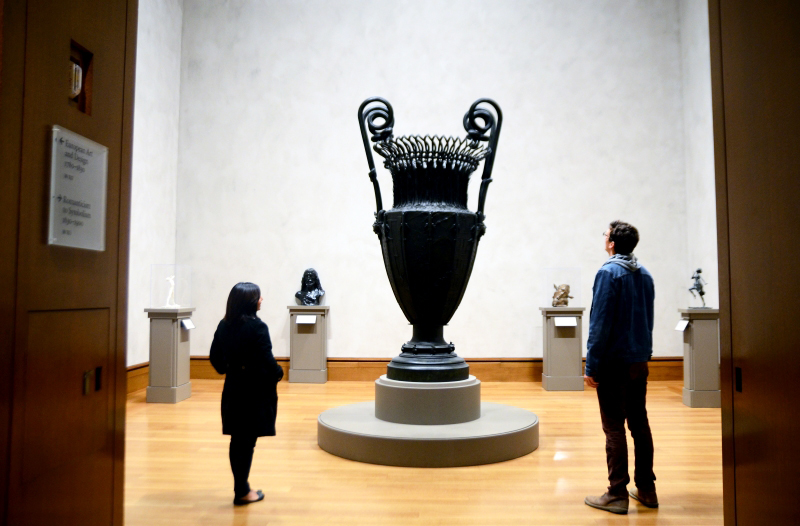 College Night at the Getty Center offers its annual one-night event when the museum invites students to enjoy free food, live music and private tours.
(Daily Bruin file photo)
As the typical Monday blues wind down to a close, the J. Paul Getty Museum will open its doors with free admission to all college-aged students for an evening of interactive cultural immersion.
The annual College Night at the Getty Center is a one-night-only extravaganza where the museum, typically closed on Mondays, invites students to enjoy free food, live music, private gallery tours and presentations.
Andrew Westover, a graduate intern with the Getty's academic program, was one of the co-staff organizers of the event. He said the event is consistently gaining popularity and getting larger every year, with last year's event drawing in around 2,500 students.
"It's kind of like a huge party centered around art," Westover said.
Each year, College Night revolves around the Getty's current exhibition schedule, this year's being Jackson Pollock's "Mural" and a photography exhibit largely from Queen Victoria's personal collection – "A Royal Passion: Queen Victoria and Photography." In addition to planned speakers and tours, the evening will feature a life-drawing class and "Strolling Victorians," an activity to assist students in connecting with the displayed photography.
Brand new to 2014's College Night is an ongoing scavenger hunt throughout the galleries, as students share their finds over social media in the hopes of sought-after prizes.
Outside of gallery-centered activities, there will be free food; making reservations is recommended but not required through the museum's website. While outside, live music takes center stage with a DJ as well as performances by the band Rivoah and headliner Mystery Skulls.
To make the trip to the Getty more convenient for UCLA students this year, there will be a shuttle from the De Neve/Bradley turnaround on the Hill to the Getty at 5:45 p.m.
UCLA students, making up a part of College Night's student committee, worked alongside Getty staff members to assist putting together the event.
Jessica Freed, a third-year history student, was part of the marketing and public relations sub-committee.
"I gained valuable experience in event planning," Freed said. "I'm excited to see all the familiar faces that I invited for this event I helped to put on."
Interest in the event around campus has been stirred up – by friends, classmates and professors alike.
First-year Design | Media Arts student Rob Tom Browning plans on attending the event not only for a fun evening out at the Getty but also for an opportunity to interact with like-minded students.
"I'm just really looking forward to meeting new people whom I share common interests with," Browning said.
Like UCLA students, the Getty staff looks forward to the yearly event. Westover said the college-fueled atmosphere is enthralling:
"It makes the Getty our own."