Spring Music Preview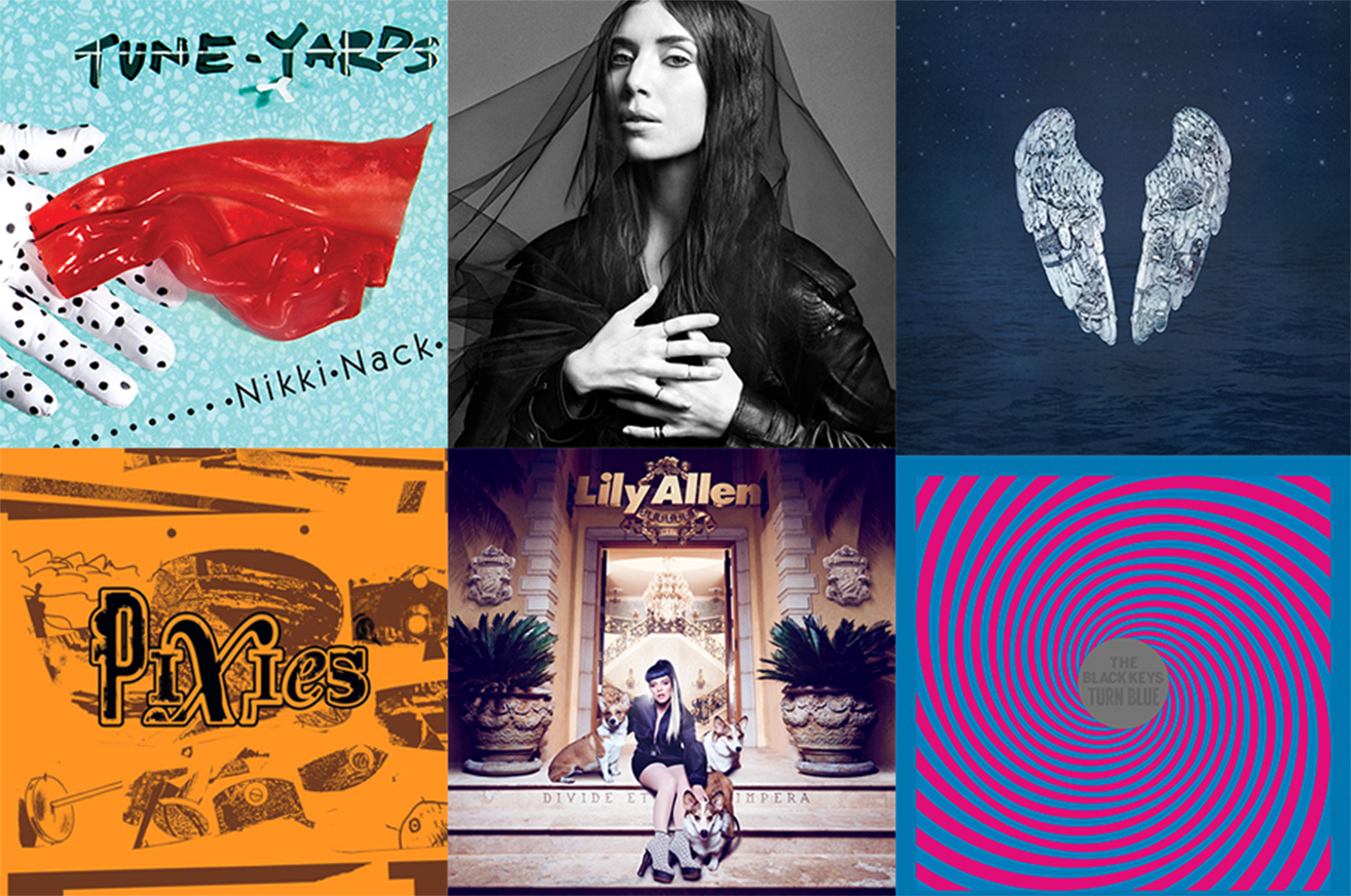 (Courtesy of 4AD, Warner Bros. Records, LL Recordings, Nonesuch Records, Pixiesmusic and Atlantic Records)
For those music aficionados who are already stuck in a spring quarter slump on the first day or whose well-deserved Coachella wristbands will be noticeably absent from their wrists come mid-April, this season's new releases will keep their disgruntled feelings at bay.
"Indie Cindy"
Pixies
Pixiesmusic
April 28
Traditional undergraduates enrolled at UCLA weren't even alive when the Pixies released their last full-length album, "Trompe le Monde," in 1991. The Pixies are no strangers to expressing social commentary through their music – "U-Mass" from "Trompe le Monde" is a sarcastic critique of the student body at University of Massachusetts Amherst, where frontman Black Francis and guitarist Joey Santiago met. Twenty-three years later, the title of their newest album almost seems like a similar remark on youth subculture today. The tracks on "Indie Cindy" should sound familiar to fans, as the band has slowly released all 12 songs on three four-track EPs over the past year. The long-awaited sixth studio album from the influential alternative rock band is a trite compilation of old material reduced to a mere subject of a heavily edited Instagram photo. Perhaps the Pixies are merely testing the waters after bassist Kim Deal's departure, but they'd better jump in with more enthusiasm soon, before their fans' patience wears thin.
"Sheezus"
Lily Allen
Warner Bros. Records
May 6
Lily Allen proved her finesse at providing a fresh take to social issues with her bold, sassy breakout hit in 2009, "Fuck You," which addresses intolerant opinions. Is the content of "Hard Out Here" – the first single from "Sheezus," a cheeky jab at the title of Kanye West's latest release, "Yeezus" – really any surprise then? "Hard Out Here" tackles misogyny in the music industry and Allen alludes to Robin Thicke's controversial song "Blurred Lines" in both the lyrics and the music video. "Sheezus" marks Allen's return to the recording studio after her five-year hiatus, but she has matured well. Old fans won't be disappointed by Allen's esteemed combination of bitingly honest lyrics and catchy melodies.
"I Never Learn"
Lykke Li
LL Recordings
May 6
The title of Lykke Li's third album sounds like the mantra of a jaded 20-something about to turn 30, but her musical career is a far cry from blasé. From the youthful and innocent song "Dance, Dance, Dance" from her 2008 debut album, "Youth Novels," to the darker and domineering song "Get Some" from 2011's "Wounded Rhymes," her new single "No Rest for the Wicked" is a profound and heartbreaking track about loneliness. The track sounds appropriate on the Swedish artist's third album, which she said she views as the final entry to her trilogy of albums. Her discography to date is cohesive, and "I Never Learn" sounds appropriate as the logical progression of her career. The album will showcase Li's talents, solidifying her position in the industry as she said she hopes it will – a distinguished accomplishment for someone who just turned 28.
"Nikki Nack"
tUnE-yArDs
4AD
May 6
Coupled with promotional art evocative of a child's birthday party, with bright colors and streamers, tUnE-yArDs' first single, "Water Fountain," from the band's third album certainly emanates a more carefree vibe than the singles on 2011's "w h o k i l l." While the track sounds catchier and more energetic, Merrill Garbus, founder of the band, proves she hasn't departed from her characteristic global musical influences and juxtaposition of darker lyrics with a cheerful melody, as "Water Fountain" is about unequal water distribution worldwide. The track may very well become one of the season's singalong anthems with its easily imitable vocals, but as fans cry out, "No water in the water fountain," will Garbus' thoughtful critique be lost? If "Water Fountain" is any indication, the album's production is more polished – without compromising the sound of the band's renowned unconventional percussion – and is sure to be a breath of fresh air in this quarter's music releases.
"Turn Blue"
The Black Keys
Nonesuch Records
May 13
Seven studio albums later, The Black Keys still have some tricks up their sleeves. Taking the internet by surprise, retired boxer Mike Tyson announced the band's new album in a cryptic tweet over a week ago, linking to an eerily hypnotic YouTube video filmed in the style of a late-night TV commercial for The Black Keys' new album. As both the video and the first single, "Fever," suggest, the band is experimenting with a psychedelic style with "Turn Blue." The cover art, a mesmerizing spiral, further cements that impression. Rather than a complete 180-degree departure from their established blues rock sound, "Fever" retains familiar sounds – the song whets fans' appetites and keeps them eager and intrigued for the full album's release.
"Ghost Stories"
Coldplay
Atlantic Records
May 19
Anticipation for Coldplay's upcoming release has been overshadowed by frontman Chris Martin's recently announced separation from his wife, actress Gwyneth Paltrow. The earnest lyrics of the album's first single, "Magic," are about heartbreak, and sound more poignant in light of his separation, but the beautiful vulnerability of the song underscores how Martin channeled his emotions productively – his creativity weathered the split unscathed. The prominent electronic beat is reminiscent of the xx's work, but Martin's falsetto solidifies the single as a bona fide Coldplay song. Maybe it's too early to say "Ghost Stories" will be a magical musical work, but "Magic" certainly undermines the common criticism that all Coldplay songs sound alike.