In a Working Theater, UCLA alumni push limits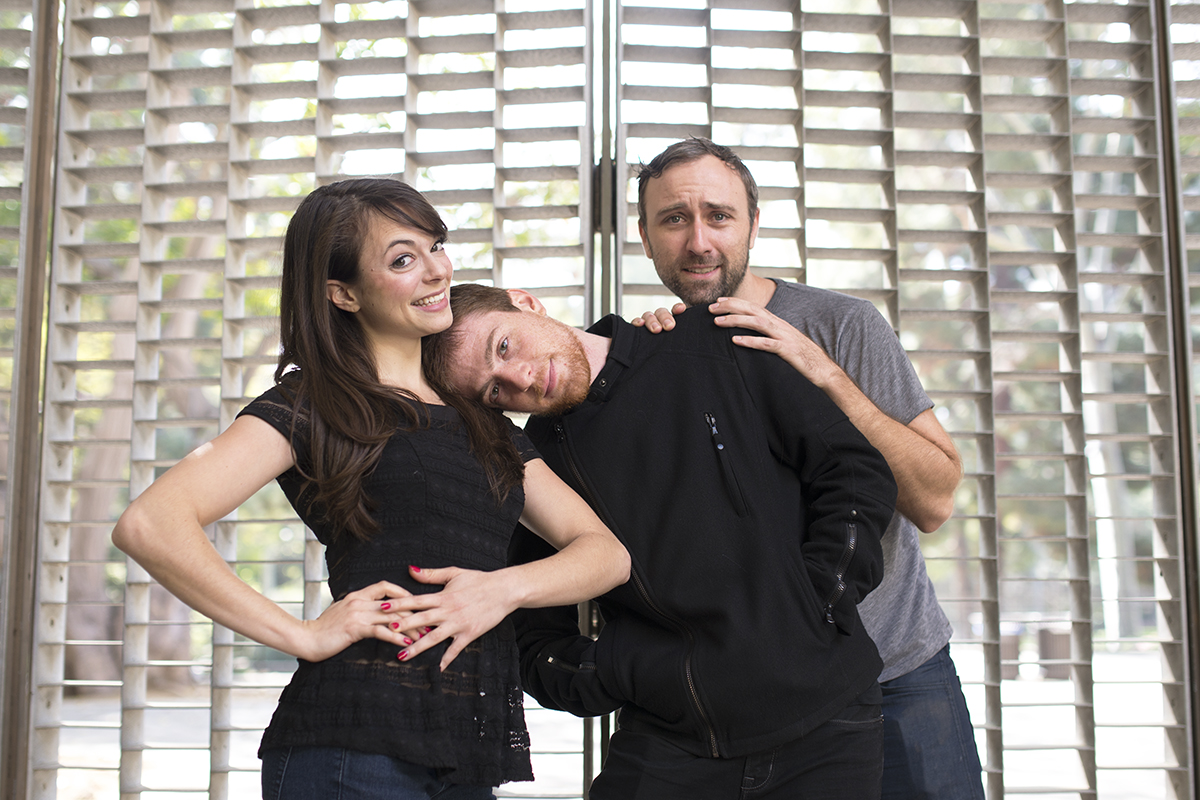 UCLA alumni Matt Soson, Emily Yetter and Zack Hamra are all are a part of Soson's production company, a Working Theater.
(Neil Bedi/Daily Bruin senior staff)
After graduating in 2009, UCLA alumnus Matt Soson and his prospective acting career suffered from a string of rejections and one-dimensional roles. Disappointed by the quality of material he encountered, Soson drained the entirety of his savings and recruited fellow UCLA alumni for his play "The Lights Are Off."
Written and directed by Soson, the play premiered as part of Hollywood's 2012 Fringe Festival. After its debut,"The Lights Are Off" went on to win a 2012 Best of Hollywood Fringe award, effectively extending its sold-out run and motivating Soson to finally form his own production company, a Working Theater, in the same year.
Soson, who graduated from UCLA's School of Theater, Film and Television, united fellow UCLA graduates involved with "The Lights Are Off," as well as other alumni, to create a Working Theater –a theatre, film and arts event production company focused on fostering new talent and stories. Their latest project is fundraising for the creation of an original television series, with the working title "Monster Girls."
"It was the next step – it just made sense," Soson said.
As a whole, the company has mostly done projects rooted in theater and live events called "re:Mixes." These "re:Mixes" showcase two performance mediums that typically stand apart, like stand-up comedy and cartooning, to create art onstage. The company's most recent play, Soson's "Dantalian's Great and Tragical and Truthful Epic of Man's Vanity and Oh-So Gruesome Demise Vol. 5," ran November in a warehouse in downtown Los Angeles.
In LA Weekly's review of the play, Steven Leigh Morris labeled the ensemble as "people who know exactly what they're doing." Emboldened by its reception, Soson said a Working Theater was encouraged to move forward with its latest and biggest project yet with "Monster Girls."
Written and directed by Soson, the dark comedy follows three female protagonists who all just happen to be decidedly "un-human." Inspired by the influx of modernized supernatural stories, Soson's interpretation of "monsters" in the 21st century chronicles the lives of an imp, Hazel (Emily Yetter); a zombie, Leah (Corsica Wilson); and an alien, Half-Off (Zoe Chao).
Soson said that he wanted to see female characters as more than sex objects in a world where problems are solved with a bite to the neck.
"It's a reaction to how women are portrayed in media, in general and more specifically, how women are portrayed in the science fiction and horror genre," Soson said.
As a working actress in Los Angeles, Yetter, a 2010 alumna from UCLA's School of Theater, Film and Television, said that the company has given her a vehicle to maintain continuous projects and explore more challenging roles.
In addition to being an imp, Yetter's character in "Monster Girls," Hazel, is a homeless drunk who is on earth to bring about a steady stream of negative energy.
"(A Working Theater) wanted to do something really different and more what it would be like if these monsters were really having to survive among humans and keep their identities hidden," Yetter said.
The company has launched a Kickstarter campaign to raise money to make "Monster Girls" a reality, whether as a full-fledged broadcasted program or a web series.
Selfishly, Soson said, he loves that a Working Theater provides a format to see his own ideas come to life. But more importantly, Soson said the company gives people an opportunity to create high-quality work in an atmosphere fueled by mutual learning through vocal workshops, an upcoming improvisation class and ensemble meetings.
Another member of a Working Theater, Andrew Klein, who was a part of UCLA's School of Theater, Film and Television from 2006-2008, said that at meetings, the members talk about upcoming projects with everyone voicing opinions in a judgment-free space.
"(A Working Theater) has a pretty relaxed environment, and I think that really helps loosen up artistic people. … We can all pick each other's brains on producing things on a micro-budget," Klein said.
A little over a year since it was formed, Soson said the company is already looking ahead to its future amid early success. He hopes that a Working Theater will become financially independent, and the potential success of "Monster Girls" will be an influential factor in accomplishing this goal.
"I want to keep on doing everything we're doing but on a grander scale," Soson said. "A Working Theater is founded on realism – we're about going with bold new ideas, but we still want to make a company that works."