Mixology: Long Island Iced Tea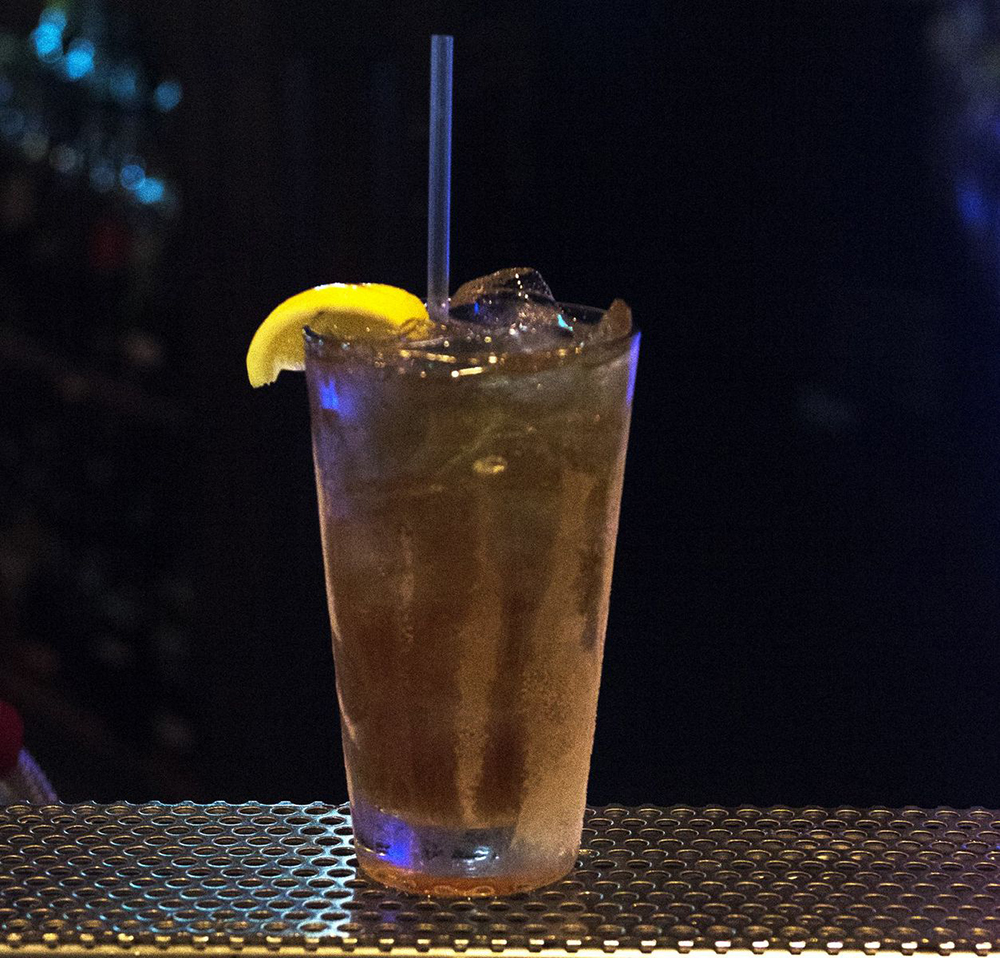 An equal mix of rum, gin, vodka, tequila and triple sec, Long Island Iced Tea takes its name from its iced tea-like amber hue. O'Hara's on Gayley Avenue offers its version of a Long Island for $10.
(Sidhaant Shah/Daily Bruin senior staff)
Each week columnist Ashley Jakubczyk discusses a new mixed drink, where to get it in Westwood and how you can concoct your own version at home.
– – –
One tale claims that Old Man Bishop, a Prohibition-era man, combined whiskey, maple syrup and a slew of other spirits into a refreshing concoction that was later perfected by his son, Ransom. The drink, the story goes, was none other than the Long Island Iced Tea, named after the Kingsport, Tenn., borough where the Bishops resided.
Until word spread about the Bishops, it was widely accepted that mixologist Robert Butt created the potent cocktail in 1972 while tending bar at the Oak Beach Inn in Long Island in New York.
Whether you choose to believe that the drink hails from the American South or from New England, one thing remains true: Dispute about the drink's origins has not hindered its popularity.
Contrary to common belief, there's actually no tea in a Long Island Iced Tea. Instead, the drink is named after its color – an equal mix of rum, gin, vodka, tequila and triple sec, when mixed correctly, produces an amber hue that resembles freshly brewed iced tea. Despite having a higher alcohol concentration than most cocktails (22 percent), a well-mixed Long Island will go down smooth.
Because it is a well-known drink that has become commonplace at many bars, many places in Westwood have Long Islands available, even if they're not listed on the menu. However, a few restaurants have versions that truly stand out.
The best traditional Long Island can be found at Barney's Beanery, located on Broxton Avenue. At $11, Barney's version of the cocktail is made in the traditional sense, with a perfectly balanced mix of spirits, and can be ordered with top-notch liquor for an extra $4.
If you're looking for a stronger mix, head around the corner to O'Hara's (affectionately called Maloney's by many Bruins) on Gayley Avenue. The dive bar offers $10 Long Islands. O'Hara's version of the drink is not for the weak, since it is mixed a bit stronger than the norm and contains a higher alcohol-to-mixer ratio.
Palomino Restaurant and Bar, located on Wilshire Boulevard adjacent to the Hammer Museum, jazzes things up a bit with its Spiced Long Island Iced Tea, which combines Captain Morgan spiced rum, Smirnoff vodka, Beefeaters gin, El Jimador tequila, cointreau and lemon sour, all topped off with cola for $8.75. Using spiced rum adds a slight kick to the flavor and the lemon sour adds a sweeter undertone than a usual sour mix might.
Since the Long Island has so many ingredients, the idea of making one may seem daunting, but it's actually simple to make because it's almost completely equal parts of everything.
The following is a recipe for a classic Long Island. However, various versions exist, such as the Long Beach Iced Tea, which substitutes cranberry juice for cola, or an Electric Iced Tea, where the triple is replaced with Blue Curacao and the cola is switched out for lemon-lime soda. If you're feeling creative, follow the recipe below with these substitutions.
Interestingly, the best way to recreate a non-alcoholic version is to use the one ingredient the real drink does not have: iced tea. For a non-alcoholic variation that has the best taste, follow the recipe below, which mimics the flavors created by mixing different spirits.
Long Island Iced Tea (alcoholic)
½ ounce triple sec
½ ounce rum
½ ounce gin
½ ounce vodka
½ ounce tequila
1 ounce sour mix (found at most liquor stores)
Cola (Coca-Cola or Pepsi)
Lemon wedge (optional)
In a cocktail shaker, combine all spirits and sour mix. Shake, then pour into a chilled glass with ice. Fill the remainder of the glass with cola and garnish with a lemon wedge.
Long Island Iced Tea (non-alcoholic)
1/2 cup iced tea (unsweetened)
1/2 cup apple cider
1/4 cup lemon juice
Ginger ale
Lemon wedge (optional)
Combine iced tea, apple cider and lemon juice in a cocktail shaker. Shake, then pour into a chilled glass with ice. Fill the remainder of the glass with ginger ale and garnish with a lemon wedge.
– – –
Do you agree with Jakubczyk's Long Island Iced Tea picks? Have a different one? Comment below or email Jakubczyk at [email protected]