Online dating app Tinder gains popularity among college students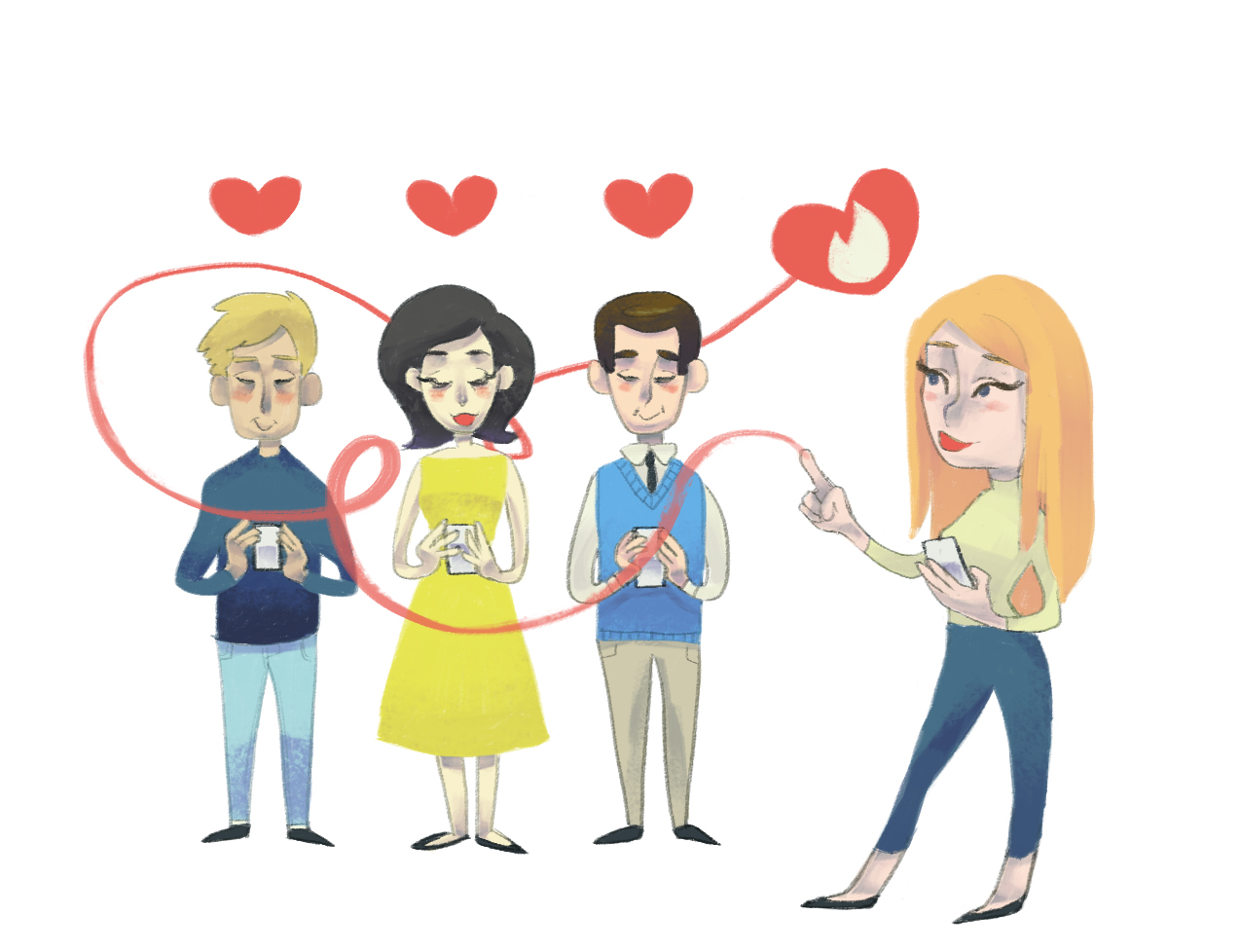 Lisa Aragona/Daily Bruin Senior Staff
There's a different kind of swiping happening on campus that doesn't involve dining halls.
Based on a "hot or not" concept, Tinder is an online dating app that matches people within the area by having users swipe right to show interest or a swipe left to reject. Since its inception 17 months ago, Tinder, along with other online dating apps such as Grindr, Hinge and Twine, has had a growing presence on college campuses.
Created by USC alumni and co-founders Sean Rad and Justin Mateen in September 2012, Tinder was first launched at universities, starting at their alma mater.
Mateen said they strategically aimed the app at a college demographic because they knew the app would succeed if it resonated with college students.
"College is a highly social atmosphere, and students are sponges for absorbing information," Mateen said. "If there's a need to use something among a few, others will acquire that need too. That's exactly what we found with college students."
With more than five million matches a day, Tinder has amassed about 50 percent of its population through college-based users aged 18 to 24.
Sarah Flood, a second-year biology student who met her boyfriend more than a year ago on Tinder, joined without any expectations. However, she said she was interested because of the app's feasibility of connecting with others.

"It takes one press to link up with Facebook and talk with people who also want to talk to you," she said.
Flood said that because of the large number of students on campus, it can be hard to meet personable, funny people. Being in a sorority and having participated in women's lacrosse also made it more difficult for her to make male friends.
"Tinder is a way around all that, in a way. It's not awkward," she said. "You don't have to get somebody's number at a party; you just instantly talk to them."
Flood used Tinder's instant messaging function to chat with her to-be boyfriend. The two texted and exchanged phone calls for a month before finally meeting in person. Though it was a bit awkward at first, Flood said that after a few minutes of meeting, it was like the two had known each other for a long time.
Jessica Carbino, a UCLA graduate student in sociology, has been featured on NPR and quoted in The New Yorker and TIME for her research on online dating and relationships. She said the rise of online dating apps among college students can be attributed to the overall historical changes in college dating.
"Traditionally in the 1950s, women were going to college looking for their 'Mrs. degrees.' That is no longer the case," she said. "College dating has changed a lot in the sense that marriage is being delayed, higher education is being pursued and the labor force is increasing. Thus, the existing social networks that were used to match are not as strong anymore."
She also said the rising popularity can be due to changing perspectives: Research has proven the social stigma of online dating has significantly decreased, especially among younger individuals.
"Because generations of younger people are very comfortable using technology and have already put a lot of their own personal information online, it only makes sense that they continue to use technology (to meet people)," Carbino said.
Within the past couple of years, this generation has seen a wide array of online dating apps. Beginning the age of geosocial networking apps in 2009, Grindr is similar to Tinder but is geared toward connecting the gay community.
Originally launched in Washington, D.C., Hinge extended to San Francisco in January. The app also matches people, but its profiles include much more information like education and religion.
Twine, on the other hand, attempts to make matches based on characteristics beyond physical appearance. The app blurs out images and only allows the reveal of an image after two individuals "like" each other's interests.

Like Flood, most college students join these apps without any expectations of finding someone to actually pursue or even interact with offline.
"I just swipe and swipe, but rarely do I ever expect to actually find someone through the app," said second-year undeclared life sciences student Audrey Lau. "It's just like the new game that everyone is playing. It's addicting."
Carbino said online dating apps may have a lasting presence on college campuses because they facilitate the college "hookup culture" by allowing it to persist in the same patterns.
"Apps like Tinder only expedite the hookup process because it puts the people who are down for a casual relationship all in one place," she said.
Carbino said others may do it simply for validation.
"People want to feel that they're getting this many people (liking them back) and that makes them feel good," she said. "(It triggers) the dopamine receptor."
Bahjat Alirani, a second-year bioengineering student who found out about Tinder through word of mouth, said although he does not imagine himself meeting someone from Tinder in person, there is some pleasure in receiving matches.

"It's something to do when you're bored and it feels good knowing that someone that you have 'liked' has 'liked' you back," he said. "There's definitely some self-validation there."
However, regardless of whether or not people want to admit they're swiping online, the accessibility and excitement of looking at thousands of strangers in the palm of their hands give online dating apps currency in today's scene.
"It could be the norm," Flood said. "No one wants to admit they're online dating but the phone app is a promising feature. Social media is all connected. Before you go to bed, you check Instagram, Twitter, Facebook and now Tinder."