Trending Now: Tips to use for successful thrifting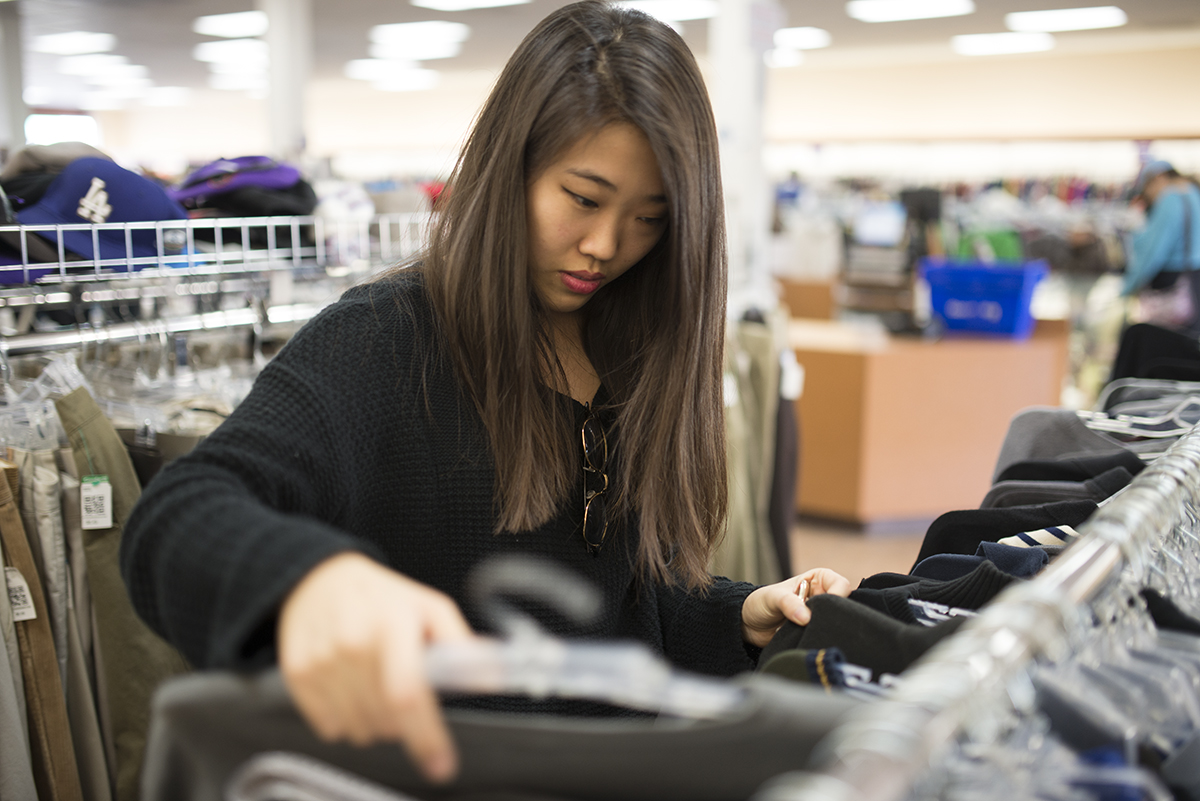 Columnist Amy Lee, an avid thrifter for more than six years, shares a few tips on how to shop secondhand clothing and housewares.
The first time I wore an entire outfit that cost less than $20, I knew I was onto something.
As a freshman in high school, I was barely scraping by financially and couldn't have been happier to be sporting a well-earned outfit from the local thrift store. Flash forward to five years later, as a second-year student in college, I'm still excited to score a bargain on my outfits through thrifting.
Thrifting is shopping in hopes of finding the best deals at shops that sell secondhand goods, such as clothing and household items. Over the past few years, thrifting has become a popular trend both in the fashion world and on campus. For college students living on a budget in the fashion-crazed city of Los Angeles, thrifting can keep your wardrobe updated in an affordable way. And as an avid thrifter of more than six years, I've collected a few tips on how to get started:
Go with an open mind
Typically, thrift stores are immensely cluttered: The most organization you will encounter is the obvious division between the men's, women's and children's sections. Stylishly dressed mannequins and flashy campaigns advertising the season's latest trends are essentially nonexistent. Because of this, it is very difficult to filter through all the clothing items, let alone find certain trends or pieces you're looking for. Ultimately, it's up to you to see what you want and how you want it. Learn to see things in a new perspective (that oversized sweater could be a dress!) and most of all, don't be afraid to get creative.
Start early
Because the clothing items at thrift stores are secondhand pieces, they typically do not come in multiples and are usually one-of-a-kind items. This means that when someone purchases an item, another person loses the only chance at acquiring the item. This is why it's best to start your day of thrifting early. Although some thrift stores restock their inventory throughout the day, oftentimes the largest, freshest batch of clothing is laid out at opening hours. Starting early will not only give you a better chance of finding diamonds in the rough, but also more time to do so.
Call in for sales
Although you're already saving by thrifting, it never hurts to save even more. On holidays, there is always a sale going on at some thrift store (i.e. 50 percent of all blue tag items or home decor). Some thrift stores host random sales, so it's always good to call beforehand to see if it's an even more opportune time to go.
Explore everything everywhere
The three E's make it easy for you to remember to look through everything. If I'm looking to really score that day, I will look through the entire store twice to be extra thorough. Because of the cluttered nature of thrift stores, it's easy to overlook something you might love. Oftentimes, for those who are more petite, the children's section hosts the most appropriate sizes. For vintage graphic T-shirts, the men's section offers plenty. Thrift stores also have a medley of random home decor goods, like vintage wine glasses and trays, that can add an extra touch to your apartment or dorm room.
It is important to try on everything. Because the clothing is secondhand, fabrics can be stretched or pulled in different ways that cannot be seen to the naked eye. A dress that looks great on the rack can have odd ruffles on the body. A boxy jacket on the rack may actually be extremely flattering when worn.
Dress for comfort and combat
Depending on the duration of your trip and the size of the store, thrifting can be a strenuous activity. Therefore, it's best to dress for the occasion. Avoid wearing any material that can get caught easily on racks and hangers, such as lace and knit. Wear comfortable shoes because you will be on your feet for the majority of the time. Some thrift stores do not offer fitting rooms, in which case you will need to resort to trying on clothing over your clothes. For women, I recommend wearing a camisole tank top and a skirt. For men, simple jeans and a T-shirt should do.
Bring cash and credit
While most thrift store chains such as Goodwill and Salvation Army offer credit card services, many do not. Even if they do, they may charge a processing fee, which is why it is best to bring both.
Local thrift stores
UCLA Thrift Shop: UCLA's own thrift shop offers everything from designer goods to furniture and kitchenware for affordable prices.
11271 Massachusetts Ave.
Los Angeles, CA 90025
Goodwill: One of the closest Goodwills to campus, this one is quite large, and offers a wide variety of both men's and women's clothing.
11726 Santa Monica Blvd.
Los Angeles, CA 90025
Out of the Closet: Despite being more of a consignment shop than thrift store, Out of the Closet still offers affordable prices for one-of-a-kind goods in its small space across the street from the Westside Pavilion.
10749 W. Pico Blvd.
Los Angeles, CA 90064
Jet Rag: With its extensive selection of curated goods, Jet Rag offers vintage items at higher prices, but on Sundays, it's known for its $1 clothing sale on all pieces.
825 N. La Brea Ave.
Los Angeles, CA 90038
Have you ever been thrifting? Email your favorite thrift shop to Lee at [email protected]