Kyodo Taiko performance to pay tribute to Japanese culture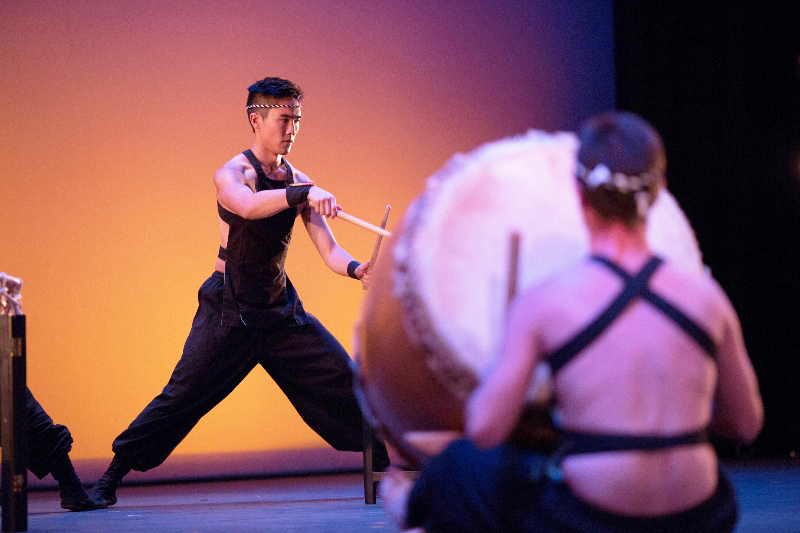 Fourth year film student Reid Taguchi performed at last year's NSU Culture Night with the Kyodo Taiko drumming group.
On stage, a flute lightly sounds, followed by a piercing beat of a chu-daiko drum. Another beat sounds out, and another, in a quickening progression.
"Each beat has a sound that livens you up and you're just taken aback by how big it is," said Kayla Asato, fourth-year communications student and Kyodo Taiko co-director. "It's just kind of in your body when you hear it."

The sound of Kyodo Taiko, the first collegiate taiko drumming group to form in the United States, is set to command the stage of "Family Jam: Drum Up the Sun – Taiko" at UCLA's Fowler Museum on Sunday from 2-4 p.m. With the backdrop of "Fowler in Focus: Fiftieth Anniversary Gifts," featuring Japanese textiles and samurai armors, the drumming group is preparing for a show that pays tribute to its source country, Japan.
Between songs, Kyodo Taiko will share interpretations of the historical uses of taiko drumming and how it has evolved from a one-man show to a group recreational activity. Second-year Asian-American studies student Kendall Tani said that taiko drums were used in ancient Japan to excite soldiers during war.
Established in 1990 under the Nikkei Student Union by then-UCLA student Mark Honda, Kyodo Taiko is now the oldest collegiate taiko drumming group in North America. Although the group initially lacked drums to rehearse on, the members successfully constructed their first drums in 1991 with the assistance of past members Tom Endo and Kevin Higa. In 1992, Kyodo Taiko paid homage with its first major show to the 175 UCLA students who were interned during World War II.
Taiko drumming is characterized by big and powerful sounds that are produced primarily by three differently sized drums. A strike upon an odaiko, a large-sized drum, creates a deeper beat, while the medium-sized chu-daiko executes a more subtle tone to each beat.
Backing the odaiko and chu-daiko drums is the equally important shime-daiko, the smallest drum, producing beats that form the backbone of each song.
Additionally, Kyodo Taiko utilizes other instruments such as the flute to add intonations in its songs that drums are unable to achieve.
"It's just a full and energetic sound that comes out of these drums," said Asato.

All songs performed by Kyodo Taiko are original compositions, written by one member or as a collective group effort. The songwriters of the group draw influence from their contemporaries such as Taiko Project and other collegiate taiko groups including those at the University of California, Irvine and Stanford University. Songs are passed down from senior to novice members, while the group attempts to write at least one new song in a year, said fourth-year film student Reid Taguchi.
The tone of each song and its choreography mirrors a thematic meaning. At the Fowler event, Kyodo Taiko will play "Okami," meaning "wolf," a song that starts slowly but builds up into a faster beat progression, representing the actions of a wolf during a hunt.
Many of its members, like Taguchi and Asato, were swayed to join Kyodo Taiko after being exposed to taiko drumming by friends who were also Kyodo Taiko members, and after watching taiko performances. Though experience in taiko drumming is not necessary to join, new members must quickly learn the basics of taiko drumming. Some of these basic skills will be shared by Kyodo Taiko during its set on Sunday, said fourth-year psychology student Kacie Hirano.
Kyodo, in Japanese, means both "family" and "loud children." Asato, Hirano, Taguchi and Tani said they mutually agree that the heart and soul of Kyodo Taiko lies in the idea of family, with Taguchi comparing the taiko community to a niche. The group is unified under a family crest, or "mon," that is projected in the background of its shows and on its costumes.
Additionally, because Kyodo Taiko does not have an official group leader, newer members are often guided by older members. On stage, members let out shouts called "kiai" to bring about good and positive energy to support teammates, said Tani.
"I really love getting together and being a part of the team that's more like a family than anything else and just playing with everyone," said Tani. "And playing your heart out, not just to entertain the audience but to do it for the rest of your teammates and the rest of your family is one of the best feelings ever."
Although taiko drumming pertains to Japanese culture, Kyodo Taiko has members of diverse ethnicities and races. For its Japanese-American members, taiko drumming offers a more personal opportunity to encounter their roots.
More recently, Kyodo Taiko has performed at freshman student orientation sessions, the UCLA men's basketball halftime show versus Arizona State University and a Los Angeles Clippers halftime show for the L.A. Clippers Annual Japanese American Community Night.
"My favorite moments are always the moments right before a big performance," said Asato. "The nerves are really high, but everyone is rooting for each other. I hope what the audience will take away from our performance is how much we enjoy playing taiko … and that they will be enlivened by our performance.