Circle K's pillow fight contest raises money for transitional house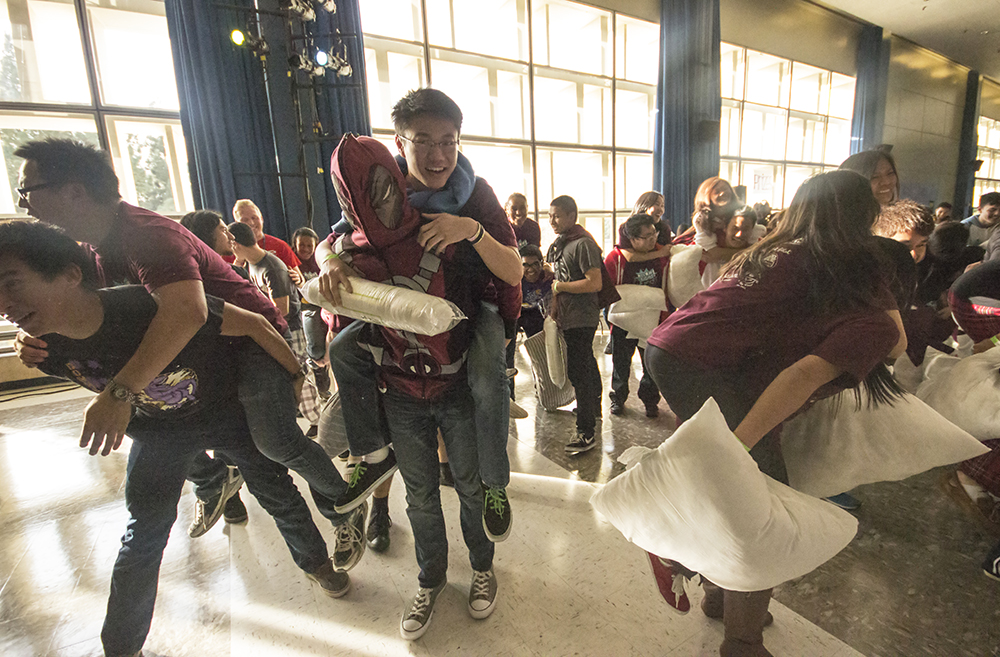 Circle K's Pillow Fight 2014 raised money for the Alexandria House, a nonprofit transitional residence for women and children about 10 miles east of UCLA.
A blue Power Ranger circled his opponent slowly, brandishing his color-coordinated foam knife to keep his enemy at bay.
A sea of more than 400 people clad in brightly-colored costumes cheered the Power Ranger to victory as anticipation mounted for Circle K's sixth annual Pillow Fight.
Circle K International's Pillow Fight 2014, which took place Saturday, is the community service organization's biggest fundraising event of the year, said Jessica Pham, a second-year chemistry student and Pillow Fight chair.
The roughly $4,100 raised during the event went to Alexandria House – a nonprofit transitional residence for women and children roughly 10-miles east of UCLA, Pham said.
Last year, the event raised $3,500, said Sinh Nguyen, a fourth-year psychology and Asian-American studies student.
This was the third year Alexandria House has been the beneficiary of Pillow Fight, Nguyen said. Circle K also sends members to the shelter throughout the year to volunteer, and last year donated money to assist in refurbishing the home's kitchen.
A loud noise boomed throughout Ackerman Grand Ballroom and, on cue, the sea of bystanders attacked each other, pillows in hand. The room transformed into a blur of multicolored onesies, capes, unicorns, Robins and Supermen.
Billy Shollenberger, a fourth-year chemical engineering student, was one of these characters – his painted red mask and black bat onesie transformed him into The Flash for the afternoon.
Shollenberger, who has been a part of Circle K for four years, describes the organization's relationship with Alexandria House as "mutually beneficiary."
"To actually go there and meet the people you're affecting and see the impact we have is a much more powerful and hands-on volunteering experience," he said.
The money raised at Pillow Fight, by selling pillows and T-shirts, in addition to the suggested $15 registration fee and donations, is used to upkeep the facilities and maintain programs, such as child care and after-school programs, said Judy Vaughan, the founding director of Alexandria House.
[WATCH: Learn more about the mission of Alexandria House]
The event also featured performances by Sonia Rao, a former competitor on The Voice, and UCLA student groups such as Wushu, ACA Lion Dance and Icarus Contemporary Dance.
Rich Thigpen, the faculty staff advisor to Circle K, said the event was not always such an elaborate production since its start in 2008. In the first year of the event, the group did not raise enough money to achieve their goal of putting on a summer camp for underprivileged kids. Instead, Circle K donated the money raised to Unicamp.
Since then, the proceeds from Pillow Fight have gone to a different charity of UCLA Circle K's choosing each year, until Tami Bi, who graduated from UCLA in 2012 and was a four-year Circle K member, recommended Alexandria House to the community service organization after volunteering there.
As pillow fight chair, Bi suggested Alexandria House become the beneficiary of Pillow Fight 2012, and it hasn't changed since.
Thigpen said Circle K focuses on choosing local charities with small budgets where the club can make a real difference.
"We wanted our members to see the difference they were making and bond with the people they were helping," Bi said.
Angela Harris, who lived in Alexandria House for six months in 2004 with her daughters, spoke on stage moments before the first round of pillow fighting.
She recited her poem called "Skid Row Sister," a piece she wrote when she came to Los Angeles from Ohio in 2000.
She called it her life story.
"I'm just a vessel asking to be used, a messenger for the lost, down-trodden and abused. I love you Miss, I love you Mister. Sincerely yours, a Skid Row Sister," Harris said.
Harris said she came to Alexandria House with three of her four daughters, and now takes her 7-year-old grandson there.
Alexandria House offered them a support structure that was lifelong, she said.
"It's a community that serves a community," Harris said.