Julio Salgado's 'Queer Butterfly' featured in CAC's Art Series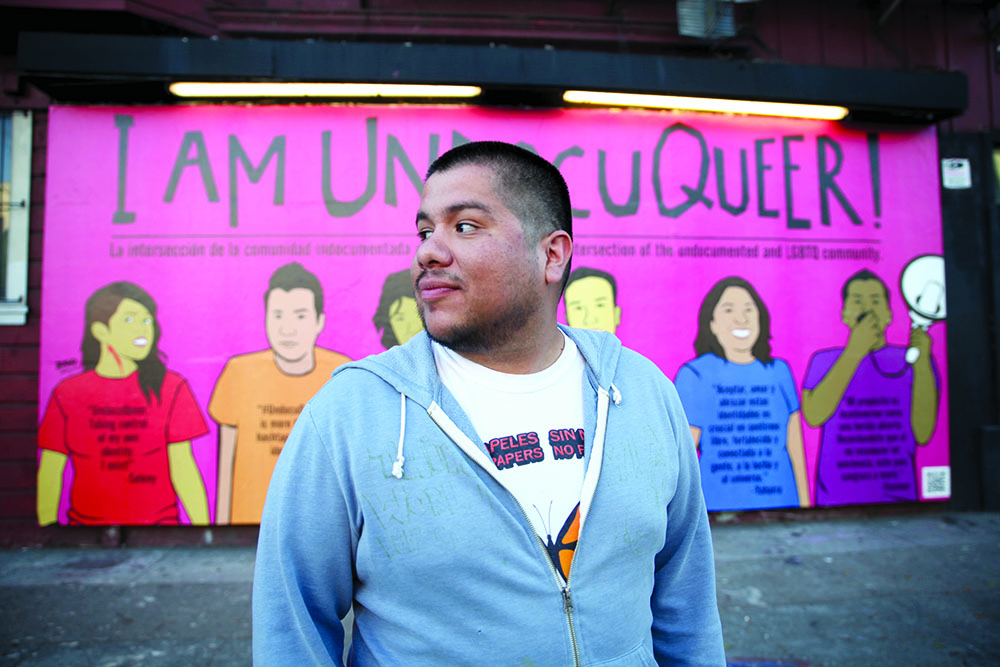 The work of artist Julio Salgado will be featured in the Kerckhoff Art Gallery from Jan. 7 until Jan. 18.
A small poster depicts a pink, half-naked man with large, rainbow butterfly wings. The words, "I exist, Yo existo" are written on his chest in black capital letters. On his wings, the words "migrant," "queerness" and "love" are written in English and Spanish.
This poster is a self-portrait of the artist Julio Salgado that he calls "Queer Butterfly." It will be shown, along with much of Salgado's work from the last three years, in UCLA's Kerckhoff Art Gallery from Jan. 7 to Jan. 18.
"Queer Butterfly," like many of Salgado's creations, reflects his experience as a gay, undocumented Mexican immigrant.
Salgado said he used the butterfly motif in particular because it is a symbol of migration. He admires how the monarch butterfly can freely travel across Canada, the United States and Mexico.
"Wouldn't it be great if human beings could do the same, without borders?" Salgado said.
Salgado also said he used the butterfly because in Mexico, the word is often used to mock queer people. However, using the butterfly in his art is a way of reappropriating the word in order to take pride in his queerness.
"I wanted to change the negative meaning of (the butterfly)," Salgado said. " (To reflect proudly that) I'm queer and I'm an immigrant … and a chubby guy."
Salgado is a self-taught artist who began his art while at Long Beach City College in 2004, and much of his work is inspired by undocumented organizers. His work mostly consists of portraits of undocumented and queer people he draws by hand and later colors using computer software.
Many of his pieces also include a message like "No sir, I will not show you my papers," or "Undocumented, unafraid and unapologetic."
Salgado often uses his friends, family members or people he encounters as subjects in his portraits. Salgado said he depicts people he knows to honor them.
One of the people featured in one of Salgado's portraits is UCLA alumna Imelda Plascencia, a former Chicana/o studies student. Her portrait was part of a series of Salgado's posters called "UndocuQueer," which explored the intersectionality of being queer and undocumented.
Plascencia said Salgado created this series to increase the visibility of these two communities and encourage those who are not open to come out.
"Julio's art speaks very closely to my heart," Plascencia said. "His work documents the (undocumented) movement in a really creative and passionate way."
Quite a few of Salgado's portraits also depict a person who is in imminent danger of deportation with a call to action such as, "Tell ICE to stop Alfredo's deportation." These posters also include a U.S. Immigration and Customs Enforcement number to call and a link to an online petition to advocate for the person depicted.
"The art I make is definitely really personal. My reality is that I could get deported any minute," Salgado said. "So, art is my way of dealing with those issues that I can't change."
Khushboo Gulati, a second-year undeclared student and staff member for the Cultural Affairs Commission's Art Series is the curator for Salgado's Kerckhoff Art Gallery show.
Gulati said she wanted to host Salgado's work in Kerckhoff in part because of the work's influence in the DREAM Act movement.
Salgado's work with undocumented subjects has been widely used in campaigns and marches for the DREAM Act.
The law would grant temporary residency and possible eventual permanent residency to undocumented immigrants who graduate from U.S. high schools and then enlist in the armed forces or attend a four-year college for a certain number of years.
Gulati also said Salgado's work could help undocumented and minority students at UCLA feel recognized.
"Julio's artwork is really important in allowing students of color to feel welcome, to have their stories heard," Gulati said. "I think it will incite some conversation."
After the Kerckhoff gallery, Salgado's art will be shown in Canada in a few weeks, though he will be unable to attend because of his undocumented status.
"Even if I can't travel, if I can't cross borders, I'm glad that my art can," Salgado said.