Bathroom humor sweeps away competition in Campus MovieFest category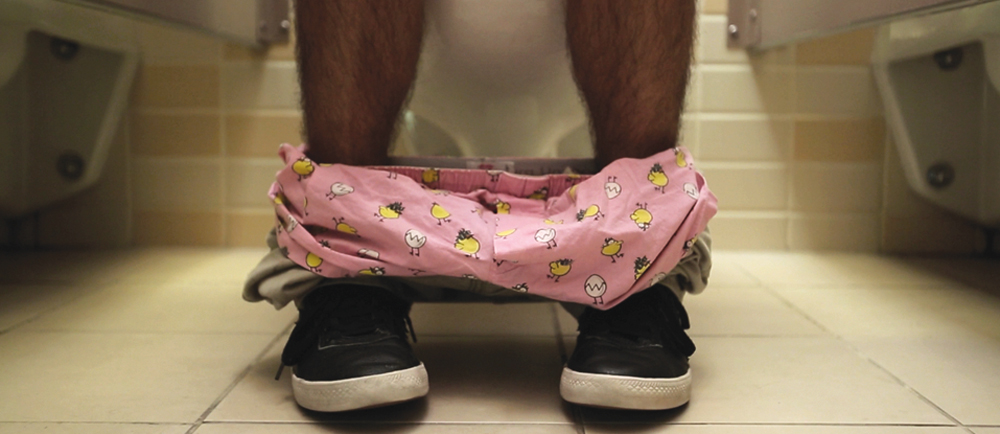 Awarded best comedy at Campus MovieFest, "Toilet Talk" is about an awkward college student who must avoid two drug dealers while he finishes using a public restroom.
Communal bathrooms, a topic familiar to many UCLA students, provided an answer to Andrew Butte's search for a relatable awkward situation.
Butte, a third-year communication studies student with a film, television and digital media minor, and Pablo Mahave, a third-year film student from Spain, conceptualized the story of "Toilet Talk," the short which won best comedy for the campus-wide level of Campus MovieFest.
"Toilet Talk" follows an awkward college student who must quietly finish using the restroom to avoid the attention of two drug dealers and safely return to his date.
"Trying to do your business while other people are around is one of the most awkward things, and it's something not really spoken about," Butte said.
Butte, who also wrote and co-directed the short with Mahave, said he liked the idea of paralleling the dirty subject matter with the foul language of toilet talk, or "potty mouth," itself.
Mahave attributes much of the strength of the film to Butte's script, which Butte said was inspired by his UCLA dorm surroundings.
When it came to the starring role, both Butte and Mahave said floormate Jean-Luc Chamaa was an easy choice. Mahave said, in fact, the role was largely modeled after their friend.
"(His) awkwardness is so natural. … He didn't really have to act," Butte said.
Chamaa, a second-year mechanical engineering student, said that when Butte and Mahave needed a stereotypical nerd who didn't know how to impress women, they automatically thought of him.
"I cordially accepted their offer," Chamaa said.
Other than running through his lines, Chamaa said not much preparation was necessary for the role – they mostly let him be himself.
The weeklong time frame of CMF meant limited time for shooting and editing once production began, so it was fortunate Chamaa brought the needed awkwardness to the table from the start, Butte said.
When "Toilet Talk" won best comedy, Chamaa said he had no idea that was even a possibility.
Mahave and Butte agreed the competition among comedy shorts was strong. But in the end, literal bathroom humor won the cast and crew of "Toilet Talk" best comedy among the 119 entries for Campus MovieFest.
"It was shocking," said Butte. "But at the same time, we deserved it."