Play based on stories of Skid Row reveals sense of community, hope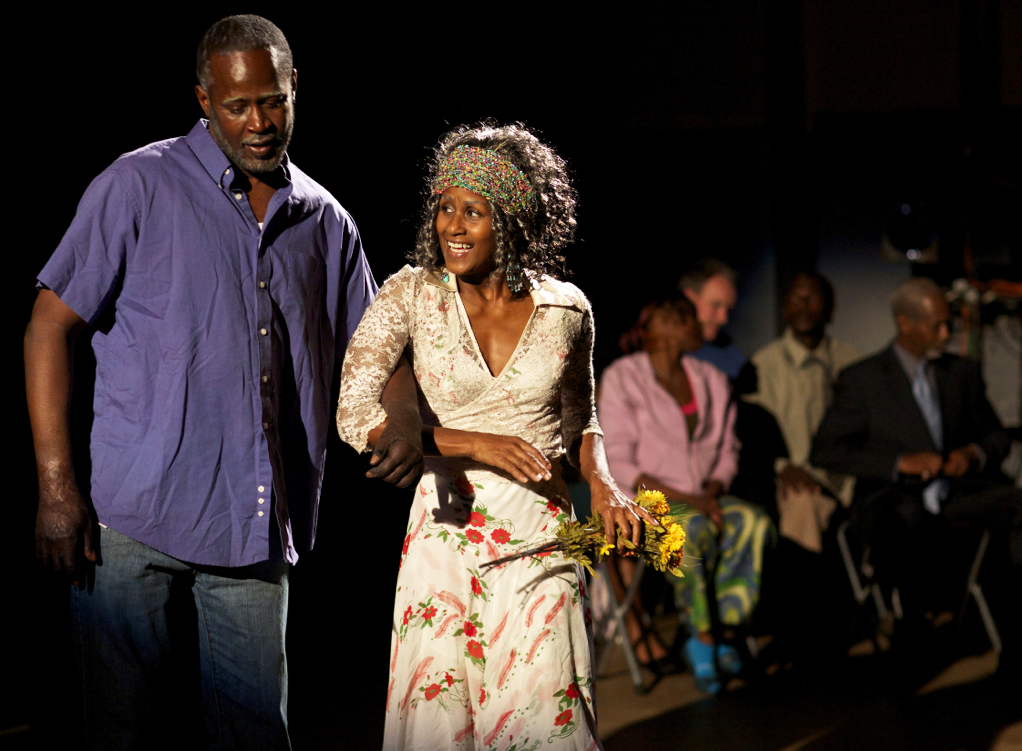 "Love on San Pedro," the work of playwright James McManus, is the latest production by Cornerstone Theater Company. It highlights the individual stories of an impoverished community. The central storyline focuses on the romantic relationship between Marjorie, played Bahni Turpin, and Skyhook, played by Anthony Tate.
Scattered tents and cardboard boxes line the streets of Skid Row. The 50-block stretch in the heart of Downtown Los Angeles is known for being home to one of the largest homeless populations in the U.S.
But when this surface image is peeled away, the stories shared by people living on Skid Row are a testament to the persistence of love and hope, even in the midst of great poverty.
"Love on San Pedro," is the latest play to come out of Cornerstone Theater Company's Hunger Cycle, which will produce plays centered around the theme of hunger until 2016. It delves into multiple storylines born from the grim reality of life on Skid Row while simultaneously shedding light on the powerful sense of community that exists in spite of it.
The central storyline is the relationship between Marjorie, a woman made weary and cynical by life on Skid Row, and Skyhook, a hopeful basketball player who kindles a love between them.
With the aim of infusing raw truthfulness within the production, playwright James McManus conducted about 150 to 200 interviews with community members, which were put together with the help of several organizations on Skid Row. McManus received the commission to write for Cornerstone Theater Company's Hunger Cycle from Full Stage USA, which works in conjunction with New Dramatists, an organization based in New York City for which McManus is a resident playwright.
Many of McManus'interview sessions followed the process of story circling, an approach that allows for a group of Skid Row residents to get together and comfortably share and respond to each others' stories.
Sara Adelman, a UCLA alumna who was a graduate student in the School of Theater, Film and Television, is the general manager and interim managing director at Cornerstone Theater Company. Adelman said the beauty of the theater company's mission is their commitment to community engagement and their emphasis on continued collaboration throughout the play's cultivation.
"The best thing about Cornerstone is that the art comes from the community and it's about the community," Adelman said. "I believe that theater is a collaborative art form and my masters program (at UCLA) definitely enhanced that for me and helped me to understand (that)."
With more than six months' worth of interviews, McManus took to the stack of notebooks he had compiled from the sessions as source material and began whittling it down into a two-and-a-half hour play.
When the play began naturally gravitating toward the theme of love, McManussaid hefollowed it through.
"So many folks were reaching out to each other, either in a romantic love-type way or familial love-type way," McManus said. "I watched everybody kind of take care of each other and that's what feels like love to me … and so the play became 'Love on San Pedro.'"
The cast of "Love on San Pedro" is largely comprised of members of the Skid Row community. Cynthiaanne Cofell, a Skid Row resident, plays the role of Queen, a woman who's been through drug addiction, alcohol abuse and prostitution, and is trying to change her life for the better.
Cofell said taking on the role was a daunting experience because of the pressure to accurately represent her community on stage.
"This is our life … we live it every day," Cofell said. "Like when someone has a part in a movie, they go home – they cut it off. There is no cutting it off (for us). Once we leave the play, we still go on Skid Row."
McManus said having members of the Skid Row community play the characters in "Love on San Pedro" heightens the reality of the play to such a degree that he cannot imagine professional actors achieving the same effect.
"Every once in a while you remember what their circumstances are and that some folks are going out on to the street to put up their tent for the evening and come back the next day," McManus said. "When folks hit the lines right … they are so dead-on with life experience, that it just sounds perfect. It's something that I've never really gotten the chance to experience as a writer."
As for what he wants the audience to take away from "Love on San Pedro," McManus said he hopes the show will dash any preconceived notions about Skid Row and present poverty in an empathetic, humanizing light.
Cofell, who found out about auditions for the play at a women's center, said she was immensely grateful to have been a part of the show and shared what she hopes the general audience and, more specifically, her community, take away from "Love on San Pedro."
"Hope," Cofell said. "If they take away nothing else, just hope. The possibilities are endless. And don't get stuck here. Nothing profound – just the simplicity of hope and living to fight another day."
Email Arakelyan at [email protected].