UCLA alumna Sara Bareilles finishes tour with intimate performance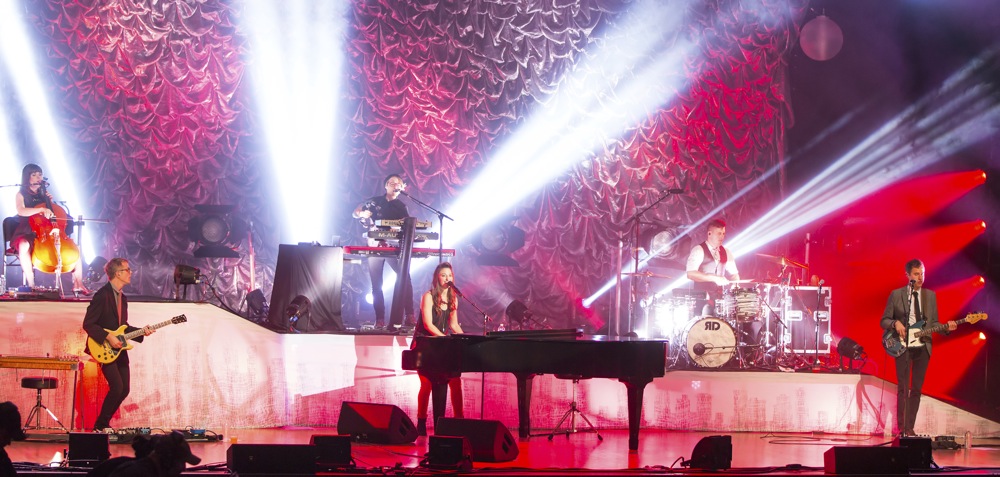 There's something unquestionably charming about a live performance by UCLA alumna Sara Bareilles. Perhaps it's her witty banter between songs or the bright smile she radiates on stage. Or it might even be the "Sara Bareilles is my bestie" T-shirts sold at the merchandise table.
But whatever it is, it's working.
Thursday's performance at downtown Los Angeles' historic Orpheum Theatre was the last leg of the tour promoting Bareilles' new album, "The Blessed Unrest." The exclusive show, which will also be broadcast for the seventh season of the PBS series "Live From the Artists Den," was full of personality.
Backed by a five-piece band, Bareilles confidently stepped up to the grand piano that stood center stage, opening with the mighty "Chasing the Sun," which immediately showcased her energy and her impeccable voice control.
Bareilles performed a set list that was almost equally pulled from both the new album and her older works. Songs like "Hercules," the piano-dominated call for inner strength, flaunted the sturdy tone of her new album, while the audience gleefully responded to "Uncharted," the bouncy anthem of chance and independence.
Upbeat crowd favorites like "Many the Miles" and her hit single "Love Song" were played back-to-back early in the show.
But despite playing more familiar songs, Bareilles also put a fresh spin on recognizable favorites. Instead of performing the expected album version of the blues-inspired, soulful "Come Round Soon," she transformed it into a slow, rock-inspired ballad featuring solely an electric guitar. With a smoky, brooding tone and ornate vocal runs, this rendition was a nice twist and was highly successful in showcasing her vocal versatility.
Midway through, the stage lights darkened and a single spotlight shone. Bareilles belted out a gut-wrenching rendition of "Manhattan," a heartbreaking song she wrote about leaving behind a long-term relationship when trading her native California for the bright lights of New York City earlier this year.
Bareilles traded her perch behind the keys for a large pair of gold cymbals during the fun, dance-worthy "Cassiopeia," and bounced around, kicking her feet to the music, during the bass-heavy "Eden," a tune that had the floor literally quaking to the beat.
The singer even took the time to make the audience an integral part of the music itself during "King of Anything," in which Bareilles encouraged the already enthusiastic crowd to be her backup singers. Echoing off of each other, the voices of nearly 1,000 spectators eagerly rang out, turning the entire theater into the stage.
Bareilles closed with "Brave," the first single off of her new album and an empowering number written for a friend who she said "needed permission to be exactly who they are." A strong finish to her official set, it was met with resounding applause – enough to elicit a two-song encore.
Upon returning to stage, Bareilles ended the night by performing a haunting interpretation of fan-favorite "Gravity," complete with a powerful electric guitar solo and ethereal piano melodies. Up until the very last note, Bareilles' pure, captivating vocals served as a testament to her unfaltering talent.
What made the show so worthwhile, however, was Bareilles' ability to give the large venue a cozy, intimate atmosphere.
She responded to calls of "I love you Sara!" with sheer spunk, and when her microphone almost fell from its stand, she told a story of Stevie Wonder's microphone malfunction at UCLA's own Spring Sing.
It was these fleeting instances that made the show exceptional; she didn't act as if she was in front of an audience, but rather a large group of close friends. This, combined with expert maneuvers between snappy numbers and enticing ballads, ensured that Bareilles held the audience's emotions in the palm of her hand and their hearts under her spell.