UCLA alumna rocks stage with an '80s sound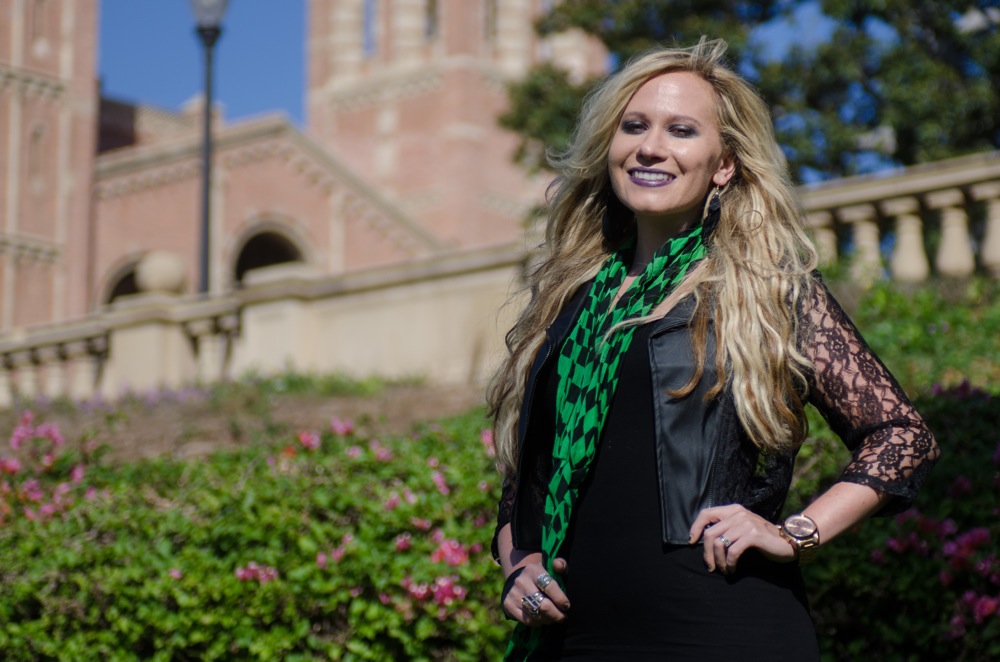 Madysin Hatter, UCLA School of Theater, Film and Television alumna, brings her '80s rock sound to Sunset Boulevard's famed Whisky a Go Go tonight, as she opens for Hookers & Blow and Dizzy Reed of Guns N' Roses. This is Hatter's third performance at the popular Los Angeles venue.
UCLA alumna, Larissa Auble, who goes by the stage name Madysin Hatter, first stumbled upon rock 'n' roll in her family's basement.

Hatter, who grew up listening to show tunes and Broadway soundtracks, found her parents' old Aerosmith records to be instantly compelling.
"I performed on Broadway as a kid, so that kind of music is a huge part of me. So coming from a theater background, I love any band that is honest, tells a story and is easy to relate to," Hatter said. "Aerosmith, Janis Joplin … they all have that."
Following in the footsteps of stars like Joplin, tonight will be Hatter's third time performing at the famed Whisky a Go Go, the Sunset Strip venue that also played an important role in the rise of iconic bands like The Doors, Led Zeppelin and Mötley Crüe.
Hatter moved to Los Angeles from her native New Jersey to study at UCLA's School of Theater, Film and Television, graduating in 2007. Because UCLA is so close to iconic music venues like The Roxy Theatre and Whisky a Go Go, Hatter said living in California was radically different from growing up on the East Coast.
"I knew about these places, of course, but I think one of the most incredible things for me was to be in the actual locations that the bands I love most got their inspiration from," Hatter said. "These places have such historical significance, so it's so neat to be able to actually visit them and perform at them."
Hatter also attributes her time at UCLA and TFT to helping shape her career in music. After studying theater and being a part of TFT's 2006 production of "Urinetown," Hatter slightly changed direction, putting together her own charity concert her final year. Her performance in De Neve Auditorium raised money for two charities: UNICEF and the Susan G. Komen Breast Cancer Foundation, and also served as a chance for her to begin performing original music.
"When I first started writing, it was strictly pop music, using backing tracks, because that's what I was listening to at the time," Hatter said.
Now, Hatter performs with a full live band, and her music has shifted to a grittier rock sound.
"It's '80s rock for sure. But its more than that," said Anna Leigh Simmons, who met Hatter through her work at the Daniel Hoff Agency. "It's got grit and girl power. It's like listening to an updated '80s band – like if Janis Joplin just took her stuff from the late '70s, updated it and totally rocked out."
Tonight, Hatter will open for Hookers & Blow and Dizzy Reed of Guns N' Roses.
"Guns N' Roses is one of my favorite bands of all time," Hatter said. "One of the first songs I ever covered was 'Sweet Child O' Mine,' so sharing a stage with Dizzy is absolutely a dream come true."
Simmons said that these experiences are invaluable for Hatter.
"When she gets to open for these acts, she's networking, becoming more knowledgeable about the music she loves, and having the time of her life," said Simmons. "She works hard and she achieves. And as a friend, that's so great to see."
Right now, Hatter is primarily based in New Jersey, but frequently finds herself performing in Los Angeles. The bicoastal travel is anything but tedious for her, though, as she does not view it as an annoyance or effort.
"I treat every single show as the greatest opportunity. That's how it is when you're doing what you love," Hatter said. "You utilize every single chance that is available to you because when you are an artist, there is no paved path. You make your own luck and opportunity, and you take what is given to you."