Concert review: The Street Hearts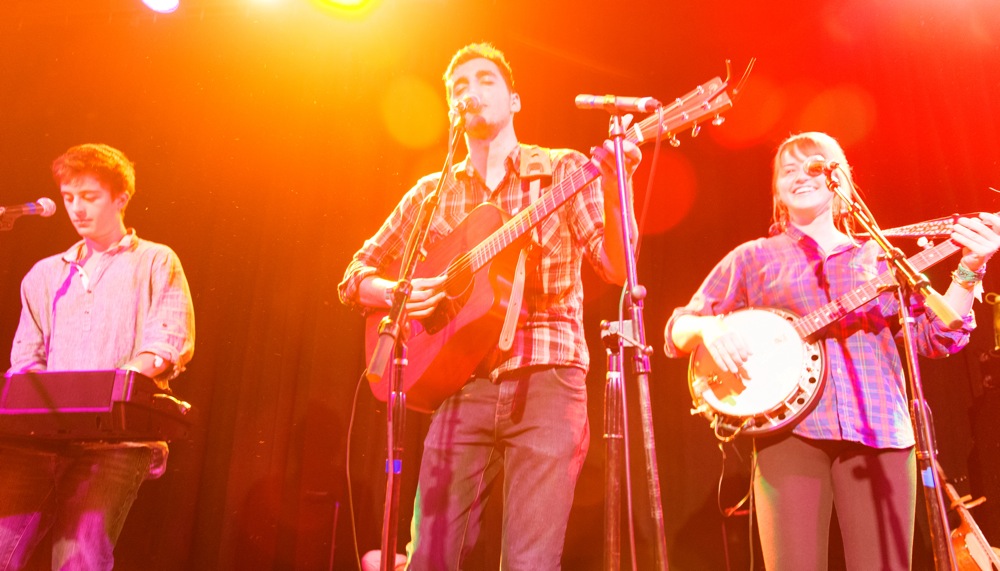 The Street Hearts wooed the crowd Friday night at The Roxy, marking the band's first Los Angeles performance off campus. With an uncommon combination of folk and soul inspired music, the concert debuted the band as one of raw talent and originality.
Comprised of third-year cognitive science major Nick Valentini, third-year history and English major Andrew Giurgius, third-year civil engineering major Nicholai Hansen and second-year dance major Sarah Summers, the band formed over the last two years at UCLA, earning awards such as Spring Sing's Bruin Choice Award early on in their existence.
The venue made for an intimate performance to accompany The Street Hearts' acoustic sound. Standing in a line of four, the four members opened the show with "The Beggar," drawing in the audience with a slower melody that turned into an upbeat banjo-driven ending. The band then played "Slow Dying Light,"a song featuring Summers' vocals and banjo. The set list included covers such as Bill Withers' "Ain't No Sunshine" as well, putting emphasis on male-female vocal harmonies.
Maybe most impressive about The Street Hearts and their performance was their strong vocal talent; all four members of the band sang the lead of at least one song, showcasing the band's versatility. Their harmonies added texture to every single song, including a new song sung predominantly by Giurgius with intimate lyrics: "Was I so wrong to love you/ Was I so wrong to care?" The harmonizing gives the music a smooth sound, juxtaposed with the tambourine percussion in certain songs.
The rest of the set list incorporated several of their original songs, reminiscent of UCLA performances where the band originally performed them. Among these were "Sister" and "Head in the Clouds," and eventually, after requests for one more song, the group closed with "Come Back Home."
Several of those in attendance had seen the band perform on the UCLA campus at events like Battle of the Bands, Spring Sing and JazzReggae, but it's clear the band can carry itself outside the college music scene. The Street Hearts aren't an amateur band, and with both the instrumental and vocal talent, the group has the potential to go a long way. They have hints of folk and indie (think Of Monsters and Men, The Head and the Heart) but also a blues twist, giving them a sound all of their own and making it difficult to assign their music a genre.
The music seemed to set a mellow mood, but The Street Hearts captured the crowd with a different kind of energy than the typical loud and fast-paced styles of other artists. The intricacy of their songs, with sounds of the banjo, the upright bass and bluesy piano solos kept the audience engaged. Their stage presence was authentic and laid back, letting their true talent come through with the music itself.