Q&A: The Street Hearts open up about music, upcoming show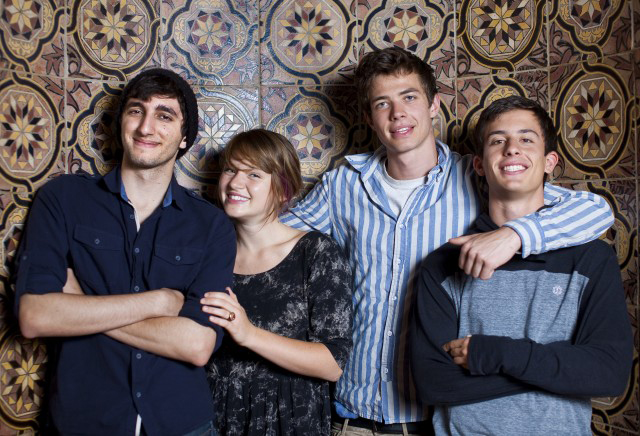 The Street Hearts are preparing to play at The Roxy in West Hollywood on Friday.
UCLA's The Street Hearts wowed the crowd at Spring Sing earlier this year with its harmonic vocals and acoustic sound, even garnering the crowd-selected "Bruin Choice Award." Composed of second-year dance student Sarah Summers, third-year cognitive science student Nick Valentini, third-year history and English student Andrew Giurgius and third-year civil engineering student Nicholai Hansen, the band won the Battle of the Bands, earning it a chance to play at the 2013 UCLA JazzReggae Festival. Daily Bruin's Jenna Maffucci sat down with guitarists Hansen and Giurgius to discuss their upcoming show at The Roxy and how they arrived at their distinct sound they've come to be known for.
Daily Bruin: How did you come up with "The Street Hearts?"
Andrew Giurgius: It was definitely a process. We had "The High Hopes" at first, but we didn't think that totally fit. So one night we decided to change our name. We went through like 50 names over text. It was during finals week, and every time we'd procrastinate we'd think of more names. Finally we came up with "The Street Hearts," and it was kind of arbitrary at first, but then it acquired meaning as we started playing together more.
Nicholai Hansen: Then the next week after we decided, coincidentally I kept finding these hearts spray-painted on the sidewalk. I kept finding a new one every week. One of our friends told us they knew the two people behind the sidewalk hearts, who had nothing to do with us, but it was still pretty funny.
DB: How would you guys describe your sound?
AG: We hate to pigeonhole ourselves into genres, but if we had to describe ourselves, I'd say we're like an indie folk with a soul fusion; we have a lot of acoustic instruments.
NH: Kind of like an alternative, contemporary folk soul.
AG: Folk and soul, we'll call it that.
DB: You're about to play at The Roxy. How did that come about?
NH: We played in a club in Boston over the summer where I'm from, and that was our first time playing outside campus. Ironically it was all the way across the country. It was an intimate, really fun show. We decided we wanted to do more gigs outside of the UCLA scene, just to increase our scope. We have a Troubadour show lined up in January too.
DB: What's the lineup for the show?
AG: We're playing the show with OH DEAR VEGAS! – a band from France. As far as our set list goes, we are definitely going to showcase our different lead vocals with our respective songs. Some of our songs are "Sister," "Dog Gone Days" and "Slow Dying Light." We're writing a new song, and we have a couple covers that we want to do since we don't have a full set quite yet, because we're still pretty young as a band and we're still consolidating.
DB: How does it feel to go from playing on campus to venue shows?
AG: It just feels more real, like we're actually doing it. It also puts a lot more pressure on. Like when we played in Boston, we were thinking, these people are paying to see us, we can't be an amateur band. The day before our concert we practiced for almost 12 hours, and then four hours before the show the day of. We just knew we had to prepare a lot more.
DB: How does the UCLA music scene fare in your opinion?
NH: It's good. There aren't a huge amount of bands; we're not a Berklee College of Music. And because there are fewer bands, I feel like it helps us get out there more when we can stand out as a band.
AG: All the bands look out for each other too; we've been in touch with The Wes Coast and Manzanita. We the Folk wants to play some shows with us too. We try to take care of each other and ultimately we just focus on what we love to do; we love making and playing music.