Review: Wolfgang Puck Express is welcome option in UCLA on-campus dining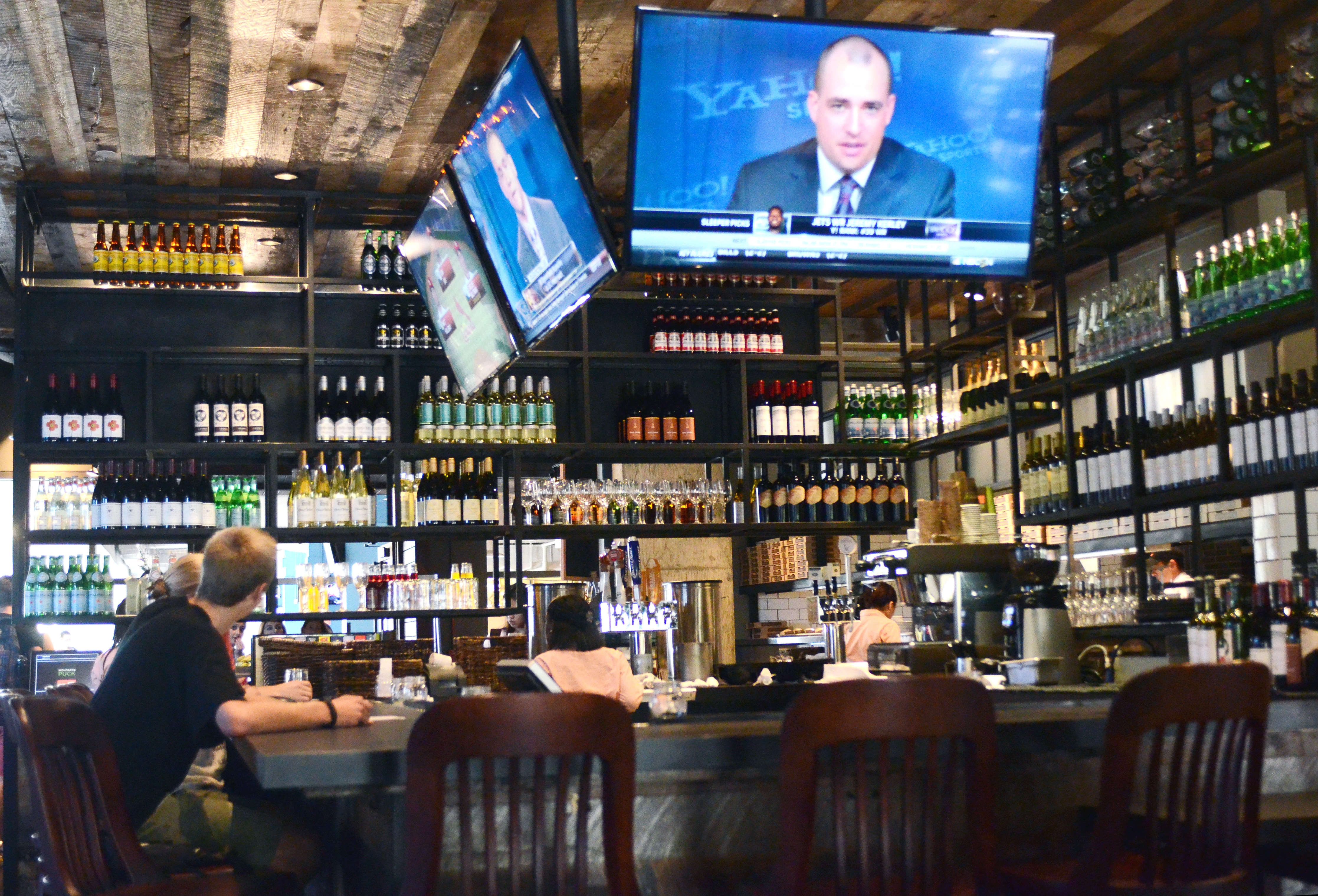 The days of trekking into Westwood for a beer are over.
All hail the liquor license-bearing Wolfgang Puck Express. As the newest of Ackerman Union's selection of eateries, it is the only restaurant on campus that serves alcohol. The casual dining establishment opened just before the start of fall quarter on Sept. 18, and is the chain's first location on a university campus.
Located next to Rubio's Fresh Mexican Grill on the first floor of Ackerman, patrons who step through the frosted glass doors will find themselves entering a cozy space with wood-paneled walls and dim lighting that immediately gives off a classy, high-end ambiance. Large windows look out over the western end of campus, letting in just the right amount of light to prevent the space from feeling claustrophobic.
Like other eateries in the Ackerman food court, patrons order their food at a front counter. Both dine-in and to-go options are available, as well as "grab and go" options, such as pre-made sandwiches, salads, snacks and drinks.
The menu features diverse selections including soups, salads, sandwiches, pizzas and pasta dishes. According to restaurant workers, the item most ordered by UCLA students is the Roasted Turkey Club. Layers of roasted turkey, mixed baby greens, avocado, juicy tomatoes and smoked bacon are piled atop a hearty roll drizzled with roasted tomato aioli. The delightful sandwich is served alongside house-made potato chips. At $9.50, the meal is ideal for in-house dining or as a to-go option on the way to class.
The recommended Mac & Cheese at first may seem too small a portion for a dish that is priced at $8.50. But, made with cavatappi pasta tossed in a rich smoked mozzarella cheese sauce and topped with toasted bread crumbs and smoked bacon, the dish proves to be fulfilling and well worth the buy.
Wolfgang Puck's restaurants are known for their artisan pizzas for a reason. Ranging in price from $9-$12, eight options are available, including a simple Margherita pizza and Wolfgang's famed Barbecued Chicken pizza. At $11, the popular Spicy Chicken pizza is a satisfying blend. Savory chicken with just the right amount of spice brings a slight kick to the taste, complemented by broccolini, roasted tomatoes, crushed red pepper and mozzarella cheese. Toppings are piled on, which may make for a flimsy crust toward the center of the pizza, but the taste certainly makes up for it.
For those who are of legal drinking age, Wolfgang Puck Express does have its liquor license. Perhaps one of the main drawbacks, however, is that the restaurant lacks a full bar (at this time, mixed drinks are not available). However, in addition to a diverse menu of the famed chef's famous recipes, diners do have the option to choose from a nice selection of beer and wine.
Four familiar beer choices, including Bud Lite and Stella Artois, are on draft, and six other choices are available by the bottle. Pricing is standard at $3-$6 a bottle.
For those who prefer a nice glass of wine, there are even more selections, varying from $6-$13 a glass. A Coppola pinot grigio and red blend are on tap, and 17 other choices are available, including four from Wolfgang Puck's own label.
The Wolfgang Puck chardonnay, which was designed as a companion to Wolfgang's signature cuisine, was recommended as a pairing with the pizza. Lightly oaked, it has a crisp, refreshing flavor gently tinged with green apple and pear.
With plenty indoor and outdoor patio seating available, Wolfgang Puck Express is the ideal location for a more upscale meal on campus. The calm atmosphere also makes it an excellent study location, and three flat screen televisions that hang above the bar will serve as a nice alternative from the bars in Westwood on game day.
What truly sets this restaurant apart is the customer service. Like a traditional restaurant, when choosing to dine in, the food is brought to your table by a friendly, superbly attentive wait staff, which continually checks on you to ensure that your dining experience is first-rate. Students, staff, faculty and campus visitors looking for a more upscale dining alternative will be impressed with the experience, as it certainly lives up to Wolfgang Puck's name.