American Youth Symphony fine-tunes new pieces for season opening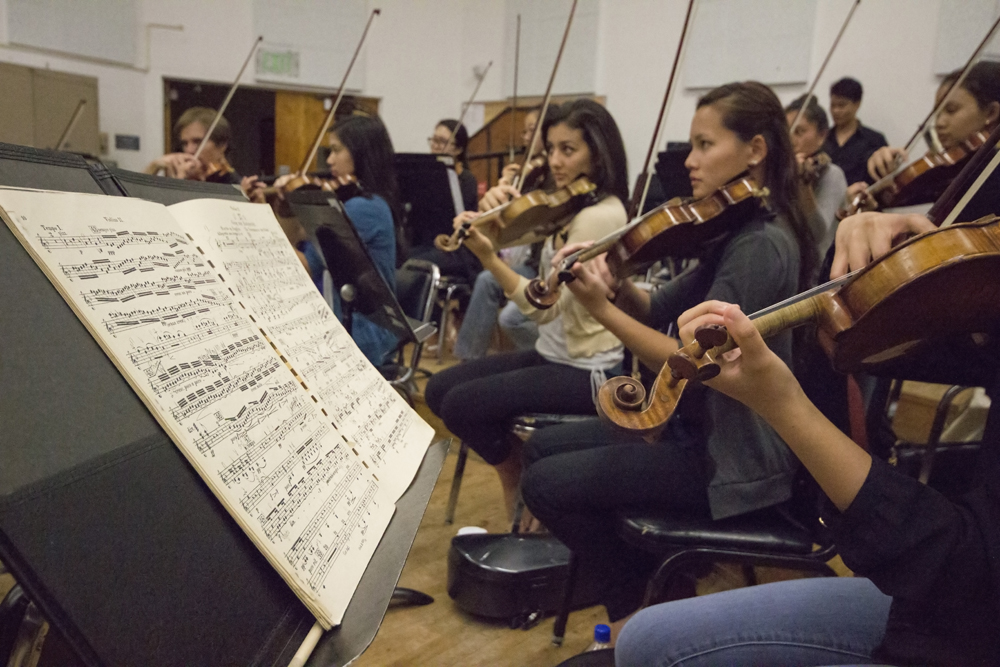 An eerie, spectral sound drifts from the recesses of Schoenberg Hall, where an orchestra rehearsal for a Royce Hall performance takes place.
At first, the dissonant melody makes little sense as the string instruments climb higher and higher on steps of parallel fifths, the woodwinds and brass attempting to follow.
But the musicians know to keep the intent of the composer, Timo Andres, in mind. American Youth Symphony music director Alexander Treger said that Andres notes the discordant piece should sound as if it came from the bottom of an enormous bathtub.
On Sunday, the American Youth Symphony will debut its 49th concert season in Royce Hall with works from notable composers such as Pyotr Ilyich Tchaikovsky, Hector Berlioz and Andres. The members' creative spirit in the face of difficult musical interpretations, such as in Andres' composition, helps to begin a brand new season on the right note, Treger said.
The orchestra holds competitive auditions every year and features instrumentalists from counties around Southern California such as Los Angeles, Orange and Santa Barbara. Its members range from 15-year-old high school students to 27-year-old doctoral students.
Treger said deciding on the program each year is difficult yet rewarding because of the members' wide age range and their constant exposure to a varied repertoire.
"You realize four years from now that the orchestra changes, the 15-year-olds are now 19 and they've played many more great masterworks that we can't introduce anymore," Treger said. "We're trying to find pieces that the orchestra has not played in a long while so something will be new for many, many people."
This season's pieces include Berlioz's "Symphonie Fantastique," Tchaikovsky's "Variations on a Rococo Theme," which will feature principal cellist Allan Steele, a cello student at the Colburn Conservatory of Music in Los Angeles, and Andres' "Bathtub Shrine."
Originally written for the Yale Symphony Orchestra, "Bathtub Shrine" was written in honor of Woolsey Hall, a performance venue on the Yale University campus known for its echoing acoustics, Treger said.
Amy Tang, a fourth-year violin performance and English student who is playing with the symphony for a second year, said the contemporary piece presented a different musical challenge for the orchestra than the other two Romantic era pieces.
"When we first rehearsed ('Bathtub Shrine'), maestro Treger said it's supposed to sound like everything is out of place," Tang said. "The piece is very eerie and misty, and even though it sounds like everything is disoriented, it's all very structured in its own way."
While "Bathtub Shrine" presents a contemporary outlook on orchestral performance and tests the limitations of the ensemble, Berlioz's "Symphonie Fantastique" highlights the more poetic side of the symphony, Tang said.
Michael Perry, a fourth-year violin performance student who is also in his second year with the ensemble, said "Symphonie Fantastique" is sure to strike a chord with listeners in part because of its emotional history.
"We studied ('Symphonie Fantastique') in a music history class (at UCLA)," Perry said. "It was written for a woman that Berlioz loved, and there's a theme that (repeats) throughout the whole piece that is dedicated to that woman."
In addition to playing in formal concerts, the symphony has had the opportunity to perform in a more unconventional setting. The group recently recorded the soundtrack to a video that will celebrate the opening of a new wing at the Skirball Cultural Center, Tang said.
Treger said the soundtrack was composed by Charles Fox, an artist whose compositions include the Grammy-winning "Killing Me Softly With His Song" and who Treger said has conducted the orchestra in the past.
Perry said the recording, done at Warner Brothers Studios in Burbank, Calif., was the first exposure to professional soundtrack recordings for many of the ensemble members.
"I've never done a professional recording session before, and we all had a lot of space, which you don't get often in traditional performances," Perry said. "Usually I wonder where to put my bow on the down-bows and try not to poke someone on the up-bows, but this was very nicely arranged that way."
Whether in the recording studio or on the stage of Royce Hall, Tang said she hopes the ensemble can get the most out of the beginning of the season and share its love of music with audiences of all ages.
"It's a lot of fun to play with the other (performers), and I know that everyone appreciates and enjoys performing as much as I do," Tang said. "Everyone shares the same passion, and our love of music is a huge reason why we play in this orchestra."