Book review: 'Acrobaddict'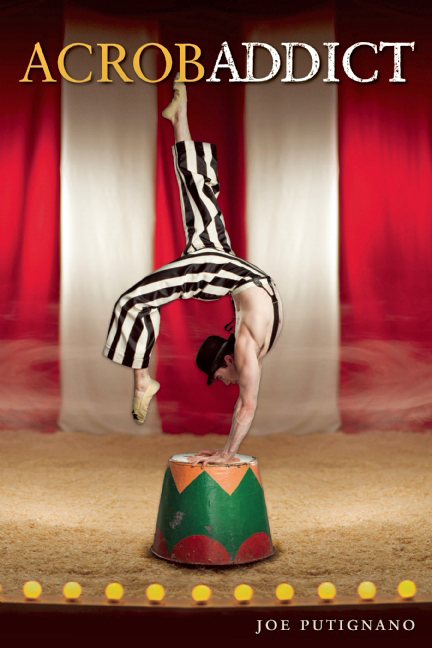 Acrobaddict Joe Putignano Central Recovery Press
There is a running joke among many athletes that their beloved sport is essentially a drug. For Joe Putignano, the rush of gymnastics is as addictive as that of a drug-induced high.
Many athletes experience the same obsession, dedication and difficulty in achieving the Olympic dream that drug addicts do while trying to maintain a constant high.
In Joe Putignano's memoir "Acrobaddict," the line between gymnastics and drug addiction is fine. Putignano deals with self-identity, homosexuality and the pressure of reaching the Olympics while using a variety of drugs – prescription pills, hallucinogens, cocaine and heroin.
Putignano's memoir focuses on how the same characteristics that breed an Olympic athlete can also create a severe heroin addict. They both push through pain to reach their desires, and need a high level of determination and willingness to go through all the measures required to attain their ultimate goal.
"The relationship between my sport and drugs was painfully close – both shared the common bond of destruction," he writes in the book.
Putignano writes that the willpower within him drove him to both use drugs and compete in gymnastics, highlighting the pain and obsession shared in athletics and drug addiction.
"Acrobaddict" reads like a drug itself, with a euphoric high, a crashing low and a painfully long and detailed account of Putignano's return to sobriety.
Divided into three parts, each section is devoted to the struggle between Putignano's love for gymnastics and drugs, moving the read further along the unsettling, twisted and hopeless road to recovery.
Section one, "Backflip," spans Putignano's early gymnastics career.
He successfully translates his thoughts and emotions about gymnastics into words, pulling readers into the gym as active participants, flipping alongside him.
By section two, "Yurchenko," Putignano's personifies both the devil and death as components of substance abuse
Through the personification of such dark components in the description of his memories, the reader can vividly feel Putignano's depression and anger as he descends further into the addiction stage, all the while abandoning his Olympic dream.
Putignano transforms the darkness of addiction and depression into a living, all-consuming entity as he writes about how substance abuse is destroying his soul. Addiction becomes a force he must contend with to re-establish his inner peace.
At this point, Putignano further pursues a high and breaks off ties to his family. The autobiography becomes emotionally draining to read, as Putignano's despairing, enraged diction gives the reader a glimpse into his pain and inner turmoil.
Readers must endure the heavy feelings of Putignano's remorse, fear and wrath, or set the book down and walk away.
The book becomes a reflection on the choice the author is faced with – whether it is better to endure his substance abuse and resulting self-loathing, or to commit suicide and end it all.
Section three, "Banal," ends the memoir as Putignano attempts to recover and escape the constant sequence of rehab, hospital visits, highs and withdrawals, while also trying to maintain relationships and employment.
The sections of youth and recovery read at a normal pace, but the section on substance abuse seems to stand still. It is agonizingly slow, as our sense of time is warped alongside Putignano's trips, withdrawals and cravings. Putignano creates a captivating and hypnotizing dynamic between use and sobriety.
Putignano's other characters are fairly boring and are made to be static by Putignano's narration. But Putignano himself is so complex with his conflict between his love of tumbling and drugs, along with his desire for sobriety that he suffices for the seeming lack of personalities in other characters.
Most other characters just fall in and out of the pages, used and manipulated by Putignano as if they were pieces on a chessboard, moved by Putignano's competing sides of addiction and sobriety.
Emotionally aggravating, the memoir takes the reader to the raw, gritty gutter of a life of drug use. It is an emotional rollercoaster, as Putignano fails again and again to self-destruction.
A talented writer, Putignano relates his dread, hatred, hope and love to the reader through his brutal honesty and traumatizing descriptions of the demonic heaven produced by heroin.
"I was powerless in its arms, and I heard a macabre laughter altering that beautiful, orchestrated voice … It was beautiful, more beautiful than I imagined the Devil to be, almost perfect, except for its terrifying voice," he writes.
It is an enjoyable read with an uplifting message, despite the disturbing scenes Putignano creates. After almost dying twice, Putignano's fight for life and determination for rebirth has the ability to speak to readers and provide hope to those suffering from addiction.