Love or Hate: Are the Emmys respectable or irrelevant?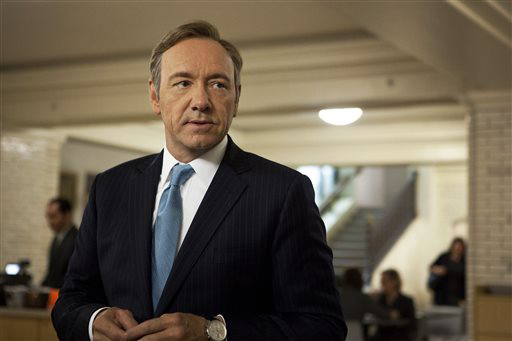 Kevin Spacey as U.S. congressman Frank Underwood.
The annual Emmy Awards are rolling around again, with all its
requisite surprises and snubs, and a new wave of either outrage or relief is
washing over those keeping track of award shows. More important than just who got a
nod and who didn't, however, is the question of whether these kinds of
back-patting awards shows are worth the trouble. Sebastian Torrelio argues for
their continued relevance while Tony Huang explains his distaste in this week's Love | Hate.
By Sebastian Torrelio
LOVE
A ward shows are best when they can clearly distinguish quality from popularity. For the Emmy Awards, as the pinnacle of television recognition celebrations, this is especially important, for fear that the Academy of Television Arts & Sciences doesn't do their job properly. Fortunately, they do, as is reflected through this year's nominations.
History was made this week when Netflix's "House of Cards" was nominated for Outstanding Drama Series, the first original web series to earn such a major nomination. "House of Cards" received nine nominations in total, coupled with those of "Arrested Development" and "Hemlock Grove," to give Netflix programming an astounding 14 nominations in total.
This makes this year's ceremony much more significant to television and its fans than just the 65th anniversary of an awards show. With these selections, the Emmy Awards are recognizing online-streaming television as up to par with the works of other networks. It establishes, if anything, that we are living in a new age of television broadcasting. And that's pretty gosh darn exciting.
Part of the reason that many of the past few years' most popular series have found success is due to critical acclaim. The Emmys are doing a fine job of giving recognition to cable television where recognition is due, noting in particular the unusually high 108 nominations for HBO. Among the six shows nominated for Outstanding Drama Series, arguably the biggest category at the ceremony, only one ("Downton Abbey") airs on a U.S. broadcast station.
All of these nominated series, as well as most of those for the rest of the major categories, have respectable followings. And that's a good thing, because they are all notable shows in their own right. Though everyone's opinion will vary (as I'm disappointed with the lack of respect for "Parks and Recreation"), the Emmys have consistently done an exceptional job of setting precedents with what's new and significant in television culture.
Plus, it's fun to make ballots among your friends. Even if you have to force most of them to do it, like I do. I get too excited.
By Tony Huang
HATE
To be fair, the Emmys is hardly the worst award show out there (that would be the improperly pop charts-obsessed Grammys). A disconcerting attachment to "Modern Family" and "The Big Bang Theory" aside (we'll get back to those), one can't really fault the ceremony's obsession with shows like "Mad Men" or "Breaking Bad." Despite my suspicions that all those "Louie" nominations can't lead anywhere, they at least acknowledged the show, even if it just turns out to be in a stern, parental way.
But the inherent problems of awards shows are inescapable. The voters for these shows can't be that engaged in making individual decisions – there is very rarely any risk to what is honored and what isn't. It takes a long time for the Academy to adjust, so it clings to what it feels is "great" – shows that come from a background, like most HBO shows or long-running crowd favorites like "Breaking Bad" – and hope that the decision isn't too embarrassing.
And to the members of the Academy's credit, as far as drama goes, the picks aren't totally embarrassing.
But their comedy slate is totally abysmal, especially in a time when TV comedy is perhaps at its best. "Modern Family" is a passable show and has been for years; "30 Rock" is a fine show and has been through its recent finale. But it's hard to claim either of them as "best" in a TV landscape that includes "Archer," "Parks and Recreation" and "Arrested Development."
As with most award shows, the Emmys take the middle-of-the-road easy way, opting to spread the love and hoping all the most popular stars make it to their self-aggrandizement fest.
The problem isn't just that awards go to the wrong people – at least in my own opinion – it's that the award itself is more bait than achievement. All that's needed is a big event with lots of stars; the shows just have to be respectable enough. It's stifling and cheapening. It's bland and mundane. It's the worst thing that entertainment can be: predictable.