UCLA screenwriting students, professionals produce first-ever graduate pilot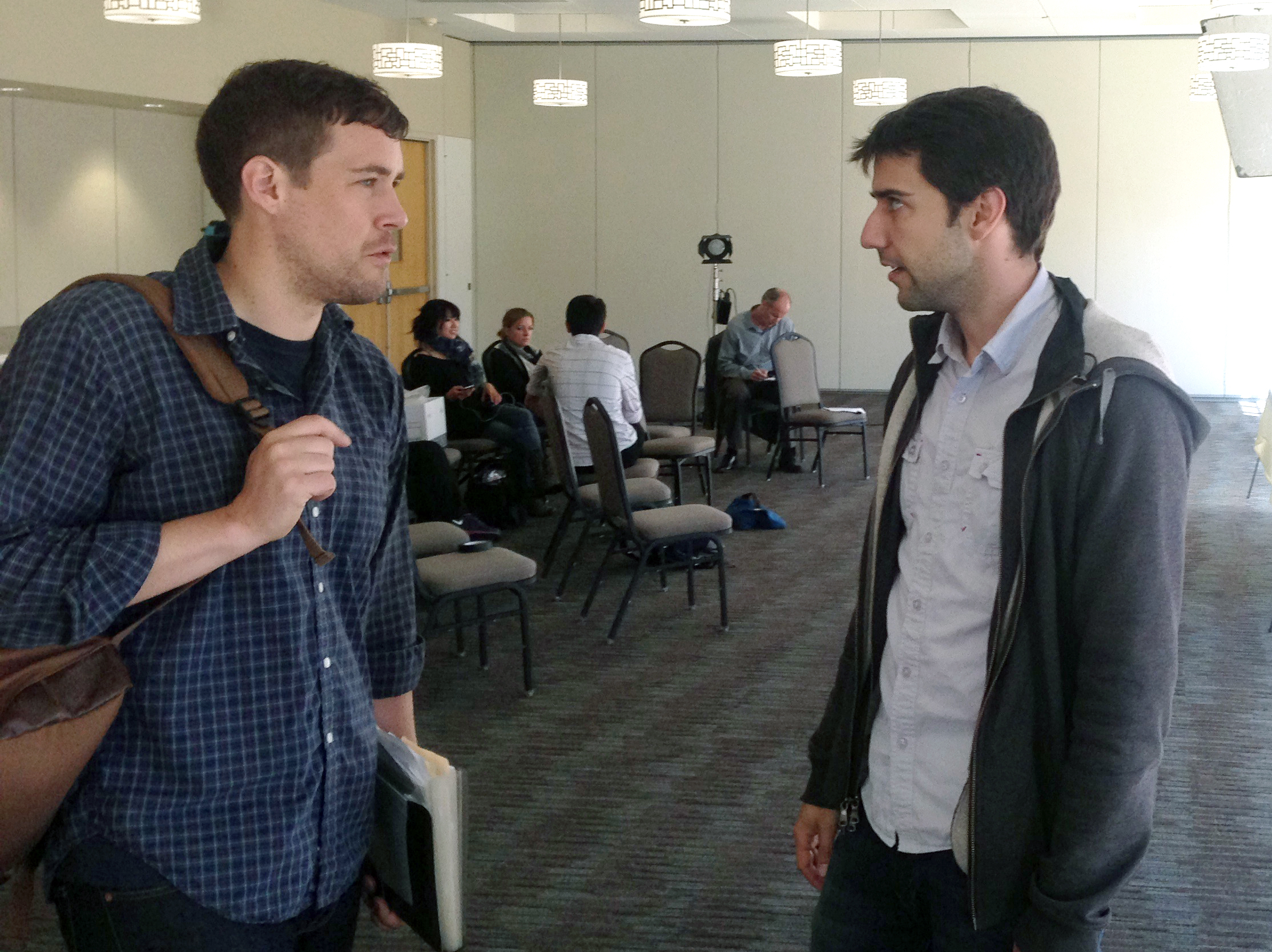 Director Matt Russak and actor Joshua Koopman work on set in the production of "doubleblind," the first pilot made by a graduate program.
When a group of graduate students are brought together for a social experiment, it's not long before they realize their participation is not their only commonality.
This is the story line of "doubleblind," a television sci-fi pilot created within the graduate program at UCLA. Written by graduate screenwriting students A.J. Marchisello and Teresa Sullivan, the pilot was created with the guidance of producer Beau Marks and director Rod Holcomb.
UCLA's School of Theater, Film and Television covered uncharted territory by making "doubleblind," the first TV pilot created in a graduate program, according to Sullivan.
"I'm really impressed with the final project. I think it's something actually worthy of being on cable television," Marchisello said. "It had a slow, quiet start, because I think nobody really believed that we could do it. (Marks and Holcomb) were instrumental in bringing this to fruition and quality; it does not look like a typical student production."
The creation of "doubleblind" originated with an announcement from Marks and Holcomb to screenwriting students, explaining that they were looking for an hour-long pilot with a 60-page script. Marks said he and Holcomb chose Marchisello and Sullivan's script for its intricacy in structure and plot.
"What caught our eye about their script was that it wasn't just talking heads; it allowed for a more complex set of filmmaking skills to create the pilot successfully," Marks said. "We had action pieces, thriller aspects and a relationship part of the (pilot's story line) also, so we thought that would give the students involved a huge amount of challenge when it came to understanding how all those things could get wrapped up into one project."
According to Sullivan, the project was shot on campus during five weekends in spring quarter and was screened in June.
With the writing, rewriting and production processes, Marchisello and Sullivan experienced a realistic process of professional television production as co-writers, said Sullivan. Although co-writing is uncommon in UCLA's screenwriting program, Sullivan said she hopes the project will initiate more collaboration in the future.
"It was interesting, even in regards to the choices of how production would go; most of the time, Teresa and I would have the same vision. We were working with two brains but generally the same opinion," Marchisello said.
The two writers met at the Telluride Film Festival, which they were selected to attend in recognition of their writing in class. Sullivan said the project became a seamless combination of both writers' efforts and that, when "doubleblind" was finished, others could not clearly distinguish which writer wrote a given scene.
"We had a mutual respect for each other because we were in a feature class together. I think we're both well-rounded writers, but we each brought something different," Marchisello said. "Teresa came in with a lot of ideas for the characters, and I think I came in with a lot of ideas for structure."
On top of Marchisello and Sullivan's involvement with the project, other graduate students played a role in the pilot's creation. The entire production included five directors and five producers, as well as cinematographers and costume and set designers.
"At first we thought, 'Is this going to be a backyard show?'" Sullivan said. "It takes a lot of money and a lot of talent to make a pilot. (Holcomb) and (Marks) gave everybody, not just the writers, a lot of freedom for creativity, but would pull them back in the right direction if they started to go off track."
The making of the pilot brought TFT students closer to a qualified creative experience through a partnership between students and professionals.
Marks said TV production not only involves artistry cultivated in a classroom, but also requires a practical skill set, a combination that "doubleblind" helped students involved with the project understand.