Soloist to live dream on Spring Sing stage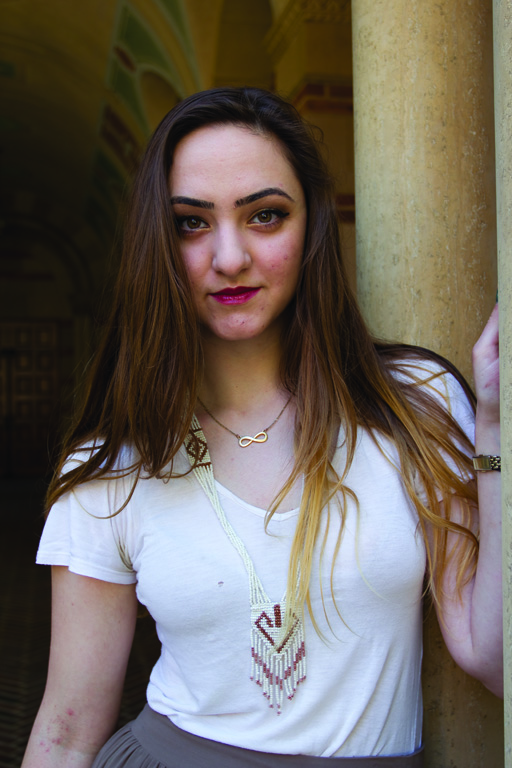 Fourth-year history student Suze Papazyan will perform her original song "Forever for Now" as a solo artist at Spring Sing.
As a kid, fourth-year history student Suze Papazyan envisioned herself performing on a massive stage in front of an even bigger audience. That image was more of a fantasy back when she wrote small musical rhymes in elementary school; but the UCLA community will see that image as a reality when she participates in UCLA's Spring Sing as a solo vocal performer.
A first-time participant in Spring Sing, Papazyan will perform an original song, "Forever for Now." Papazyan said her lyrics usually embody a personal experience or feeling, but the content of this song portrays the concept of a hope or a dream.
"This is more of a theme or an image that I saw in myself," Papazyan said. "I developed a story in my head, and the words just flowed from that story. It almost felt like I was writing a poem with a melody to it; the lyrics inspired the music."
Papazyan said her music is heavily inspired by singers who have put forth heart-wrenching, meaningful music, such as Ella Fitzgerald, Billie Holiday, Celine Dion and Florence Welch.
Jen Hioki, a fourth-year international development studies student and Papazyan's talent director for Spring Sing, said Papazyan's musical style has a Christina Aguilera ballad-type feel, with hints of blues and jazz.
"We decided to put her in the show because she was so different," said Hioki, who is also the senior student supervisor for the accounting and sales entry department at the Daily Bruin. "Spring Sing has a lot of performers who choose to do upbeat or folk songs, but her music has more of a soulful, bluesy feel to it that you don't see in the show often."
On stage, Papazyan will sing while playing the keyboard. Typically, she said she tends to write lyrics before she puts them to a melody, but the components of her Spring Sing performance song came together almost simultaneously at the piano.
"In general, whether I'm doing an original or (a) cover, it's always something that's relaying a certain emotion within," Papazyan said. "I tend to close my eyes a lot when I sing; being expressive is just the nature of my relationship to performing."
Terrence Jegaraj, a third-year vocal performance student, said Papazyan's passion during performance is entrancing. Jegaraj is a member of Medleys A Cappella with Papazyan and said Papazayan's voice emulates styles from a broad range of female artists, from Ellie Goulding to Welch of Florence and the Machine.
"It's almost like she has an alter ego when she performs," Jegaraj said. "She is so impassioned when she sings and has such strong stage presence; it's hard to take your eyes off of her."
Although Papazyan said she is not sure of her future career plans, she said she will always make singing and her involvement with music a strong aspect of her life.
As a UCLA student, Papazyan has continued to do just that. During her first year, she participated in a HOOLIGAN Theatre Company production, and joined Medleys A Cappella in her second year. When the group went to the International Championship of Collegiate A Cappella in February, she won outstanding soloist during one of the rounds.
"When you're performing a cover of a song or doing a solo with an a cappella group, you're vulnerable to people because you're singing and they're hearing your voice," Papazyan said. "But presenting your own song is a whole different level; it's your own feelings and words."
Jegaraj said many of the members of Medleys A Cappella have not heard her original music, and that the performance will be an experience to remember not only for Papazyan but also for her friends.
"It's just going to be her and a piano up there, with thousands of people watching," Jegaraj said. "I think that's going to be such a memorable accomplishment, and the people that know her are going to be so proud. Watching a friend play their music in Pauley is like watching them perform at the Staples Center. It's huge."
It took Papazyan a little more than three years before she gained the courage to audition for Spring Sing. But she said she always likes to believe that she should take chances when she has nothing to lose. That mentality fueled her choice to audition.
"Her decision to audition was a very last-minute thing. She turned in her application minutes before the deadline," Hioki said. "But she didn't seem nervous, she was very composed and confident with her song."
Keeping that composure in front of the large audience Spring Sing usually attracts will be key for Papazyan's performance.
"I feel myself getting nervous if I think about it too much, but then I think about how I dreamed of this as a kid," Papazyan said. "That tends to drive out the nervousness. It's a once in a lifetime opportunity."