Alexandra Tashman: Rape culture produces harmful discussion of sexual assault cases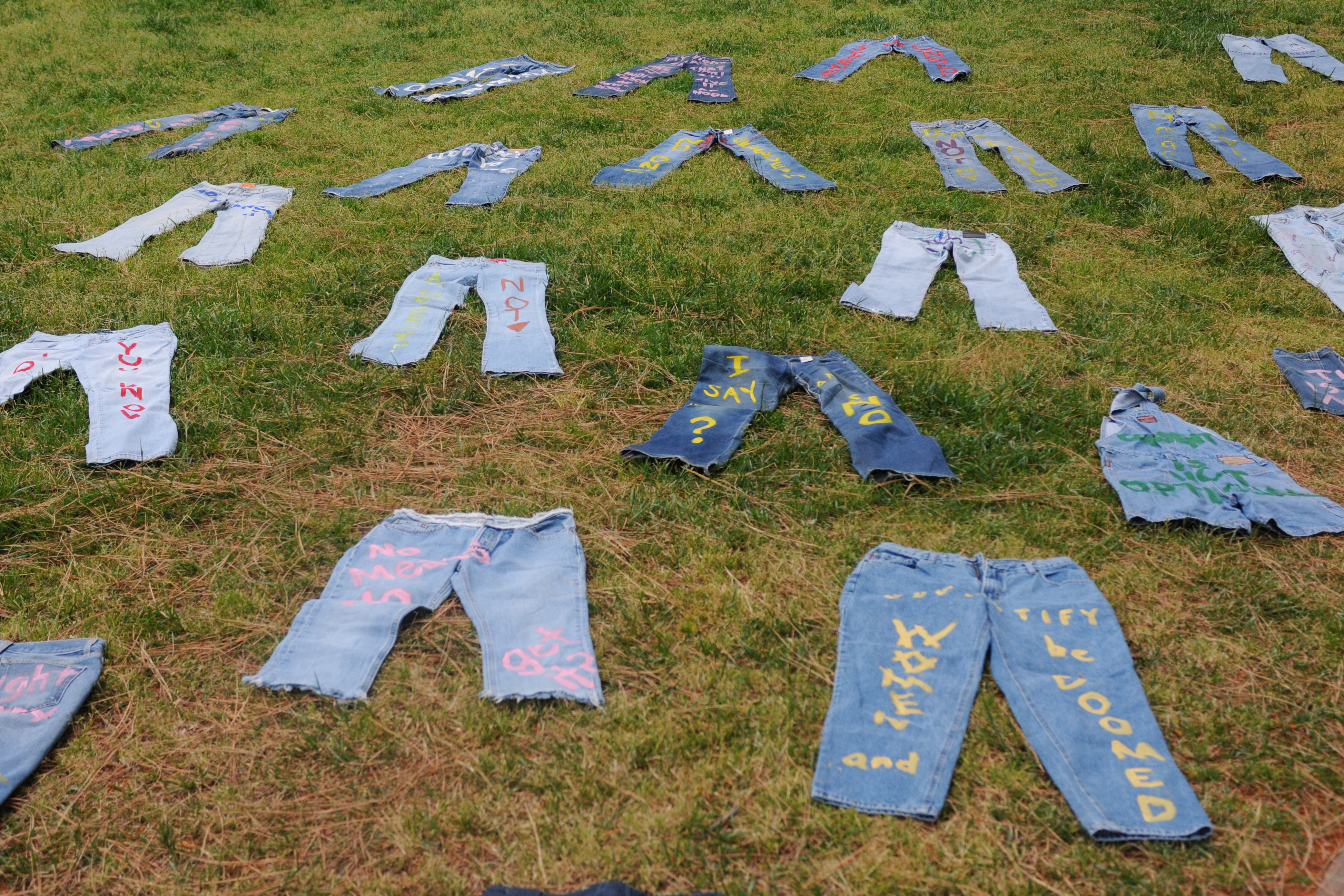 Jeans lie on the lawns of Meyerhoff Park as part of the Clothesline Project at UCLA's "Denim Day" demonstration on Wednesday.
UCLA RAPE TREATMENT RESOURCES
The Rape Treatment Center at Santa Monica-UCLA Hospital provides survivors with support and legal information and will gather DNA and physical evidence survivors can use if they choose to report the assault to the police.
Campus Assault Resources and Education, an extension of UCLA Counseling and Psychological Services, offers a 24-hour crisis line, free counseling for survivors, as well as an advocate to help them navigate the legal options available.
SOURCE: Rape Treatment Center at Santa Monica-UCLA Medical Center and UCLA Counseling and Psychological Services. Compiled by Alexandra Tashman, Bruin contributor.
Callous approaches to discussions about rape and sexual assault are nothing new. Too often, we see instances in which the conversation surrounding these crimes does not take into account the gravity and implications of these acts for all parties involved.
The prevailing attitude which allows such crimes to be taken lightly is commonly known as "rape culture," a mindset in which sexual assault is normalized or even seen as acceptable, the severity of rape is denigrated openly, and legitimacy is lent to the accused over the accuser.
While those accused of a crime are innocent until proven guilty, it can become easy for one side to steer the conversation to the detriment of the other party.
The YouTube video "Hakop Kaplanyan – Innocence 2013," which at present has almost 70,000 views, asserts that Kaplanyan, a redshirt freshman water polo player, is innocent of committing rape – an alleged crime he was arrested for in early April.
On Thursday, at his arraignment hearing, no charges were filed against Kaplanyan by the Los Angeles County District Attorney's Office. The case is under review and until it proceeds further, Kaplanyan is legally innocent.
The video, which was published well before Kaplanyan's court date, makes its case by listing Kaplanyan's various athletic and academic achievements and identifying his many positive personal attributes as a means of conveying his innocence.
"Our friend Hakop is trying to prove his innocence. So we are all coming together, friends, family, classmates and teammates, to project one truth, one belief, one voice," say the people in the video. None of the people featured in the video are affiliated with UCLA.
But in a case like this one, there is almost never "one truth," never "one belief" and there are always at least two voices.
Kaplanyan, like any accused person, has the right to defend himself and his friends should not be hindered in their support of him and their belief in his innocence. But this video serves to impede any form of constructive discussion about how to protect all parties involved in a case of rape by presenting select characteristics as evidence of their assertion.
Negating the possibility that someone committed a violent, demeaning crime based on their kindness, smile or athletic excellence (as the video suggests) is a logical fallacy. To say one counteracts the other is absurd, even insulting, especially to survivors of rape and sexual assault.
The video disregards the serious nature of rape by implying that personal accomplishments and anecdotal interactions are enough to ignore the reality that a grave allegation has been made and that it should be addressed with sensitivity by all parties, no matter their relationship to the case.
The video calls the case "a rough obstacle" and fails to acknowledge the young woman who brought forward the accusation.
Rape affects a larger segment of our population than almost any other crime but has incredibly low report and conviction rates. The Centers for Disease Control and Prevention estimate that 19 percent of college-aged women have experienced an attempted or completed sexual assault since entering college.
Equipped with this knowledge, the very medium used by the creators of the video should be scrutinized. While their intent was grounded in friendship and altruism, their message not only affects how those interested in Kaplanyan's case view rape, but how anyone can look at the issue.
We see that insensitivity toward sexual violence pervades the most pedestrian conversations: People frequently use the word "rape" in conversation as a way to describe their academic performance, or even their success in a video game. By doing so they cast rape as a positive action and equate sexual assault with achievement.
As a society, the messages we send after an allegation of rape or sexual assault has been made, but before it is decided in court, are equally as important as the proceedings within the court itself.
One voice or one group should not dictate the conversation at the cost of the dignity or validity of another.
Email Tashman at [email protected] or tweet her @Alexandra_Tash. Send general comments to [email protected] or tweet us @DBOpinion.