HOOLIGAN Theatre Company takes stage with 'The Drowsy Chaperone' musical comedy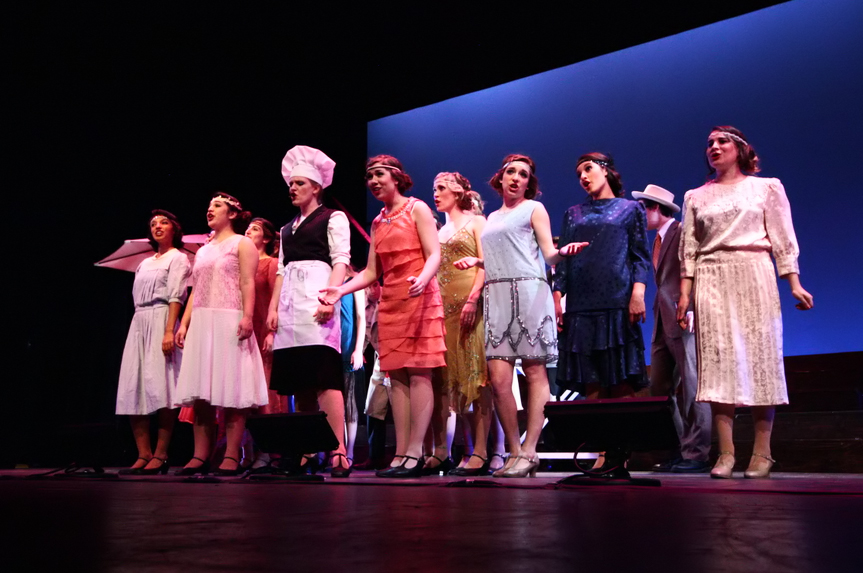 HOOLIGAN Theatre Company will perform its new production "The Drowsy Chaperone" this weekend. The musical comedy is about a character who watches a 1920s musical also called "The Drowsy Chaperone."
The Drowsy Chaperone
Friday, 8 p.m. Freud Playhouse, FREE
April 10, 2013 11:55 p.m.
Director Harris Tucker wanted raw excitement and energy from the cast in its "fun run" rehearsal. His cast countered by delivering its already comedic lines in Scottish accents and Christopher Walken impersonations.
While the first HOOLIGAN Theatre Company show "Titanic" opened last weekend in the Freud Playhouse as a drama, the second production of the quarter, "The Drowsy Chaperone," takes the stage this weekend as a relatable musical comedy.
"The Drowsy Chaperone" is about a character dubbed Man in Chair who watches a 1920s musical also called "The Drowsy Chaperone." The play he watches is a big musical theater piece about a wedding. As Man in Chair watches, he often pauses to talk to the audience and apply aspects of the show to his own life.
The show used the small number of characters to its advantage. Its modest size gave the company the opportunity to better showcase the talent. This was possible through the division of the actors into two productions this spring.
"It's a big show, but with a smaller, more intimate cast. Splitting the cast really lets the talent shine, especially since we have a lot of returning students to give it that star power," said head producer Juliana Scott, a fourth-year linguistics student.
She said the split was necessary because of HOOLIGAN Theatre Company's policy to incorporate everyone who auditions in the winter quarter into the spring musical. Last year with "How to Succeed in Business without Really Trying," the company discovered having only one show with 60 cast members proved to be problematic. Despite their already limited budget, they refused to break with the tradition and opted to do two productions instead.
Scott said once HOOLIGAN Theatre Company made the decision to do two shows, they selected "The Drowsy Chaperone" for its classic musical theater feel, believing it would contrast well with last weekend's more serious production.
"The show is very over-the-top and very musical theater, and it all adds to the ridiculousness that is the 'Drowsy Chaperone,'" Scott said.
The metatheatrical show features a show-within-a-show. The lead, Man in Chair, is played by first-year undeclared student Landen Baldwin. Since the show is about a big wedding, he often reflects on his own recently failed marriage. Baldwin said he drew inspiration from the idea that the musical is therapeutic for the character.
Third-year English student Aliya Stuart, playing the bride-to-be, Janet, said the show's metatheatricality allows it to surpass normal genre conventions. She said audience members can expect the show to be very funny, as it plays off musical theater culture, but it also has the ability to draw on deeper emotions.
"It's a different kind of show, so I can't even pinpoint it to a particular genre. It's so funny, but it does have its more serious moments," Stuart said.
These tender moments are primarily drawn through the lead character, Man in Chair. Tucker, a third-year economics student, said the character brings a humanizing element to the production, because he is a modern-day man watching a musical and using it to understand events he faces in his own life.
"It's a really fun show with really catchy music, and because there is a character to relate to, the Man in Chair makes it a relatable musical," Tucker said. "When it comes to life on stage you fall in love with it just as much as the Man in Chair does."
Stuart said Baldwin is the magic ingredient in making the character come to life. As a first-year student, he has been featured in a couple HOOLIGAN Theatre Company productions. Although he was featured in "Urinetown," this is his first lead part. Stuart also said Baldwin's improvised lines should prove to be some of the best parts of the show.
"Landen at one point improvised a line about a maid that comes in to clean his house," Stuart said. "It was so ridiculous and absurd that it still makes us laugh even a month later, and we had to add it to the show."
Baldwin, who has been doing improvisation work for about three years, said his approach to humor is highly based on trial and error.
"Because it's a comedy, the deal is that if you're funny half the time, you're not funny the other half of the time. It's really a hit-and-miss kind of deal trying to find what works," Baldwin said.
But after all the laughs, Scott said the show has a real take-away message. For students specifically, she said "The Drowsy Chaperone" speaks to finding a passion and using that energy and excitement to work through challenges at UCLA.
"In undergraduate life, things can get so crazy and it's really important to find that one thing to escape with," Scott said. "I think what the Man in Chair emphasizes is the importance of having an escape, and for him it's this musical."